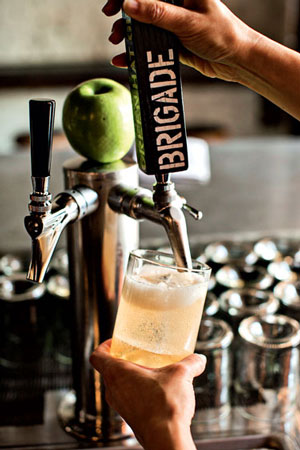 Combined-in-advance mixers have long been the secret to fast
service at high-volume bars, but only recently have we begun to see
premade cocktails poured from a tap.
"Kegging" a batch of a restaurant's specialty drinks ensures
consistency—the only skill that the on-duty bartender needs is the ability
to pour—and the draft cocktails often cost a few dollars less than their
à la minute counterparts.
Here, five of our favorites.

El Codo Margarita from El Chucho
3313 11th St., NW; 202- 290-3313
Five bucks—four during the weekday happy hour (4 to 6:30 and
all night Monday)—buys you an excellent on-tap house margarita at this
Columbia Heights Mexican spot. Made with silver tequila, Triple Sec, and
lime juice, it's refreshing and balanced—just right with the menu's
unfussy tacos and tortas.

A Draft of Route 74 from Jackson 20
480 King St., Alexandria; 703-842-2790
Head bartender Dean Feddaoui will serve you an $11 refresher of
watermelon water, lime, and orgeat (almond syrup with orange-flower water)
poured from a tap crowned with a bobblehead of Andrew Jackson, for whom
the restaurant is named. Feddaoui adds vodka and orange liqueur just
before serving, but customers are also welcome to sip the concoction
booze-free for $7.

Lemonade Punch from Kapnos
2201 14th St., NW; 202-234-5000
Taha Ismail developed three draft punches ($11) for Mike
Isabella's new Greek restaurant. Skinos, a floral Greek liqueur,
forms the basis of a cocktail with watermelon, tarragon, and lemon. The
gin ade—with Batavia Arrack, honey, thyme, and soda—gets a hint of smoke
from a grilled lemon. Rum plus lemon-verbena tea, lemon, cane syrup, and
angostura bitters make up the elegant third option, our favorite of the
lot.

Sage-and-Green-Apple Gin and Tonic from Mockingbird Hill and Red
Apron Butcher
Mockingbird Hill, 1843 Seventh St., NW, 202-316-9396; Red Apron
Butcher, 1309 Fifth St., NE, 202-524-6807
Sage and tart apple complement the locally made Green Hat gin's
fennel notes in this effervescent debut from Brigade—a collaboration
between Passenger/Columbia Room owner Derek Brown, bartender J.P.
Fetherston, and a few of their friends. Find it for $9 at Brown's new
sherry bar, Mockingbird Hill, and for $9 at the Union Market location of
the charcuterie shop Red Apron Butcher.

On-Tap Sangría from Hogo
1017 Seventh St., NW; 202-393-1313
At the easygoing tiki bar Hogo—run by Passenger co-owner Tom
Brown—general manager Julia Ebell developed this slightly fizzy,
island-inspired red-wine mixer with ginger, hibiscus, and lime juice ($8).
Ebell's drink is less intense than the typical tropical cocktail, but she
sneaks in those citrus and spice notes to winning effect.
This article appears in the October 2013 issue of The Washingtonian.