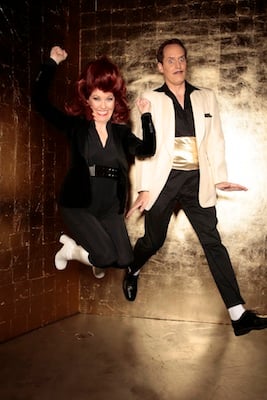 Kate Flannery is perhaps best known for playing hard-drinking, down-on-her-luck workplace mess
Meredith Palmer for nine seasons of NBC's
The Office. Since that show wrapped for good earlier this year, Flannery's been pursuing other
projects, including her sketch comedy duo act, the Lampshades. She and stage partner
Scot Robinson perform at the Bentzen Ball comedy festival on Saturday night—the multi-venue festival
runs Thursday through Sunday, and the complete lineup, curated by Tig Notaro, includes
other headliners such as Doug Benson, Wyatt Cenac, and Heather Lawless. Ahead of this
weekend's show, Flannery talked with us about life after
The Office, being part of a "dying lounge act," and the relative virtues of stage and screen.
It sounds like you've been busy between the Lampshades and

StandUp in Stilettos

(on the TV Guide Channel), but was there ever that "Now what?" moment after

The Office

wrapped?
I think I'm in mourning right now. I was busy this summer because I got to do a bunch
of indie films, which were all different and all not-Meredith characters. I just did
the workshop of a Broadway show in New York, which was really fun. But yeah, there
is a mourning period. I did that show for nine seasons. We started in 2004; that's
a long time. I mean, that's longer than grade school. I feel like everyone has to
recalibrate their molecules, and there is something scientific to it all. You get
this great thing, and you have to go through a reconstruction period of some kind.
I'm mostly just depressed this fall to not have

The Office

on TV, but I'm also wondering if, on your end, there's any creative excitement in
moving on from the show.

I mean, it's a Champagne problem to not get to do the show you've been doing for a
long time and that you loved. But it has brought opportunities already. Don't get
me wrong, I could have done Meredith for another seven years easily and I wouldn't
have complained. I really would have had fun. But I think that's the luxury of being
a character where we haven't seen everything about the character. I never felt like
I outlived my welcome.
One of my favorite small moments on the show happened when Meredith took a squirt
of hand sanitizer and quickly slurped it from the palm of her hand for the alcohol
content.

[laughs] I feel like I had a limited idea of who those women are, but we had such
great writers who took it to a level that was even beyond my level of thinking. So
smart. So funny. All fleshed out in its own weird way. I love the way Meredith's character
was revealed, just kind of a little bit at a time.
How much of your personality went into Meredith's character?
My dad owned a bar for years, and I understand what it's like to be the woman who
hangs with the fellas.
Is your Lampshades stage character anything like Meredith?
The thing with the Lampshades is there's an unrequited kind of love thing going on.
My character is trying to flirt with guys in the audience to make her partner jealous,
in that sort of inappropriate flirting kind of thing. But I think it begins and ends
there. My Lampshades character is more glamorous, going for that showbizzy, self-indulgent
singer, legend in her own mind kind of thing—a lot of makeup, a lot of polyester.
What else can people expect from your show? It's on the musical night of the festival.
We're a dying lounge act, and basically you're seeing the breakdown of two characters
onstage in real time. We are the thing we're making fun of in a sense, because we're
two people who are doing the same act over and over again, and because we're open
to what's happening in the moment and there's some improv as well, it's a different
experience every time you see our show. And we're musically interesting. There are
songs everyone knows, but you'll hear them in a way you never have before.
Are you a good singer?
I usually don't sing without a wig on, but yes. I'm fantastic with a wig on. You have
to know how to sing enough to make those jokes legitimate.
Who's performing at Bentzen Ball that you're excited about?
I'm really excited about Garfunkel and Oates [Kate Micucci and Riki Lindhome]. Those
girls are so fantastic. Also Megan Mullally. I've been a big fan of hers for years.
And of course Tig Notaro. I've known Tig for a long time—we had a mutual friend years
ago when I was waiting tables. She came into the restaurant where I worked 15 years
ago, maybe even longer.
How do you think Ira Glass will do in a comedy context?
I think he'll do great. I mean I wouldn't want to see him at midnight at Caroline's
in New York, but I think this is a good venue. DC audiences are pretty smart. They're
not going to be wasted.
Well, maybe.
[laughs] I think this is going to be a slightly elevated situation from a regular
comedy club.
You got your start onstage in Chicago doing improv. Having done television now for
so long, do you have a preference for stage or screen?

The thing about stage acting . . . I love it. I will always do it. But being on a
TV show is the greatest. I would have to do 75,000 shows just to have as many people
connect [with me] as connected on
The Office. And as a fan of TV, I understand that connection on the fan side. So as an actor,
I get how cool it is to get to do something that people respect and respond to.
Any final thoughts about your show?
Don't let the word "lounge" turn you away. It's probably different from what you expect—in
a good way. People think they might have us figured out in the first minute, and they
don't. So come and try to figure us out. I challenge you.
Kate Flannery performs in the Bentzen Ball Music Revue on Saturday, October 12; doors
open at 9:30 PM. Tickets ($25) are available via BYT's website.