Erika Schrieber's debut collection is proof that minor upgrades to a piece of clothing can have a transformative impact. The nine-piece line, dominated by midi skirts with ever-so-slightly flared hems, flowy shift dresses with drop waists, and sleek blazers with ultra-wide lapels show us how one can look simultaneously sophisticated and edgy—something that holds particular weight in Washington, where striking the right balance of style and professionalism is a never-ending challenge. Schrieber's full spring/summer 2014 collection, produced right here in DC, just launched online, and she has even bigger plans for the future. We caught up with the 25-year-old designer to hear about how she got started in the industry, where she finds inspiration, and favorite local shops.
Tell us a bit about yourself.
I grew up in Connecticut and studied public relations at the University of Miami. Out of college I worked my way from unpaid intern to account executive at a fashion showroom in Miami that specialized in the launch of international brands to the US market. The skills I acquired early on in PR and branding paired with my passion for the Made in America movement became the groundwork for my label.
Where is your line designed and produced?
The collection is designed in my Silver Spring apartment (and the occasional local coffee shop) and manufactured in a sewing studio located in the District.
When and how did you get to work on this collection?
I first began working on my own line by night in 2011. I never went to design school, so I learned mostly through my own conviction, guidance of those more knowledgeable than me, and a lot of mistakes. Also, because I was, and still am, so devoted to domestic manufacturing, it has been a long journey. Just a few years ago, industry people laughed at me when I said I wanted to produce stateside. Most were sure I couldn't sustain such an undertaking. Most companies who once had their factories in New York City's garment district were now outsourcing their work to places like China. A few years later I finally pieced together a team of people who believed in the brand.
Where do you find inspiration?
This collection for me epitomizes a new Mod Squad and is definitely a nod to the '60s. An image of Twiggy in all her glory was on my original mood board when I began the design process. I combined classic clean lines that are nostalgic and retro with on-trend elements that give it its modern twist.
How would you describe the aesthetic of your designs?
Ultra-chic, easy to wear, versatile, unassuming, sophisticated, and powerful.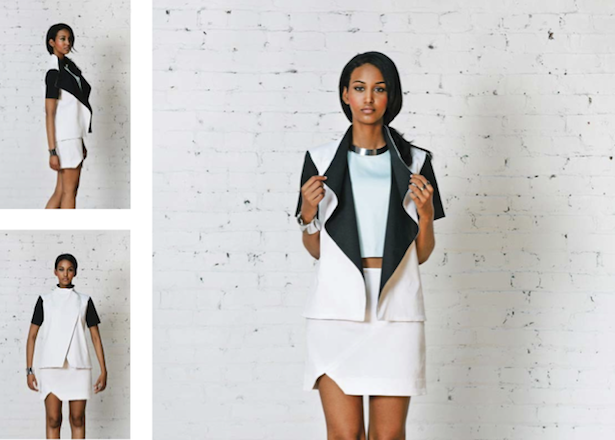 What role do you hope your brand will play in DC?
I hope the brand will influence the culture of style here in the nation's capital—providing a homegrown brand that is easily and unapologetically stylish.
What kind of woman or style does your brand target?
The brand isn't necessarily unique to a single aesthetic. You could find these garments in the closet of a bigwig consultant or a local musician. The key is that she is smart and stylish in her own way. She wears clothing; clothing does not wear her. These pieces are simply an extension of her image and complement an already fashionable wardrobe. She is confident and powerful, but her style is ultimately unassuming.
What's your favorite piece from your current collection, and why?
I truly love it all and could never pick just one. The Alejandra midi skirt is right on trend and versatile from day to night—it can be worn year-round and is a style that fashion influencers are currently coveting. Meanwhile, the Lin jacket is just a phenomenal statement style and silhouette.
Who are your favorite designers?
I live for luxury houses like Marni, Givenchy, and Lanvin. Their garments are irreverently conceptual and artistic. They're constantly putting out new ideas that make us stretch the limits of fashion. My experience as the brand manager for online luxury reseller Consign of the Times by day has allowed me to work firsthand with luxury products and learn what elements make them so special.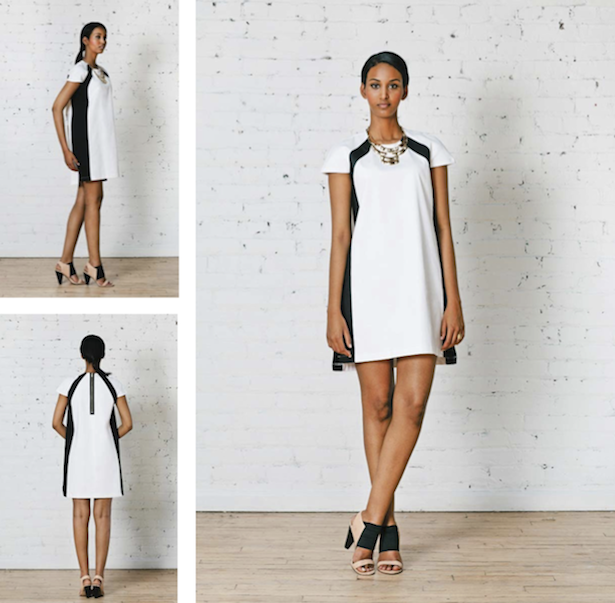 What are your favorite places to shop in the Washington area? Any favorite local bloggers?
I shop at high-end consignment stores like Secondi on Connecticut Avenue and Mint Condition in Old Town Alexandria, as well as AllSaints, Redeem, and Zara, of course, for the affordable find. My favorite local bloggers are Haya Tetroashvili of Good Good Gorgeous and Caitlin Moran of Style Within Reach.
What are the pros and cons of being a designer in this area?
I have found it's a great place to start a business. Most people are supportive, and it's small market, so you're able to build real relationships. It's also close enough to New York City to drive and scout the Garment District without living in the saturation that leaves most designers out in the cold.
Now that your e-store has launched, where do you hope to see your brand go?
The e-store is a wonderful tool to reach consumers, and it allows them to experience the brand firsthand in the comfort of their home. I know and respect that clothing is inherently a hands-on buying experience, so local boutiques are very much a part of the growth strategy. I'm currently lining up stockists for spring. Ultimately, I put in the legwork to create a high-quality product so the brand will speak for itself and grow organically. I will begin the design process for fall 2014 in the coming weeks!
Erika Schrieber's full collection, which ranges from $178 to $298, is available for pre-order on her website.