Attraction blossomed for Colette Handley and David Forster from the moment they laid their eyes on each other while sunning themselves on the beach in San Diego, where both lived prior to moving to Washington. "I thought Dave was strong, intelligent, charismatic, and funny. And big—I am 4-foot-11 and Dave is 6-foot-4!" says the bride, a sales associate. The groom instantly fell for Colette's "stunning eyes," and a first date at a restaurant in Pacific Beach soon followed.
One move and four years later, on New Year's Eve 2011, David planned a scenic, wintry proposal on the bridge overlooking the Potomac River and the Lincoln Memorial. "I tricked her by telling her that a friend needed us to pick her up after car trouble," says David, a franchise operations manager. "So on our way down, I stopped, stepped out of the car, popped the trunk open, and surprised her with the ring and flowers."
A year and a half later came their elegant wedding celebrating Washington's cherry blossom season. The icing on top of their stunning two-tier cake was the news that came after the big day—Colette and David are expecting their first baby, who should arrive in time for their one-year anniversary.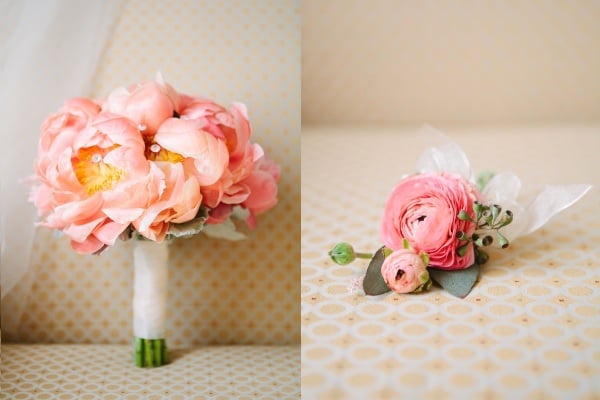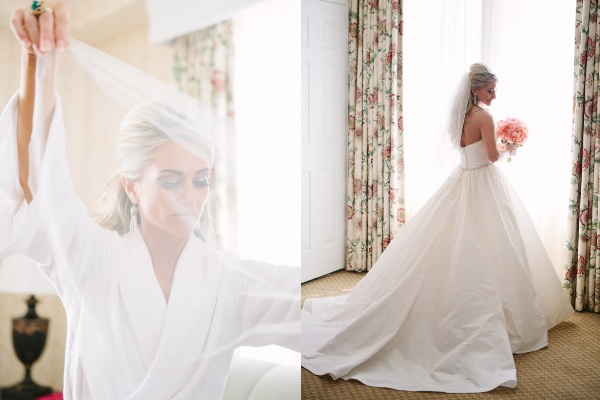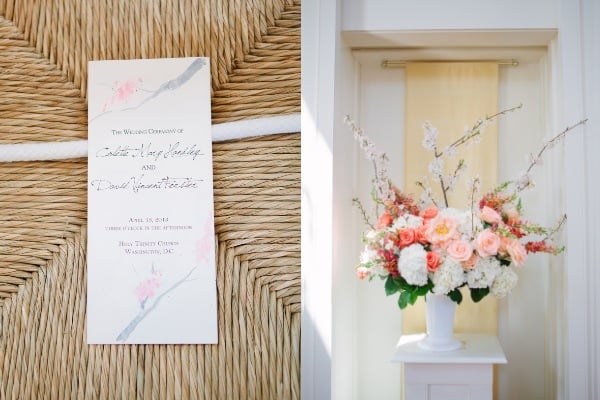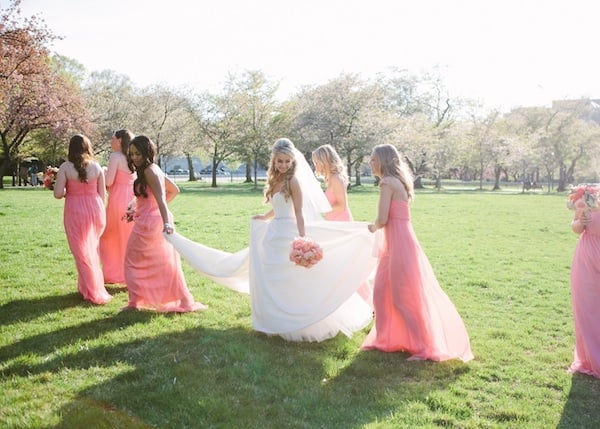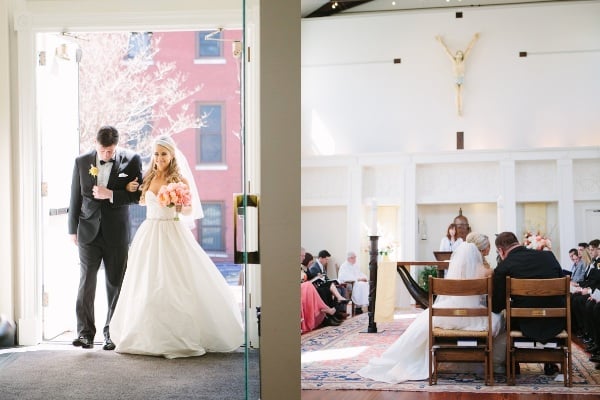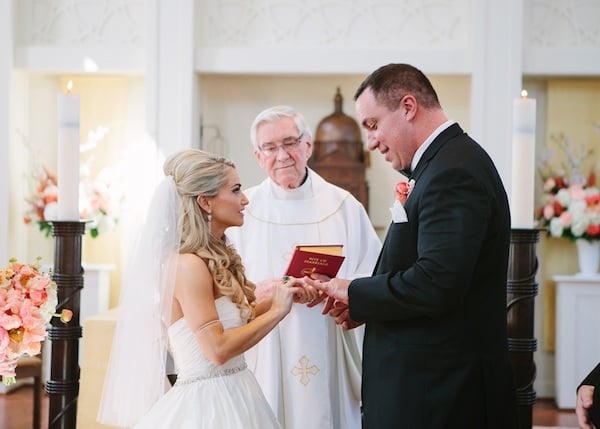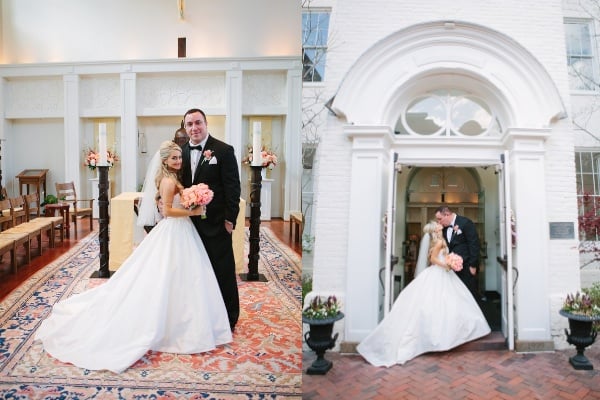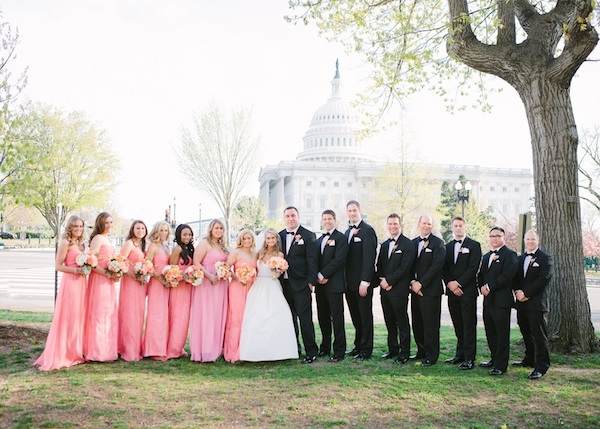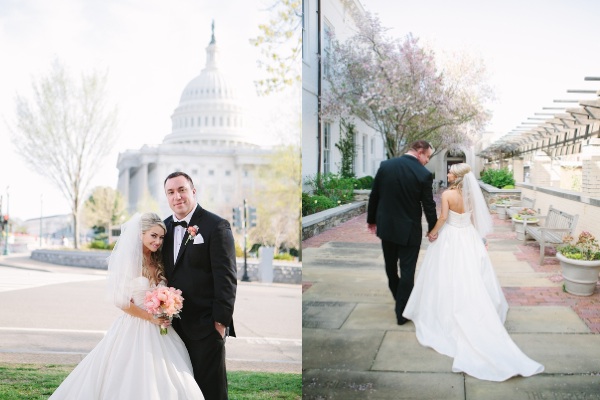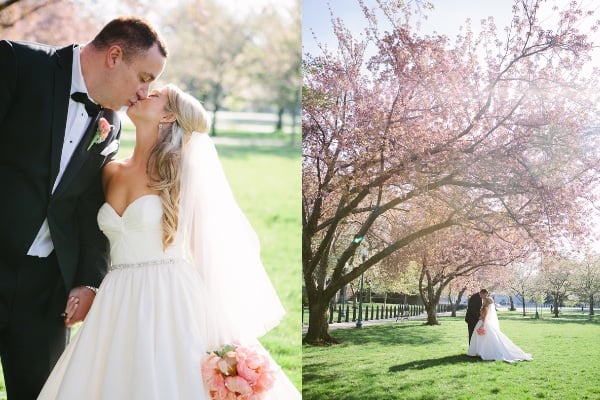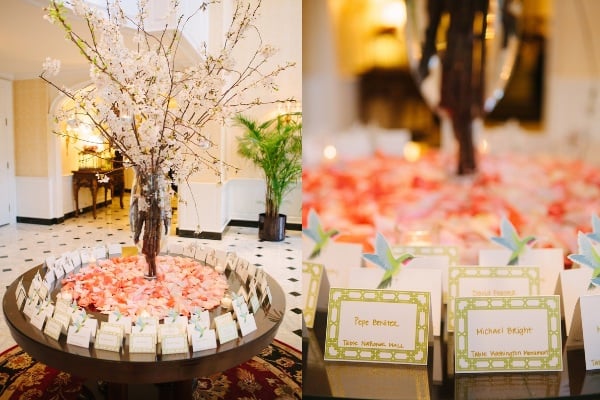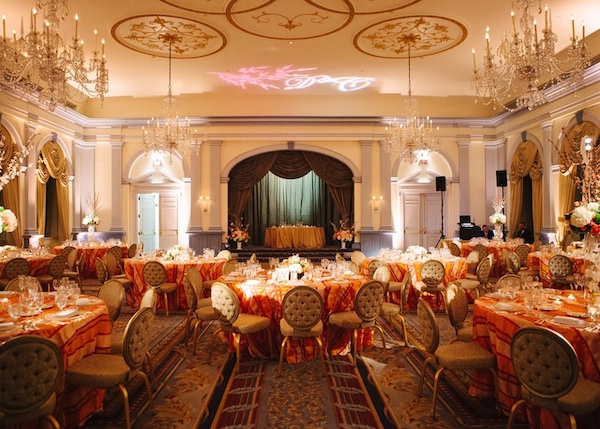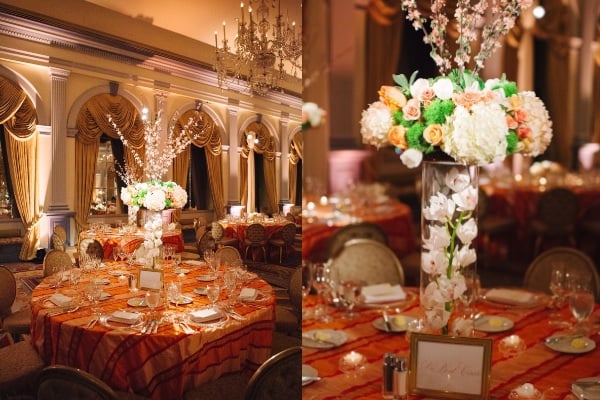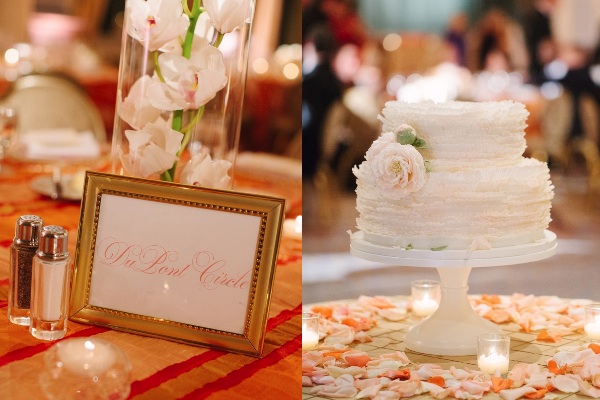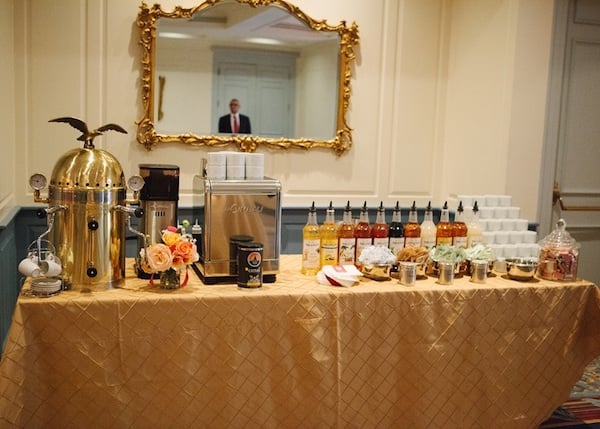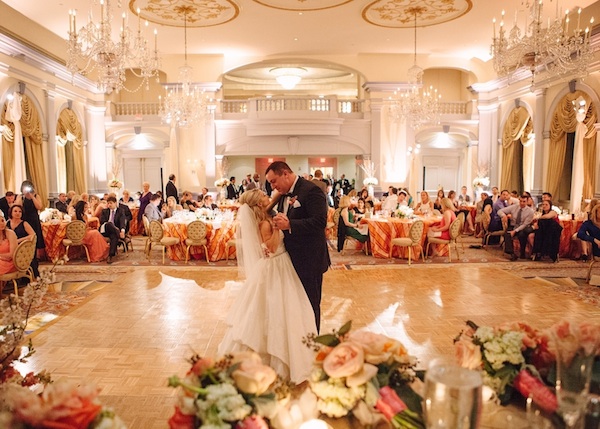 Details:
Photographer: Marta Locklear
Ceremony Venue: Holy Trinity
Reception Venue/Caterer: The Fairfax at Embassy Row
Event Coordinator: Elizabeth Leibundguth, Cherry Blossom Events
Bride's Gown: Amsale, Betsy Robinson's Bridal Collection
Hair/Makeup: Suzanna DeCarlo, Aveda Bethesda Salon & Spa
Jewelry: MPC Designs by Melissa Price Carlson created one-of-a-kind jewelry pieces for the bridal party.
Groom's Tux: Black by Vera Wang, Men's Wearhouse
Cake: Maggie Austin Cake
Wedding Cake Flavors: Pear cake with blackberry and white chocolate buttercream
Beverage Station: Travelling Bean. "Everyone loved it and the service was amazing! It was a huge hit with the guests."
Florist: Suzie Clayton
Wedding Flowers: Ivory hydrangeas, coral and peach roses, coral snapdragons, and peach French tulips, accented with cherry branches and peach peonies. "They most stunning and eye-catching floral arrangements we have ever seen."
Music/Entertainment: Michael Tate, Chris Laich Music Services
First Dance Song: "Whisper of a Thrill" by Thomas Newman
Invitations: William Arthur, Dalton Brody
Lighting: Perkins Productions
Bride's Favorite Wedding Detail: "The cherry blossoms blooming! We got very lucky with the perfect timing and beautiful weather."
Groom's Favorite Wedding Detail: "Our handpainted cherry-blossom-themed wedding programs."
Biggest Surprise for the Bride: " I was given my grandmother's uncut emerald ring to wear as my 'something borrowed,' but then was told that it was actually a wedding gift!"
Biggest Surprise for the Groom: "Seeing Colette in her dress. I tried to hold back my tears at how gorgeous she was."
Wedding Favors: "The wedding favors were printed cards that were seeds. You can plant them, and the next year when the flowers grow it will be a nice reminder of the wedding."
Decor Details: "Instead of table numbers we decided to change the tables into different locations in the Washington area. We also had projections of cherry blossoms on the ballroom ceiling."
Wedding Theme: DC, playing on their initials D(avid) and C(olette)
Four Words That Describe the Wedding: Elegant, memorable, magical, tasteful
Honeymoon Spot: Italy and Greece
Where They Currently Live: Washington, DC