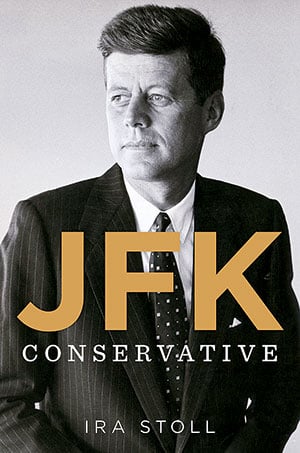 Liberal Icon? Try Conservative Lion
JFK, Conservative paints Kennedy's politics in a new light. Ira Stoll, former New York Sun managing editor and current FutureOfCapitalism.com editor, follows JFK from Harvard to his final days to describe how the first Catholic President's views on religion, tax cuts, big government, and defense plant him firmly on the right.
The Knights of Camelot
In Camelot's Court: Inside the Kennedy White House, Robert Dallek details Kennedy's contentious relationship with what adviser Ted Sorensen called the "ministry of talent." There were successes, of course, but JFK "was an imperfect man," Dallek writes, "whose foibles made him receptive to some bad advice that triggered misjudgments."
The Peacenik President
Economist and author Jeffrey D. Sachs claims that Kennedy desired perhaps nothing more than peace with the Soviet Union. To Move the World: JFK's Quest for Peace uses four speeches the President delivered in the months before his death—including his "peace speech" at American University—to examine Kennedy's vision.
Oswald Didn't Kill JFK—Dallas Did
In Dallas 1963, Bill Minutaglio and Steven L. Davis offer a clear-eyed account of the civic maelstrom Kennedy walked into that fateful day. Packed with ultraconservative Kennedy haters—like oil tycoon H.L. Hunt, whose anti-JFK radio-program scripts were found on Jack Ruby—the book illustrates why 1963 Dallas was the last place you'd expect Kennedy to be.
Lose LBJ, Win a Second Term
In If Kennedy Lived: The First and Second Terms of President John F. Kennedy: An Alternate History, Jeff Greenfield imagines what the '64 campaign and a second Kennedy term might have looked like had he not been killed. Among the claims: LBJ resigns over ties to his protégé, Secretary of the Senate Bobby Baker, who in 1963 was embroiled in a financial scandal.
History as True-Crime Story
Beginning three days before the assassination and concluding two days after, Washington author James Swanson chronicles JFK's and Lee Harvey Oswald's final hours in End of Days: The Assassination of John F. Kennedy. As he did in his bestselling Manhunt: The 12-Day Chase for Lincoln's Killer, Swanson combines stellar research with a brisk, transporting narrative.
Killed for His Father's Sins?
Former criminal-defense attorney Mark Shaw thinks all the research into JFK's assassination has been barking up the wrong tree. The Poison Patriarch: How the Betrayals of Joseph P. Kennedy Caused the Assassination of JFK links Lee Harvey Oswald killer Jack Ruby's Mafia ties with Joe Kennedy's organized-crime connections for a fresh take on the forces that converged on Dealey Plaza.
What the Veep Knew
Was the "master of the Senate" the mastermind behind JFK's assassination? Political adviser Roger Stone says yes. In The Man Who Killed Kennedy: The Case Against LBJ, the former staffer on the Nixon administration's Committee for the Re-Election of the President (known in Watergate days as CREEP) wields a slew of provocative evidence, including old interviews with Nixon.
All Because of a Topless Car
Newsman Jim Lehrer's novel Top Down explores what might have been had the Secret Service placed the plexiglass bubble atop the presidential limo. Five years after the assassination, fictional agent Van Walters, whose decision to leave the top down has left him shattered, sets up a reenactment to see if the top would have spared Kennedy's life. Along the way, he just might recover his own.
This article appears in the November 2013 issue of Washingtonian.