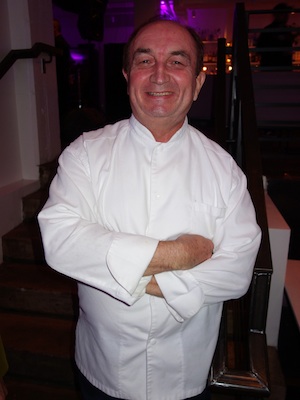 After several months as the consulting chef at Malmaison former Gerard's Place chef Gerard Pangaud has been brought on in a more permanent capacity. He will also give culinary guidance to Cafe Bonaparte on Wisconsin Avenue and Adams Morgan's Napoleon Bistro, according to Omar Popal, whose family owns all three. "All famous designers have a store on Fifth Avenue as a showcase," says Popal. "Malmaison is that for [Pangaud]. The other locations will be treated like Brooklyn," which he defined as unique in its own way.
Pangaud was at Malmaison Thursday night, showing off a new menu, which features some of his greatest hits, such as duck confit shepherd's pie, five-onion soup, roasted chicken with mushrooms, curried grilled scallops, and house-made pâté en croûte. He also chose the wines on the wine list.
Pangaud has a long and distinguished culinary résumé. A native of Paris, he was the youngest chef to ever receive two stars from the esteemed Michelin Guide in the 1980s. In 1985 he came to the US and opened the acclaimed Aurora in New York City, before moving to the Washington area with the Ritz-Carlton Pentagon City. In 1993 he opened Gerard's Place on McPherson Square, which ranked highly on Washingtonian's annual list of best restaurants. In recent years he operated the Blue Rock Inn outside Washington, Virginia, and consulted for Marriott.
While his classic dishes matter to him, Pangaud says Malmaison's menu will not be a recreation of the one at the now-shuttered Gerard's Place. He says he's moved on, and that what he offers will be a mix of then and now. He will be at the restaurant on Wednesday, Thursday, and Friday.
Popal also confirmed that he is in preliminary talks to take over the space next door on Water Street in Georgetown. Pangaud said it would be an expansion of the restaurant as well as a bakery.