Many Bravo fans know Mike Isabella best as the trash-talking, pepperoni-sauce-stirring caricature dubbed Jersey Mike on Top Chef. Locals mostly associate him with the fried-calamari pizzas and cherry-tomato spaghetti he dishes out at Graffiato in DC's Penn Quarter. So it might have been a surprise when Isabella announced he was going Greek for his latest venture, Kapnos, on DC's U Street corridor. But for a good bit of his career, Isabella honed a résumé that didn't focus on meatballs and marinara, notably as head chef at José Andrés's Zaytinya, DC's best-known—and most popular—Mediterranean restaurant.
If Andrés was worried that his protégé would rip him off, he can rest easy. Kapnos—with its turning spits of burnished lambs and goats in the open kitchen, dusky lighting, and sage-green walls—feels a world away from Santorini-white Zaytinya. Isabella also sets Kapnos apart from many of its 14th Street neighbors by extending a hand to suburban diners in the form of reservations and valet parking.
That, plus the buzz-heavy Isabella brand name, has helped keep the dining room loud and crowded. But what comes out of the kitchen is erratic. There are plenty of highs—fabulous stone-baked flatbreads to go with the thick, dill-heavy tzatziki and the hummus-like revithosalata, or better still, the ethereally airy taramasalata topped with paddlefish caviar. A delicate composition of sweet Royal Red shrimp with eggplant chutney bears the elegant scent of kalamansi, the Asian citrus fruit. A triangle of crispy phyllo dough holds a wonderful pairing of tender duck and tangy cherries. And from the bar, there are easy-drinking lemonades spiked with gin or rum.
Yet for each time a knockout dish landed on the table, it seemed a disappointing one wasn't far behind. A straightforward take on another phyllo pastry, spanakopita, spilled watery spinach and grainy feta. Translucent slices of lightly cured branzino clashed with the pungently smoky fish-skin cracklings carefully arrayed around them. Souvlaki-style chicken thighs—first cooked in a sous-vide machine, then pressed and grilled—had an overpowering bitterness from too much char.
At Graffiato, one of Isabella's best dishes is a bowl of crisp-edged Brussels sprouts sautéed with pancetta and doused in sherry vinegar, then spooned atop Greek yogurt. It's a fantastic interplay of earthy, acidic, sweet, and creamy—and a reminder of the importance of balance. Here, the kitchen's biggest issue is a lack of that very skill. The thin filets of a $42 dorado, baked in a pastry crust, tasted mostly of salt. I love lemon, but it was all I tasted in a rustic plate of potatoes with feta and scallions.
So far, the best reasons to visit Kapnos can be found on those spinning spits. Gorgeous hunks of woodsy lamb marinated in olive oil, oregano, thyme, and lemon peel. Lush pieces of goat with harissa and yogurt. Roast chicken, this time with just the right amount of lemon.
Here's hoping the rest of the menu becomes such a sure bet.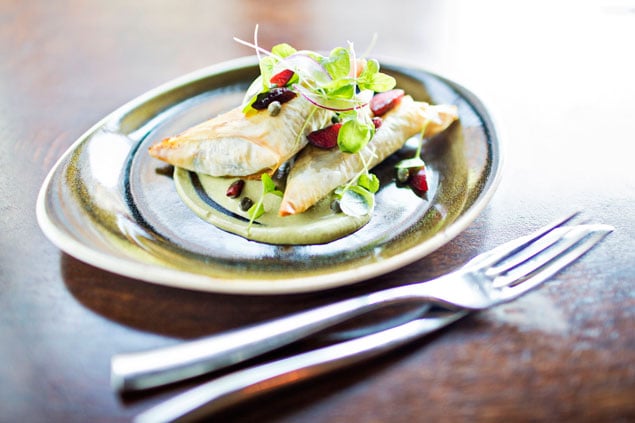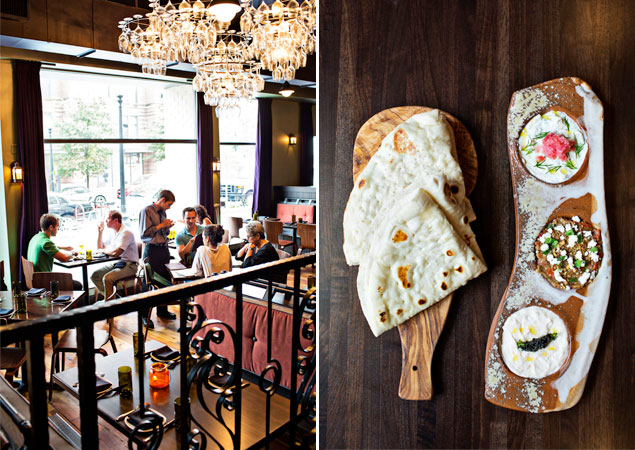 This article appears in the December 2013 issue of Washingtonian.
---