When it comes to gelato, being freshly made isn't necessarily a requirement—unlike, say, bread. It's frozen regardless, right? But once you've tasted the cold stuff right out of the spinner—especially in flavors such as pomegranate, salted caramel, and local Honeycrisp apple—opinions change.
"It's so much better than what you get at the shop, which is still good," says Robb Duncan, co-owner of Dolcezza. "We taste it multiple times a day and say, 'If only people could eat this.'"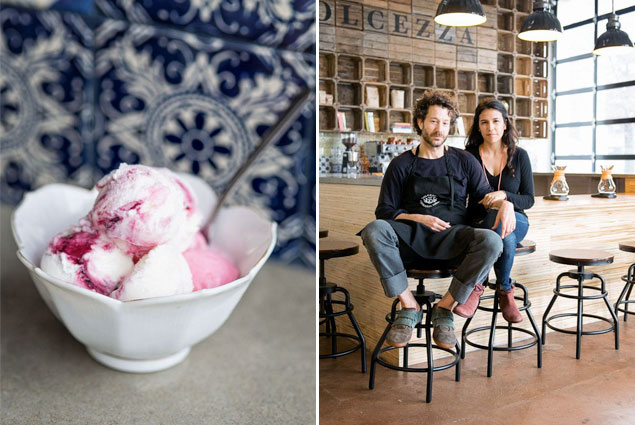 Now people can. Duncan and wife/business partner Violeta have moved Dolcezza's home base from a Georgetown shoebox to a 4,000-square-foot factory, tasting room, and Stumptown Coffee Roasters lab tucked behind Union Market. The facility will serve the four Dolcezza shops, as well as the restaurants and retailers who carry the line. The business will open to the public this Saturday between 2 and 6 for complimentary samples of gelato and coffee. Come March, the space will officially open, meaning guests can drop by for behind-the-scenes tours and perch in the 20-person bar to sip espressos and taste whatever cold sweets Duncan and his team are making from a variety of locally grown fruits, vegetables, nuts, and herbs.
The reason newly spun gelato excels over the packaged version has to do with temperature and texture. Tasting food at extreme temperatures, whether hot or cold, tends to mask the flavor. The samples of Valrhona chocolate, ginger-cardamom-pistachio, and Honeycrisp apple are more robustly flavored as well as airier pre-deep freeze. (We could have eaten multiple scoops of the creamy pomegranate gelato made minutes earlier during our visit.) Once the operation is fully open in the spring, guests will be able to order bowls for $5.25, along with a variety of Stumptown pour-over coffees, specialty blends, and espresso drinks mixed with the same Perrydell Farm Dairy milk from Pennsylvania used to make the gelato.
Dolcezza factory. 500 Penn St., NE.