Virginia Arrisueño always believed she would be an artist. After graduating with a Bachelor of Fine Arts from the University of Maryland and placing first in a prestigious national competition juried by the late Guggenheim curator Robert Rosenblum, Arrisueño appeared to be destined for greatness. But her intellect and, frankly, common sense soon led her to think the artist's life might not be for her after all. "That was my dream, and it seemed like it was going to be my path, but I realized that it was a struggle to be a starving artist," says Arrisueño, 33. "You need that drive in order to survive." So instead, the New Jersey native (she moved to Maryland when she was 10) took a job with a handbag designer, a route that kept her creative juices flowing and also inspired a new love of business and entrepreneurship.
In 2009, she combined both energies to launch DeNada, a line of covet-able knit accessories inspired by her Peruvian heritage. "In college,
I worked so much with fabrics and textiles that I wanted to go back and reexamine that," she says. The brand has since expanded from a small collection of scarves sold at DC's Eastern Market to a full line of accessories and sweaters sold at major retailers, at online shops such as Nasty Gal and Need Supply Co., and far-flung boutiques in Japan and Canada.
In addition to DeNada, the stylish new mom to 22-month-old son Atticus seamlessly juggles a multitude of other responsibilities. She manages DC MEETMarket, an outdoor marketplace featuring local artisans and vendors held the first Saturday of every month in DC's Logan Circle, as well as Ulysses Room, a DC event studio adjacent to the Bloomingdale loft she and her family call home. When Ulysses Room isn't being rented out to small and emerging fashion designers and artists, part of her commitment to encouraging creativity in the region, Arrisueño uses it as her personal work studio. Most recently, she cofounded Topaz + Arrow, a not-your-grandma's monthly craft and DIY workshop, with friend and blogger Morgan Hungerford West.
When it comes to the home she shares with her husband, the popular graffiti and mixed-media artist Kelly Towles, Arrisueño approaches it with the same creative finesse with which she designs her knitwear. From the full-size metal lockers that the couple found in an old church near Dulles to the oversize red letters spelling SUEÑO (Spanish for "dream") that they salvaged from an antiques store in Baltimore, their studio is filled with time-worn fixtures. The kitchen has no cabinets or drawers; rather, open shelves hold more than a dozen Mason jars containing utensils and dry foods. It's a cozy and utterly cool abode, perfect for the artsy couple.
Arrisueño does relish a little quiet time, which these days comes in the form of watching late-night cooking shows, enjoying Sunday brunch at Big Bear Cafe, and taking her son and two Shepherd-mix dogs to one of the city's many parks. With a new kids' fashion line in the works for 2014, Arrisueño is nowhere near finished creating. "My sports coach once told me, 'Whenever you're not practicing, just know that someone else is.' And it just tells me that whenever I'm not working or I'm slacking off, someone else is working and getting better at something." Artistic talent and competitive spirit? All in a day's work.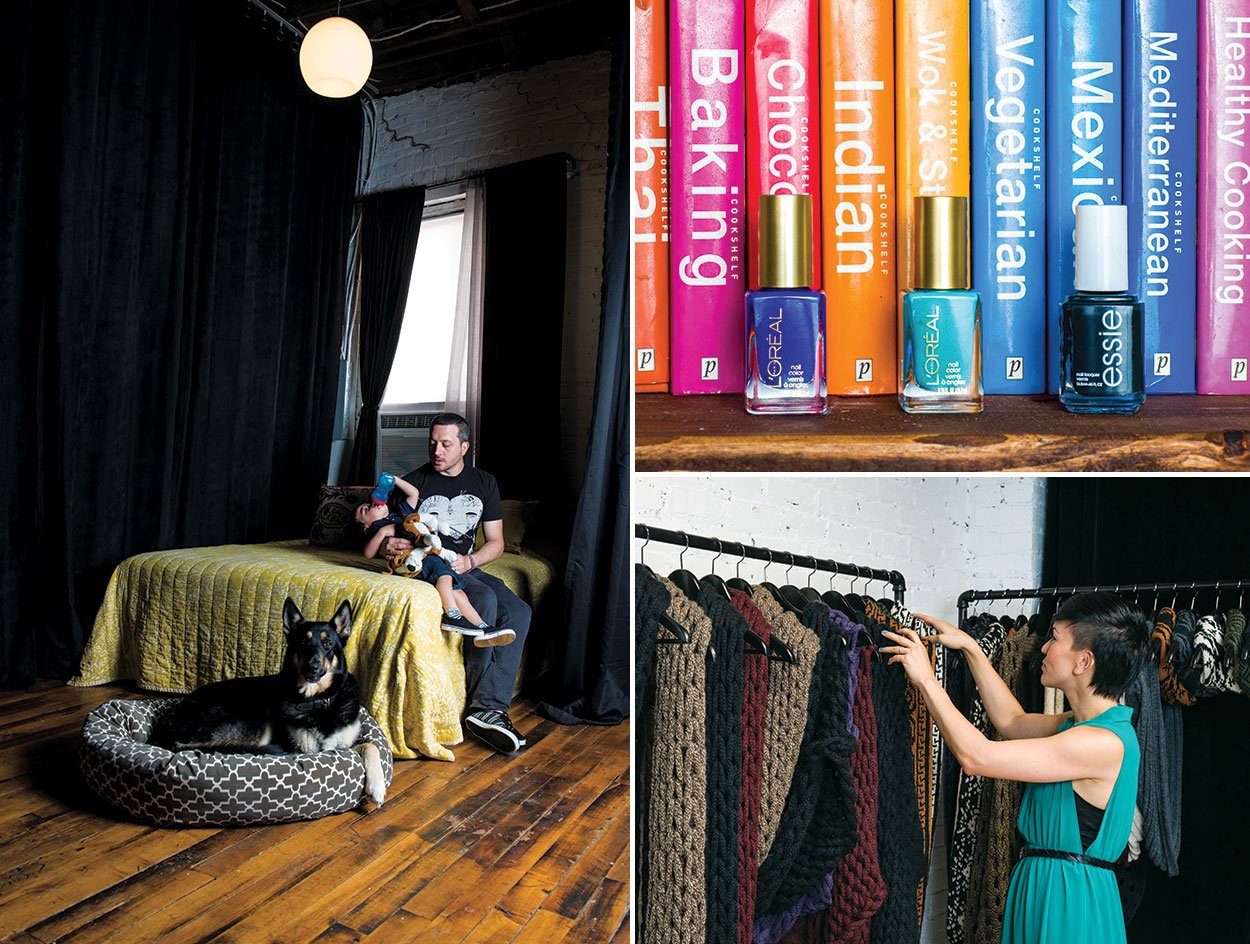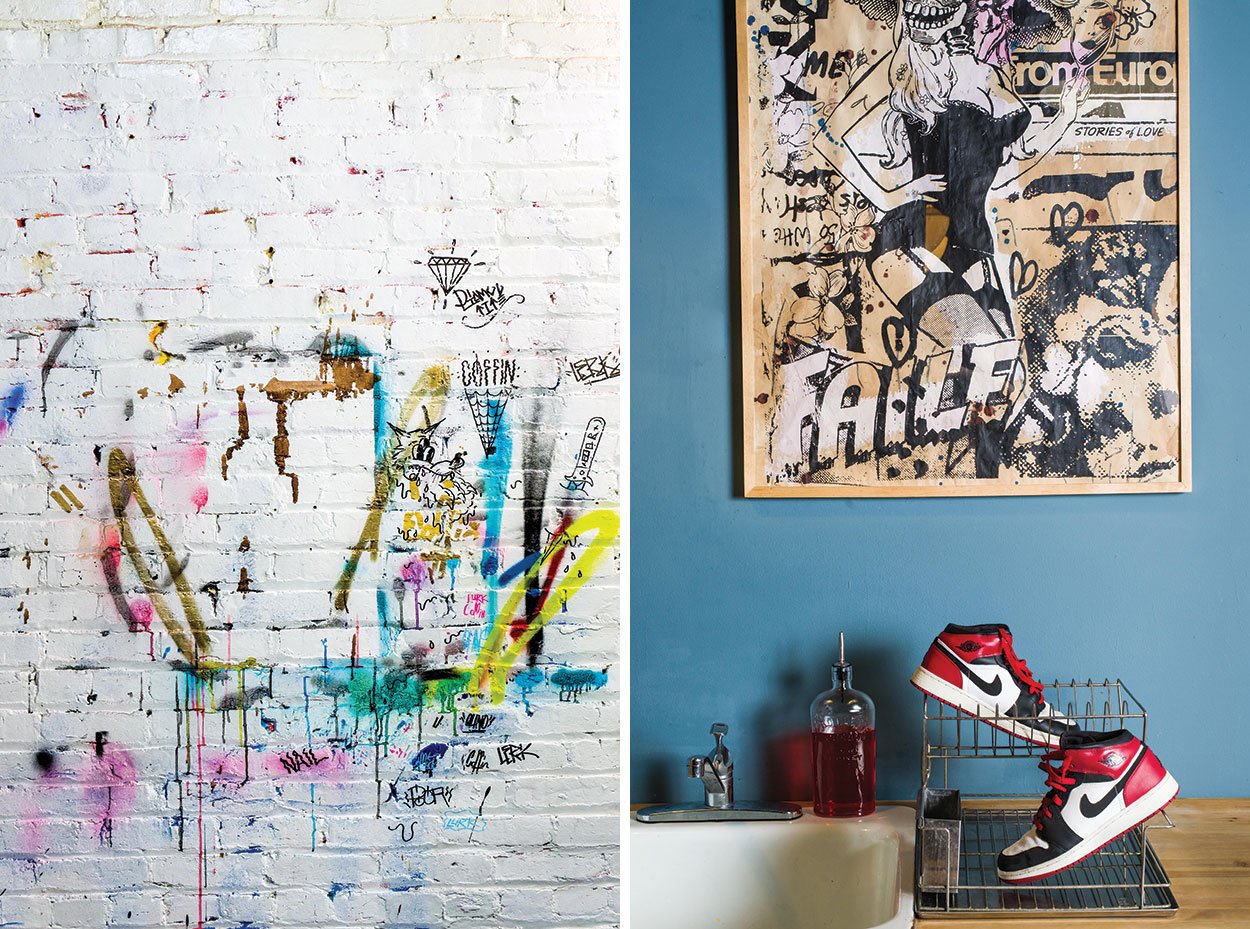 Virginia's Mom Code
What's the best parenting advice you've received?
It came from my sister, who told me to recognize my limitations and
be willing to make compromises.
Anything you can't leave the house without?

My Marc by Marc Jacobs book bag filled with the mommy essentials:
my wallet, iPhone, "to do" notebook, sippy cup, diapers, wipes, and toys.
Biggest guilty pleasure?
Watching missed episodes of Vampire Diaries on my iPhone
with a glass of Pinot Noir.
Any tidbits from your never-say-never file?
Even though I still don't 100 percent like watching kids' TV, I do like sitting down with my son on the couch while he watches his shows.
How does your family spend a typical Sunday?
On a typical Sunday, my family and I spend quality time together. Depending on the weather and season, our family activity could
be a day at the pool, visiting family,
or a quick excursion out of the city
to someplace new.