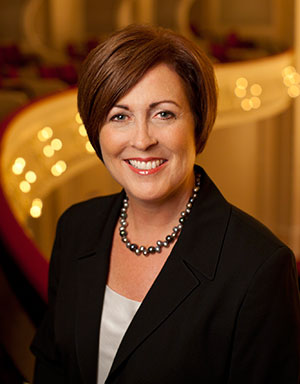 When Deborah Rutter takes over as president of the John F. Kennedy Center for the Performing Arts next summer, she'll bring with her a sterling reputation. Over the past decade in the same position at the Chicago Symphony Orchestra, widely viewed as one of the two best-run major orchestras in America (along with the Los Angeles Philharmonic), Rutter, 57, has impressed the Windy City as a straight-talking manager, consensus-builder, and tireless fundraiser with excellent people skills and a heartfelt populist streak.
While it's unclear how those skills will translate at the Kennedy Center—with its bigger budget, its more varied array of programs and tenants, and the greater prominence of political and society types among its funders and constituents—the feeling in Chicago is that if anyone is up to the task, it's Rutter.
"She's absolutely straightforward in a buoyant, positive way—she's not any kind of a game player," says Andrew Patner, longtime classical music critic for the Chicago Sun-Times and Chicago's classical radio station, WFMT. "The day she was announced here, she told me, 'My job is to listen, and once I get to know people and see what they need, I go from there.' Of course, people in her position always say things like that, but in her case it was true. Ten years later, the main thing she leaves here is a culture of listening. There's a connection between management, staff, trustees, and musicians at the CSO that's very, very unusual at orchestras around the country, and that's largely because of Deborah."
Most of Rutter's major accomplishments at the CSO are familiar in arts administration circles: record-breaking ticket sales and fundraising the past three years running; lowering the average age of CSO concert-goers by about 10 years in a time when most orchestras are fretting about graying audiences; and luring the Italian maestro Riccardo Muti to Chicago as music director to replace the departing Daniel Barenboim. The last was no mean feat; Muti was famously skittish about returning to another music-director post after the collapse of his relationship with La Scala in Milan. (Following health issues that forced him to cancel dozens of appearances during his first year on the job in Chicago, Muti has bounced back in the past two seasons and is enjoying a prolonged honeymoon with CSO players and audiences alike.)
Less well-known is Rutter's impressive track record as an impresario. When the frosty Barenboim gave two years' notice as music director in 2004, he relinquished involvement with all concerts other than his own; Rutter and her staff filled the gap seamlessly, handling the bulk of the artistic side of the CSO season to an unusual degree. At the same time, Rutter continued to function as the principal presenter or co-presenter of performances at Symphony Center and other venues in Chicago, including festivals and other collaborations with theater, dance, classical, jazz, and pop music ensembles around the city.
In an interview with Washingtonian, Rutter emphasizes that interdisciplinary diversity of her experience in Chicago as preparation for the dizzyingly varied mission of the Kennedy Center. She also shrugs off a question about the political nature of the Washington and the Kennedy Center's funding structure. "It's true that in Chicago, I haven't had the opportunity to deal with government funding because we get so little of it," she says with a laugh. "But a huge aspect of our work at the CSO involves regular interactions with the mayor's office and the governor here. When I was in Seattle [at the Seattle Symphony prior to coming to Chicago], we had a long-term relationship with the city that led to our raising $30 million a year to build a brand-new concert hall. So the experience of working with government is not new to me."
Perhaps the least heralded but arguably most significant aspect of Rutter's career in Chicago is her commitment to community outreach, in particular partnerships with arts organizations, schools, prisons, and other entities. Well before the widely publicized community engagement efforts of Muti and the CSO's creative consultant, Yo-Yo Ma, Rutter was beefing up the orchestra's outreach efforts and forging relationships with arts-education groups around town.
"Deborah really upped their game in terms of community outreach, the result of which is that the CSO is a lot of places now that they never used to be," says Nancy McCarty, executive director of Storycatchers Theatre, a group that works with young women and girls in Illinois prisons and detention centers to create original musical theater based on their personal stories. During Rutter's tenure, the group now works with Muti, who gives regular lecture-demonstrations for the inmates; CSO players, who perform as part of the group's orchestra in their annual musicals; and members of the CSO chorus, who serve as teaching artists and mentors.
"It's not just showing up for a one-hour assembly in high school and you never see them again," McCarty says. "They're embedding themselves in community organizations to make it a deep, committed, worthwhile experience. Our kids get to know the musicians who work with them, and our young composers form valuable peer relations with the CSO people. And it wouldn't be happening if Deborah weren't making those resources available."
Rutter seems likely to build on that legacy at the Kennedy Center, where community outreach is a top priority. "I think this will be a way for Deborah to go national with her ideas, including notions about community engagement," Patner says. "There are people who find their niche and want to stay in it, and then there are people who want to go on to bigger challenges every ten years or so. Deborah is in the second group; she wants to spend the last decade of her career riding that beast. She'll be missed here, but it's certainly good for the Kennedy Center."