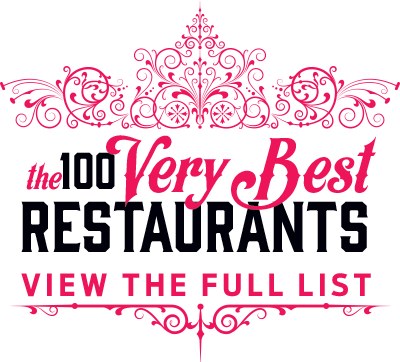 Jeff and Barbara Black's frosted-glass-lined dining room mixes the clubby vibe of a neighborhood gathering place with an ambitious kitchen celebrating all things seafood. The bar area and main dining room are often buzzing with conversation. (Looking for quiet? There's a more sedate, if less exciting, back dining room.) Appetizers tend to be stronger than main courses—many of the latter are either busy or boring—so an assembly of these small plates is the most promising way to a really good meal. Our current favorites: a Caesar salad that doesn't skimp on the anchovies, Ipswich clams worthy of a New England fish shack, and a hefty cut of sweet butterfish in a terrific mango sauce. Up front is DC's best seafood market, where—depending on the season—you might find Maryland rockfish, super-sweet Taylor Bay scallops, and excellent Maine lobsters.
Open: Monday through Saturday for lunch and dinner, Sunday for brunch and dinner.
Don't Miss: Clam chowder; raw oysters; house-cured anchovies with tonnato sauce; grilled sardines; bigeye tuna with pork belly and ginger-soy broth; crabcakes; butterscotch pot de crème; banana cream pie.
---