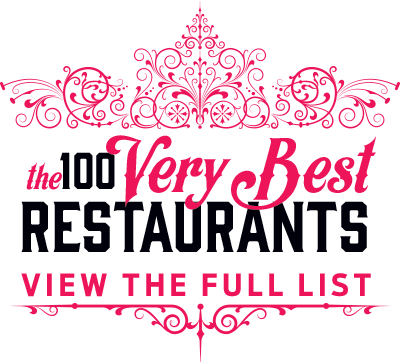 Yes, a chain fried-chicken joint. On the other hand, no fast-food restaurant ever looked like this—the soaring, soft-lit space, by GrizForm, one of Washington's leading restaurant-design firms, is more like a modernist wine bar—and nobody anywhere does Korean fried chicken like this. Or fried chicken, period. The incomparable crunch (you can hear the person next to you biting into the carapace-like skin) is the result of a laborious, multi-step cooking process and is so addicting that first-timers are prone to becoming obsessives. Go for the spicy if you can stand the heat (the sweet soy-garlic is good, too), and opt for wings over drumsticks or strips. You'll want one of the cocktails, such as the lychee mojito, to help balance the burn. The rest of the menu is worth looking at if you need to have something at the table other than chicken and cocktails, but if you're doing anything besides incidental supplementing, you're in the wrong place.
Open: Daily for lunch and dinner.
Don't Miss: Asian pork buns; dduk-bok-ki, a spicy red-pepper stew of rice cakes, fish cakes and mozzarella; Jalarita cocktail, a jalapeño-spiked twist on a margarita.
---