If you eat out a lot, then you know that chefs love to rummage in the world of fast food for inspiration. A generation ago, menus were studded with descriptions of roulades and canapés and consommés—technically rigorous preparations that demanded years of training to master. Today that expertise is applied elsewhere, and if we don't see truffled French fries and $25 burgers on restaurant menus, then we tend to wonder if the chef is having enough fun back there in the kitchen.
But what about the inverse? What about, say, a chicken joint reaching into the world of fine dining for inspiration?
Sounds ludicrous, but is it really any more ludicrous than a pedigreed chef giving his gloss to the work of a short-order cook?
At a time when distinctions between high and low mean less than ever and dining out can mean a meal at a food truck, a gas station, or even a studio apartment, the new Bonchon in Arlington arrives not just as a fascinating experiment in upstairs/downstairs but as a rousing affirmation of the ruddy good health of our balkanized food culture.
Though, admittedly, "health" is probably the last word that comes to mind when you think of the headlining dish.
Bonchon is a Korean fried-chicken chain with more than 100 outlets around the world, five in the Washington area. To its many adherents—and I am one—saying that Bonchon is just fast food is like saying that Thomas Keller is just a cook. It's the apotheosis of fast food, with a fried chicken so juicy, so inexplicably crunchy, that it makes KFC look like it's not even trying.
People don't just eat Bonchon chicken; they become hooked. First-timers give it a tentative try and then, unable to stop, find themselves returning again and again over weeks. ADDICTED YET? read the back of the servers' T-shirts. For once, it's not ad-copy hyperbole.
Two years ago, the Seoul company began franchising, and Tom An and Paul Choi decided they wanted in. An was a consultant for Accenture and Booz Allen for ten years; Choi worked in the mortgage industry and owned several small businesses. The partners saw in the chicken chain a sound business model for a competitive and ethnically diverse Northern Virginia market. Beyond being delicious, chicken cuts across cultural lines and is inexpensive; and though Bonchon isn't as fast as some fast-food outlets (diners are advised that it takes 20 to 35 minutes to fry a fresh batch), it's evidently fast enough: Nearly every location is swarmed.
An and Choi opened a branch in Centreville in 2011. It didn't take long for that to attract its own swarms.
Earlier this year, they began to wonder whether the model was more malleable than they'd thought. If the chicken was that good, wouldn't it be better with cocktails and a full bar? Could they devise a place that would make people want to sit and stay awhile?
These questions led them to Griz Dwight, one of the area's leading restaurant designers. Dwight has created settings for Proof, Fiola, Cava, and Woodward Table, among others. His clients tend to be trendy and high-end, but he became excited after feasting on a pile of crispy, spicy Bonchon wings, and the possibility of creating a bridge between high and low intrigued him.
"The idea," Dwight says, "was to see if we could build a space that wasn't just going to be by Koreans for Koreans."
The result bears so little resemblance to any other local Bonchon that you might wonder whether you've walked into the wrong restaurant. With its cool drop-down lights, polished wood floors, and subtle interplay of steel and wood, the immediate impression is of a wine bar. At second glance, you take in the Zen-like minimalism of the clean, curving lines, which relax traffic-frayed nerves and summon the spirit of a hip and cozy sushi spot.
The best thing about the setting is that it's an inducement to make an evening of fried chicken, where otherwise you might have opted for takeout.
The cocktail list is small, but the selections, including a mojito with lychee juice and a fun twist on a margarita, are well chosen for a menu whose centerpiece is sweet and spicy fried chicken. I saw a number of tables whose orders consisted of nothing more than cocktails and chicken. They looked like they were having a blast.
The drinks are not bargains; they're in keeping with what you can expect at a downtown DC restaurant. The lychee mojito sells for $12, and no sooner had I drained the glass than I was asked if I wanted another.
I'm not crazy about paying $12 for a drink, but on the other hand—and this is the great lure of the place—there aren't a ton of places I can take my entire family out to eat that aren't chains, that serve food that my wife and I and my two young sons all enjoy, that are easy enough on the eyes that my wife and I can feel we've been somewhere to dine and not just a place to meet the kids' needs, and that serve alcohol.
I'm more mystified by the cost of some items—$9.50 for ordinary fried zucchini sticks? Eleven bucks for a hefty but boring Korean-style burrito?
I much prefer the Asian pork buns, which won't make anyone forget the ones at Momofuku but are tasty. They're more firm than pliant, and the pork is short of the luscious ideal, but if you look at these overstuffed handfuls as delivery systems for the kitchen's excellent pickles, you won't be disappointed.
I got a kick out of the dduk-bok-ki, an arranged marriage of Korean and Italian that you'd swear was headed for doom. That's not rigatoni in the bowl—those are rice cakes that have been extruded into small, log-like noodles. The sauce that looks like marinara? A variation on soondoboo, a spicy Korean red-pepper soup that usually is served with a runny egg (there's one here, along with a scattering of fish cakes). What would appear to be mozzarella is, in fact, mozzarella—to mess with your head, yes, but also to make sure your brain goes in two directions at once. It's a fun dish, but a little goes a long way, and the portion is gargantuan.
The real problem with ordering any of these dishes, of course, is that you have less room for the chicken.
Of the three options—drumsticks, strips, or wings—the last is the way to go, for both ease of eating and juiciness, though all have the same extraordinary crunch; you can hear it when someone at your table chomps down. Tom An wouldn't divulge the cooking method in an interview, but one of the secrets to the chicken's irresistibility is that it gets fried twice. (I'd bet a month's salary that the sweetness of the meat comes from brining.) The result of that two-step process is less skin than carapace, thick and nearly impregnable. Your choice of sauces—the "hot" is incendiary, the "soy garlic" more sweet than salty—is painted on liberally after the second frying, and the wonder is that this dousing doesn't make the skin the least bit soggy.
You can say, "I don't eat fast food." Or "I object to the way commercial chickens are treated." Or even "I'm leery of food that's less cooked than engineered, the product of endless lab experiments and a highly methodical process of reproduction that no doubt was perfected with the help of dozens of focus groups." But unless you possess an uncommonly strong will and/or an unshakable moral conviction, resistance is futile when you're confronted with a piece of Bonchon chicken. You will eat, and eat, and come back for more.
And this latest outpost of the empire is a fun, stylish, and inviting spot to feed your addiction.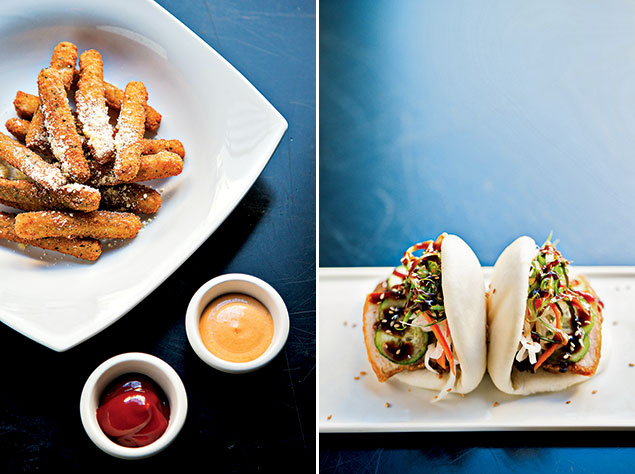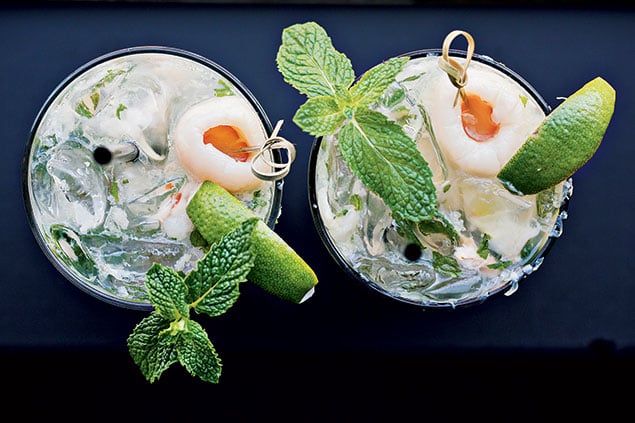 This article appears in the December 2013 issue of Washingtonian.
---