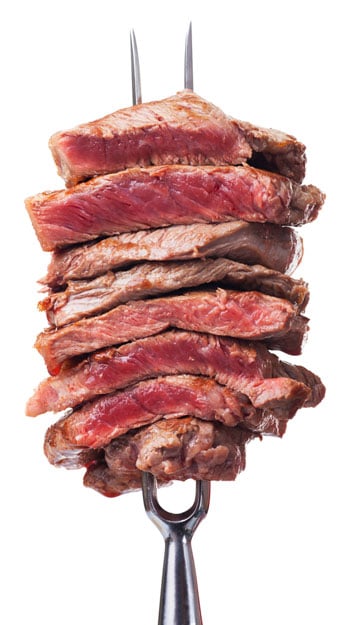 Eye candy: Learn more about Spanish culture at the newly opened "Tapas: Spanish Design for Food" exhibition at the former residence of the Ambassadors of Spain, now through March 22. Check out a preview on After Hours.
Happy Chinese New Year: The Source launches its Chinese New Year festivities on Monday, which will continue over the next two weeks. Head over to the lounge between 6 and 9 for dim sum treats and bites from Sichuan chef Peter Chang, paired with glasses of Clydesdale punch to celebrate the Year of the Horse ($50 per person). Friday marks the official eve, and chef Scott Drewno plans a family-style banquet menu (the price varies by party). Come Saturday you'll find a dumpling-making class from 11 to 12:30 accompanied by more punch, and a dim sum brunch to follow ($75 per person). Tickets are available online, including for next week's night market.
DC Meat Week: Calling all carnivores: DC Meat Week returns with a variety of events. Start on Monday at Hill Country with all-you-can-eat barbecue for $25. Other highlights include a meat-eating competition at Pork Barrel BBQ on Wednesday and a food truck face-off on Friday.
Pizza takeover: Chef Don Shults takes over the ovens at Society Fair on Monday, transforming the eatery into a neighborhood pizzeria. The three-course menu includes a choice of soup or salad, Neapolitan pie such as wild mushroom or margherita, and dessert. Reservations are $45 for two.
Bottomless bar: Who says unlimited drinks are just for weekend brunch? Chez Billy hosts an all-you-can-drink fete on Tuesday from 7 to 10. The $40 entry fee gets you bottomless PBR tallboys and unlimited Overholt whiskey shots with picklebacks (the latter just for the first hour), beer-inspired hors d'oeuvres, and PBR swag. Cheers!
Greek cooking class: Visiting cookbook author Aglaia Kremezi and Zaytinya chef Michael Costa cohost a cooking class on Tuesday from 5:30 to 7:30. The $55 session includes cooking demonstrations, three dishes, and beverage pairings.
My fellow Americans: Here's at least one State of the Union special (stay tuned for more!). The Diner accompanies President Obama's address with bingo, an unconfirmed drinking game, 50-cent wings, $18 pitchers, and more from 8 to last call.
Beer dinner: The temperatures are supposed to drop again Tuesday, making it an appropriate night for Belga Cafe's winter beer dinner at 6:30. Get three courses paired with hearty brews, plus before- and after-dinner sips ($49 per person).
Young talents: The Industree speaker series continues this Wednesday with the Young Blood Installment. Five hospitality-industry insiders under 35 gather at the Atlas Theater at 12:30 to discuss entrepreneurship, including DC Brau's Brandon Skall and Spike Mendelsohn. Head to Smith Commons after for free drinks and bites from 4 to 6. Tickets are available to the public for $50.
Valentine's Day prep: Skip the chocolates and bake your sweetie a batch of cookies with the help of Buzz Bakery's class on Thursday at the Alexandria location. The $55 tickets are limited, and Wednesday's session is already sold out, so book soon.
Chili cook-off: Super Bowl Sunday often brings and abundance of chili, but you can get a head start on Saturday at Hill Country during the chili cook-off from 1 to 3. The $10 entry fee gets you ten tasting tickets and the chance to cast your vote for the best.