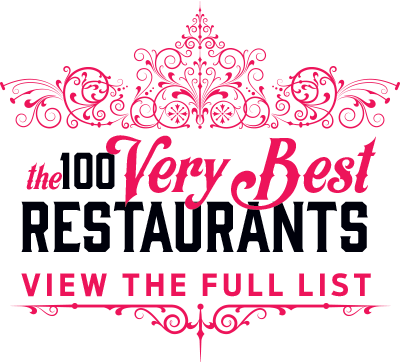 Tom Power's quiet and understated Shaw restaurant stands out the same way a well-tailored jacket does. If his Modern American menu seldom changes, it's because he'd rather win you over with consistency than with novelty.
His red-snapper bisque has such a deep, lingering flavor, it seems wrong to call it soup. His rendition of lumpia, a Filipino spring roll, might be the best fried food you'll eat all year, if it weren't for the fact that you might segue from that to the stellar soft-shell crabs. Wine reductions have disappeared from many menus, but Power reminds us what we're missing when we drag a slice of crisped duck breast through one of his lustrously rich sauces. Note to the budget-minded: You can dine on the three-course prix fixe menu at the upstairs bar for $30—a steal.
Open: Monday through Saturday for dinner.
Don't miss: Tuna tartare; tuna with sushi rice; roast and confit guinea hen; chocolate tart with banana; baked chocolate sabayon.
---