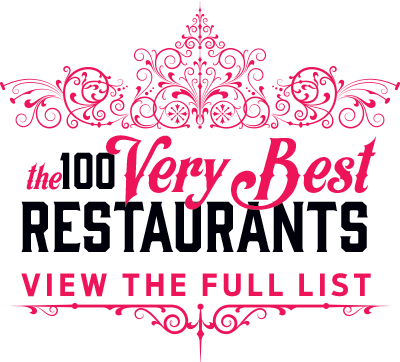 "Surprise and delight" is a buzzy corporate marketing strategy these days, and although there's nothing cookie-cutter or commercial about this woodsy Adams Morgan restaurant, you can't help but think chef Cedric Maupillier has taken the slogan as his credo. Order hushpuppies and they'll turn up studded with bits of escargot. Steak tartare is classically rendered, except for the pile of warm fried cubes of potato tossed atop it. A beet salad is brilliantly reimagined as a pressed sandwich, oozy with goat cheese.
It's a testament to Maupillier's talent that none of his playfulness feels gimmicky or in-your-face. The room, with its tiled open kitchen and antiquey wrought-iron accents is one of the coziest spaces around, but you'll have to lean in close for intimate conversation—it's also one of the loudest.
Open: Tuesday through Friday for dinner, Saturday and Sunday for brunch and dinner.
Don't miss: Chicken-liver tartine; bacon-and-onion tart; suckling-pig croquettes with mole sauce; bacon cheeseburger; cassoulet; roast chicken; tagliatelle Bolognese; brownie sundae.
---