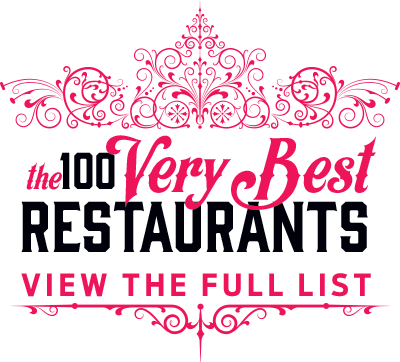 If the cooking at Ashok Bajaj's modern Indian spot, Rasika, is like a New World wine—bright, brash, and full-flavored—the Bombay Club, Bajaj's first restaurant, is its Old World counterpart. Chef Nilesh Singhvi favors subtle, earthy flavors in his Samundari thali—a curry sampler served with a supple slice of tandoori-cooked salmon—and a lamb vindaloo laced with aged vinegar.
In the dining room, Beltway power players sit at tables semi-obstructed by leafy potted plants, which create a sense of privacy but also intrigue—plenty of neck-craning takes place as servers cater to VIPs while making newcomers feel welcome, too. For a splurge-worthy feast with out-of-towners, there are few better options for an only-in-Washington experience.
Open: Monday through Friday for lunch and dinner, Saturday for dinner, Sunday for brunch and dinner.
Don't miss: Kale chaat, with date-and-tamarind chutney; spicy duck kebab; Masala crab with onions and curry leaves; chicken tikka makhani; dal makhani.
---