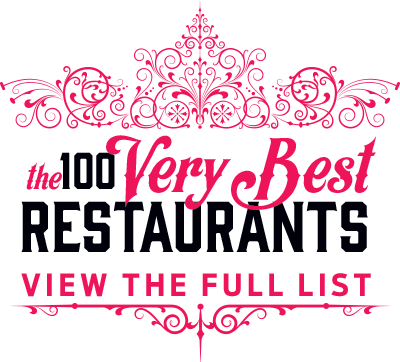 Jeffrey Buben—the chef/restaurateur behind such power bastions as Vidalia and Bistro Bis—loosens things up at this brasserie-gone-Southern, where the smell of fry batter lingers in the air. The menu is one of those lineups where nearly everything at least sounds tasty, and the unstuffy place is as suited to a post-work snack and glass of wine as it is to a date night or pre-theater dinner. Among the salads, we love the riff on an oyster po' boy, tossed with spicy rémoulade and slaw. Shrimp 'n' grits, sauced with just enough zesty cream, doesn't fall into the richness trap that so many other versions do. And a terrific lunchtime swordfish club boasts meaty grilled fish and thick-cut bacon. Also suited for daytime dining is the cafe next door, WTF, which serves excellent fried-chicken biscuits in the morning and sandwiches in the afternoon.
Open: Monday through Friday for lunch and dinner, Saturday and Sunday for brunch and dinner.
Don't Miss: Beet-and-carrot salad with honey-coriander vinaigrette; braised corned beef with carrots and potatoes; fries with Creole rémoulade; Brussels sprouts with cilantro and Thai chilies; crabcake sandwich.
---