Secret Dishes
You don't need to be a celebrity to order special "off-menu" items at these restaurants.
Pasta with morels at 2941
Falls Church chef Bertrand Chemel trained with New York pasta master Andrew Carmellini, and he created this secret springtime special based on Carmellini's fresh-pasta techniques. House-made pasta is tossed with morel mushrooms, vermouth cream, baby zucchini from the restaurant's garden, and, depending on the season, chervil; $24 to $30. 703-270-1515.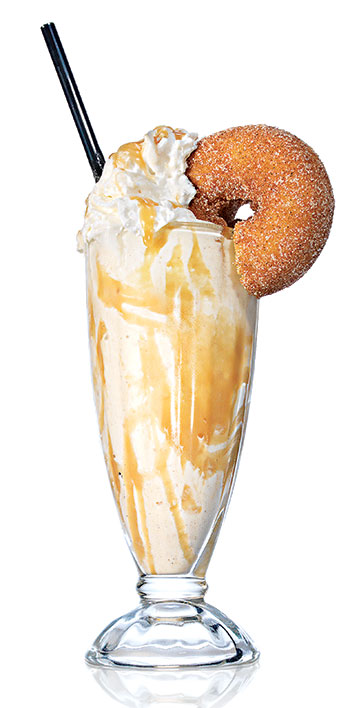 Trying to decide between a cinnamon-sugar doughnut or a vanilla shake? Why not both? Ask the server to blend any baked sweet and shake—including house-made pop-tarts or hunks of pie and boozy milkshakes—for an over-the-top treat. $7 to $9. 202-544-8337 (Capitol Hill); 202-265-8337 (14th St., NW).
Regulars still request this staple from the early menu at this Palisades seafood spot. The $18 lunch-only brioche sandwich is stuffed with crispy sweet clams, arugula, and house-made tartar sauce. 202-342-9101.
Legal may be a Boston-based chain, but the DC branch boasts a throwback Italian-American dish that's unique to Penn Quarter: a $12 plate of baked mussels topped with melted pecorino and crunchy bread crumbs. 202-347-0007.
Osso buco for two at Bibiana
Only a few orders of chef Nick Stefanelli's braised veal shanks are available per week, so guests who crave the dish at this downtown DC eatery should call in advance. Be prepared for a rich treat, with fork-tender meat heaped over polenta—and a rich price to match, at $120. 202-216-9550.
32-ounce prime New York strip at Osteria Morini
New York restaurateur Michael White offers plenty of room to splurge on the menu of his Southeast DC spot, but the ultimate often requires 36 hours' notice: a hefty $85 Creekstone Farms New York strip, cooked on a wood-burning grill and sauced with slow-cooked bone marrow. 202-484-0660.
Chef Michael Harr gradually created a more adventurous menu for his downtown Bethesda spot—think octopus and lamb's liver—but customers can still special-order an old comfort-food favorite: cornmeal hushpuppies with honey-dill butter, for $8. 301-652-8008.
Crudo and smoked lobster at PassionFish
Diners can order an entire off-menu meal at Jeff Tunks's seafood spot in Reston. Start by asking for hamachi crudo, a sashimi-like preparation with grapefruit, jalapeño, and ponzu sauce. The smoked-lobster entrée with crispy spinach—a popular original from sister restaurant DC Coast—requires advance notice. Prices vary. 703-230-3474.
Under-the-Radar Restaurants
In the mood for one of these white-hot dining experiences but don't have a reservation or want to wait in line? Check out some worthy alternatives.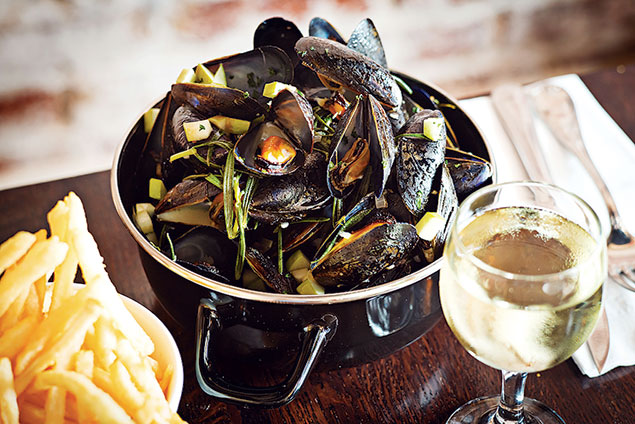 If you can't get into Le Diplomate . . .
try Le Grenier. Someday, we're convinced, Le Diplomate—Stephen Starr's crowd magnet of a French bistro—will be the perfect neighborhood restaurant, one you'll be able to wander into without a reservation. Until then, we'll satisfy our spur-of-the-moment Parisian longings at H Street's cozy Le Grenier, which pulls off Julia Child classics—coq au vin, blanquette de veau, onion soup—with finesse and without the swarming scene. 202-544-4999.
If you can't get into Ray's the Steaks . . .
try Monty's Steakhouse. Michael Landrum's casual Arlington destination, Ray's the Steaks, is beloved for its mix of high quality and great value. And it's often slammed. What to do if you're hankering for a well-cooked New York strip with béarnaise but don't have a corporate card? Head to Monty's in Springfield, which has a similar casual-bistro vibe and reverence for steakhouse traditions—plus it, too, throws in sides of creamed spinach and mashed potatoes for free with dinner. 703-942-8676.
If you can't get into Toki Underground . . .
try Ren's Ramen. The waits are epic, especially on weekends, for one of the 27 stools at Toki, the H Street ramen hot spot. So we often hightail it to Ren's Ramen in Wheaton, a much more serene, if less atmospheric, strip-mall dining room. The straightforward Sapporo-style bowls don't have Toki's creative streaks, but they're eminently soothing and satisfying. Our favorite to slurp: the earthy miso ramen with a soft-boiled egg, bamboo shoots, and ground pork. 301-693-0806.
If you can't get into Little Serow . . .
try Bangkok Golden. Komi's tiny next-door sister restaurant, Little Serow, doesn't take reservations, and seats usually run out for both of the night's seatings within minutes of opening. If you haven't stood in line waiting but are in the mood for the northern Thai flavors the place excels at, Bangkok Golden in Falls Church is your answer. Focus on the Lao menu, which features many similar spicy, funky, sour flavors, and don't miss the justifiably famed crispy-rice salad. 703-533-9480.