Marvel at a billionaire's art collection . . .
at Glenstone, Mitchell and Emily Rales's spectacular art museum in Potomac. Reservations are required but easy to book online. Visitors get to the museum via a long driveway, passing sculptures by Charles Ray and Richard Serra on the way to the Gwathmey Siegel Kaufman-designed building. Docents lead small groups around whatever exhibit is on display. Through February 2015, it's work by Swiss artists Peter Fischli and David Weiss, offering a chance to see many of the duo's pieces before their upcoming Guggenheim retrospective in New York. Free. 301-983-5001.
Admire a Marc Chagall masterpiece in a garden . . .
when you see the National Gallery of Art Sculpture Garden's newest installation, a mosaic wall that graced a Georgetown back yard for nearly 40 years. Approximately 10 by 17 feet, "Orphée"—made of Murano glass, Carrara marble, and natural colored stones—depicts figures from Greek mythology and also hints at the many immigrants who, like Chagall, made their way to America. Free. 202-737-4215.
Find your own way to save the planet . . .
at the Marian Koshland Science Museum in DC's Penn Quarter. What it lacks in size—it's about 5,000 square feet, on one floor—this engaging museum makes up for in interactivity. It's surprisingly high-tech, with motion-detecting games that let visitors catch virtual butterflies and even feel what it's like to grow old. Other exhibits focus on figuring out solutions to problems such as climate change. $7. 202-334-1201.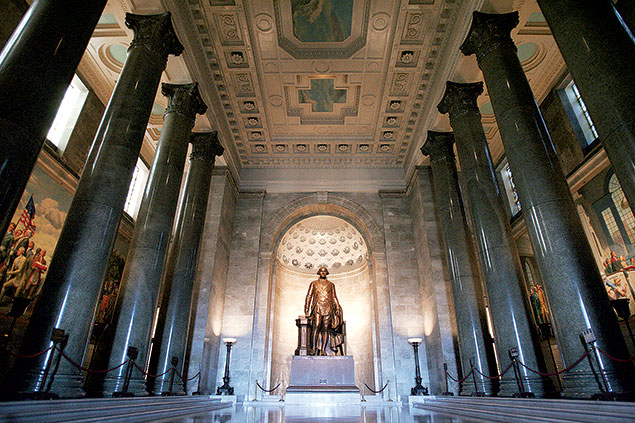 Learn about Freemasons . . .
at the George Washington Masonic National Memorial in Alexandria. See a magnificent 17-foot bronze statue of Washington—our first President was a Mason—as well as murals and exhibits about the fraternity of Freemasonry. Visitors can even step inside a Replica Lodge Room. $5; $8 with guided tour. 703-683-2007.
See Susan B. Anthony's desk . . .
at the Sewall-Belmont House & Museum, once the National Woman's Party headquarters. This Capitol Hill museum uses artifacts and photographs to tell of the fight for women's rights. Walk through the Hall of Portraits to learn about notable women in the party, tour the Tactics and Strategies Gallery to see how they fought on in the face of adversity, and appreciate a collection of bold cartoons by Nina Allender. $8. 202-546-1210.
Listen to classic radio clips . . .
at the National Capital Radio & Television Museum in Bowie. Learn about the development of radio and TV and examine working examples of early technology including a Marconi Morse-code machine, a 1928-29 RCA Electrola, and a mechanical television. Be sure to take a guided tour—the docents are very knowledgeable. Free. 301-390-1020.
Push the envelope . . .
at the National Postal Museum, where the new William H. Gross Stamp Gallery gives the increasingly neglected postage stamp its due. The largest philatelic gallery in the world, it includes gems such as the so-called Inverted Jenny from 1918 (showing an airplane upside down) and the Penny Black (the first stamp ever produced) as well as interactive collections of historic stamps and reminders of how mail was transported before the digital age—including a stagecoach and a 1911 Wiseman Cooke aircraft. Free. 202-633-1000.
Behold Tiffany windows . . .
at the American Red Cross National Headquarters in DC. Three Louis Comfort Tiffany stained-glass creations—with scenes of ministering to the sick and wounded—are part of a 45-minute tour that explains the Red Cross's original mission. (Hint: It wasn't disaster relief.) This is an office building, not a museum, and the art and artifacts you see are in conference rooms and hallways—you can't get up close to the stained-glass windows if there's a meeting in that room. Other highlights: quilts signed by such luminaries as Helen Keller and Theodore Roosevelt. Free. 202-303-4233.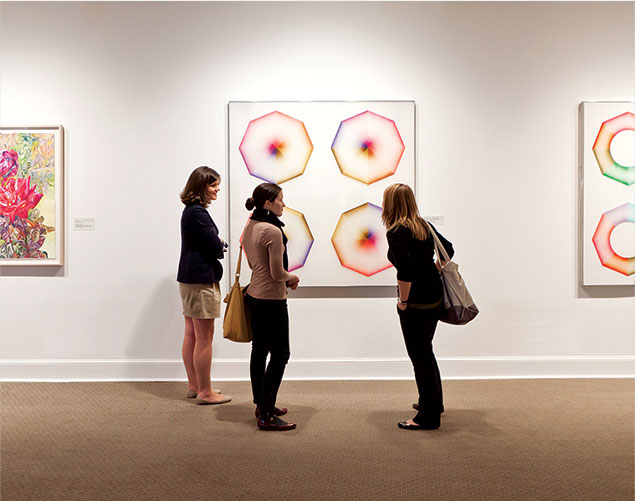 Mary Cassatt and Frida Kahlo for free . . .
on Community Days at the National Museum of Women in the Arts in DC. The first Sunday of each month, the museum waives admission, normally $10 for adults. Explore the collection of 4,500 pieces by female artists, spanning the 16th century through today. 202-783-5000.
Visit an unusual sculpture collection . . .
at the Ratner Museum. This small art museum in Bethesda has on permanent display the art of Phillip Ratner—known for his five sculptures at the Statue of Liberty and 46 pieces at Ellis Island—as well as changing exhibits of other artists. Many of Ratner's sculptures are inspired by the Old Testament. Free. 301-897-1518.
See artist James McNeill Whistler in a new light . . .
when you visit the Peacock Room—a dining room the painter decorated for Charles Freer—at the Freer Gallery of Art on the third Thursday of the month. On that day between noon and 5:30 (starting February 20), the shutters are open to let in natural light. The teal-and-gold Asian-motif walls become more vibrant, and you can more clearly see the details on the ceramics Freer acquired from around the world.