Wonderful Winter Walks
Just because it's cold out doesn't mean you need to hibernate. These parks and hiking trails are surprisingly scenic year-round.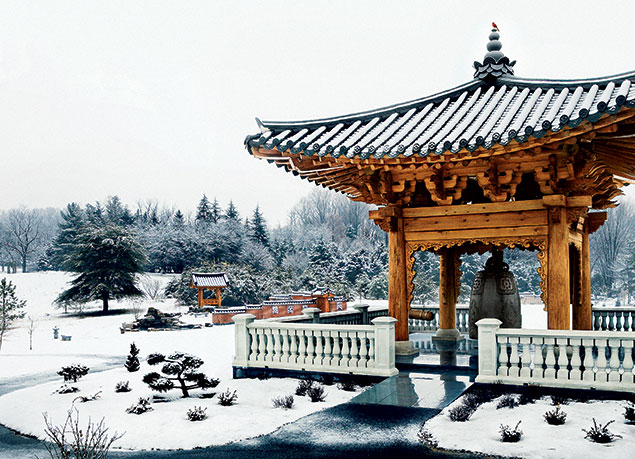 Take a rocky hike that Teddy Roosevelt loved . . .
through a gorgeous gorge on the Northwest Branch Trail in Silver Spring. South of Colesville Road's intersection with the trail, a half-mile stretch cuts through towering boulders next to a creek. This part of the trail was one of Theodore Roosevelt's favorite places. Across Colesville Road, the path continues on both sides of the creek. On the east side is the Rachel Carson Trail, with its many ups and downs and overlooks; it runs about four miles to Brookside Gardens in Wheaton. There, hikers may pick up the Northwest Branch trail on the creek's west side to make a loop through the wooded valley. A shorter loop can be made by those daring to cross one of the trees fallen across the creek. For a map, visit their website and search for "Northwest Branch Trail."
Spy a red-shouldered hawk or great blue heron . . .
at Kenilworth Park & Aquatic Gardens in Northeast DC. In summer, the garden comes alive with water lilies and lotuses. In winter, the boardwalk atop the marshlands is one of the area's best places for birding. You may also see mourning doves, kingfishers, red-bellied woodpeckers, ducks, and Canada geese. The view of the wetlands is stunning no matter the time of year. Free. 202-426-6905.
Find peace in a Korean bell garden . . .
at Meadowlark Botanical Gardens in Vienna. The first public Korean bell garden in the US—funded by the Korean American Cultural Committee—it features traditional wooden pavilions, stone pagodas, carved statues, totem poles, and a three-ton bell engraved with Korean symbols of longevity such as cranes. Several spots, including one beside a trickling fountain, invite reflection. While there, you can explore Meadowlark's 95 acres of trees, flowers, and lakes. Adults $5; seniors and children $2.50. 703-255-3631; visit nvrpa.org and search for "Meadowlark."
Seeing Stars
Want to learn about planets and constellations? The sky's the limit when it comes to local stargazing.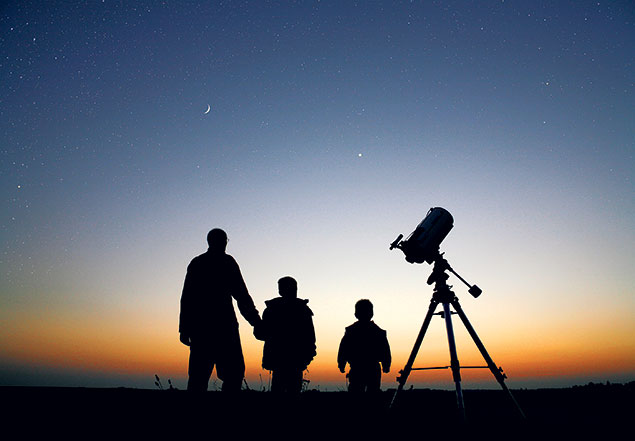 Peer into the night sky to see planets . . .
at one of the area's observatories. The granddaddy—yet still a place few Washingtonians venture—is the US Naval Observatory, on the same grounds as the Vice President's residence. Tours are selected Mondays from 8:30 pm to 10 pm. Go to usno.navy.mil/usno to make a reservation. A few schools, including George Mason University and Montgomery College, hold twice-monthly presentations and viewings through their telescopes. The area's best astronomy program is at the University of Maryland, which hosts an open house the 5th and 20th of every month. As at all observatories, viewings are weather-dependent. Free.
Get a clearer view of galaxies . . .
by getting away from most ambient light. On Friday nights at Observatory Park at Turner Farm in Great Falls, the Analemma Society offers "sky tours" through its telescopes. Download a celestial map from skymaps.com and bring a flashlight covered in red cellophane. Free.
Ogle stars in a five-star way . . .
at the Georgetown Capella hotel's Constellation Series, which brings together a small group (you can reserve one seat or all ten) for a private three-course dinner followed by stargazing—plus hot chocolate and cider—on the roof. A grad student from the University of Maryland's astronomy department is on hand to answer all questions celestial. The evening, with wine, is $175 a person. 202-617-2410; res.dc@capellahotels.com.
Be entertained while learning about the sky . . .
at one of the area's planetariums. The best known is the Albert Einstein Planetarium at the National Air and Space Museum, but for a low-key, interactive experience, head to the Rock Creek Park Nature Center and Planetarium or the 58-seat David M. Brown Planetarium in Arlington, which projects shows each weekend on its domed ceiling. Adults $3; seniors and children $2. The first Monday of the month, the Arlington planetarium offers a live-sky viewing; for information, see their website.