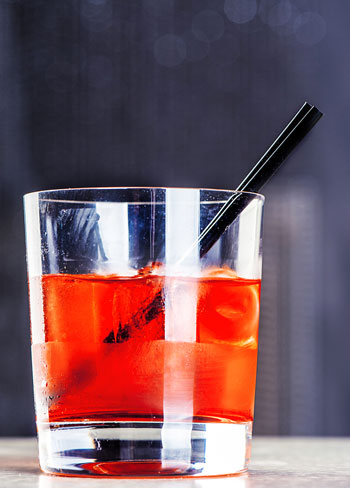 Artful cocktails: The Artini feature nights continue this week, with mixologists whipping up art-inspired cocktails at the Gibson on Tuesday and Oyamel on Thursday at 6:30.
Goddesses of food: The big-ticket event this week is Turn Up the Heat, a gala that celebrates women chefs and benefits the Ovarian Cancer National Alliance. You'll find a variety of participating chefs and mixologists at the Ronald Reagan Building on Wednesday, all cooking for a good cause. Tickets start at $275.
Movies and wine: Now that's a pairing! Corcoran Uncorked returns every third Wednesday of the month, featuring themed nights, a cash bar, and more. Up this week: an evening centered on Alfred Hitchcock's classic flicks alongside popcorn tastings at Muse Cafe. Admission is $12.
Historical cooking: Pastry chef turned historian Amanda Moniz leads a course at the Hill Center on Thursday from 10 to noon examining the first two African-American cookbook authors. Participants will make historical recipes and learn about the authors and the time in which they lived ($40 per person).
Get game: Chef Todd Gray prepares a special game dinner at Equinox on Thursday at 6. The evening starts with drinks and a traditional roast of oysters and game sausage, followed by a three-course meal with the likes of venison and squab, all paired with vintage beers from Goose Island ($95 per person).
Negroni 101: This classic cocktail is a popular sip right now, so you might as well know all about it. Learn at the Occidental on Thursday from 6:30 to 8 during a class hosted by the Museum of the American Cocktail ($45 in advance, $50 at the door). The class includes six samples, recipes, and plenty of Negroni history.
Calabrian cooking class: Chef Carmine Marzano hails from the Calabria region of Italy, and teaches a cooking class on Saturday at 11 in his kitchen at Osteria Marzano. The course includes dishes such as swordfish carpaccio and pasta with pork and goat sauce, and includes lunch with complimentary bubbly ($85 per person).
Pie-fest: You won't have to choose between apple and cherry at the Brixton's PieFest, which goes down Saturday from 2 to 5. The $10 entry gets you unlimited samples from pie shops including Dangerously Delicious, Whisked, and more, plus a free glass of punch.
Cassoulet-fest: Fight off the winter chill with one of France's greatest comfort dishes during the fifth annual Cassoulet Feast at 2941, Sunday at 5:30. Chef Bertrand Chemel cooks up a Spanish-inspired version of the slow-cooked casserole, with roasted lamb loin and house-made chorizo, plus other dishes and wines paired by Chain Bridge Cellars. The dinner is $90 all-inclusive, including complimentary valet parking.
Barbecue bingo: Combine a love of baked beans and bingo games at Hill Country on Sunday, which hosts a game night in the Boot Bar with pitmaster Woody. Any $10 purchase of food or drink gets you ten game boards to play over the course of eight games. Prizes include dinner for two, T-shirts, and more.