If These Walls Could Talk
Peek inside a President's bedroom, admire a vintage Pierce-Arrow car, and see other often unheralded finds at four fabulous old houses.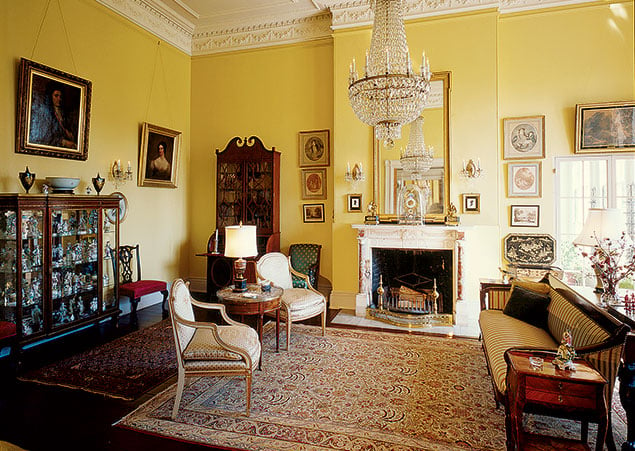 President Woodrow Wilson House
The 28th President retired to this Georgian Revival house in DC's Kalorama neighbor-hood in 1921, becoming the only chief executive to make DC his permanent home as a private citizen. A one-hour guided tour includes the drawing room, where visitors can play a tune on the century-old Steinway piano. Wilson's book-lined study, filled with mementos from foreign dignitaries, overlooks a formal, three-level garden. Upstairs, don't miss the First Lady's collection of gowns, still hanging in her bedroom closet. Adults $10, seniors $8, students $5, under age 12 free. 202-387-4062.
Oatlands Historic House and Gardens
This 360-acre Greek Revival estate near Leesburg was built in 1804 by George Carter, a descendant of one of Virginia's first families. Take a guided tour to learn about the families who owned Oatlands and about the furniture and decorative objects. (Tours resume March 22.) You can also visit outbuildings including a greenhouse, a smokehouse, and a three-story barn. The formal terraced gardens include original plantings of boxwood and English oak. Adults $12; seniors $10; students $8; garden and grounds only, $8 for all ages. 703-777-3174.
Tudor Place
The preserved neoclassical mansion in Georgetown was built by Martha Custis—Martha Washington's granddaughter—and her husband, Thomas Peter, and was in the Peter family from 1805 until 1983. The tour includes a stunning entryway with a curved portico looking toward the Potomac River, a dining room and parlor showcasing family heirlooms—some of which belonged to George and Martha—plus the drawing room, bedrooms, and servant areas. An elegant 5½-acre garden includes a bowling green and a Japanese teahouse. Don't miss the garage with a vintage Pierce-Arrow. Adults $10; seniors $8; students $3; under age five free. 202-965-0400.
Mansion on O Street
Explore more than 100 rooms and 70 secret doors at this Victorian- and Art Deco-style private club and hotel in DC's Dupont Circle neighborhood—one of the most unusual properties you'll ever see. Chock-full of eclectic art and antiques, the guest rooms include a two-story "log cabin," another decked out in John Lennon memorabilia, and one full of Gibson guitars signed by such music icons as Bob Dylan and Bruce Springsteen. Tours and special events—including Mustache Mondays happy hours, at which attendees are given mustaches to wear—are available by online reservation. Fees vary. 202-496-2020.
Road to Freedom
Eight compelling places—some of which are seldom visited—that trace the struggles and successes of African-Americans.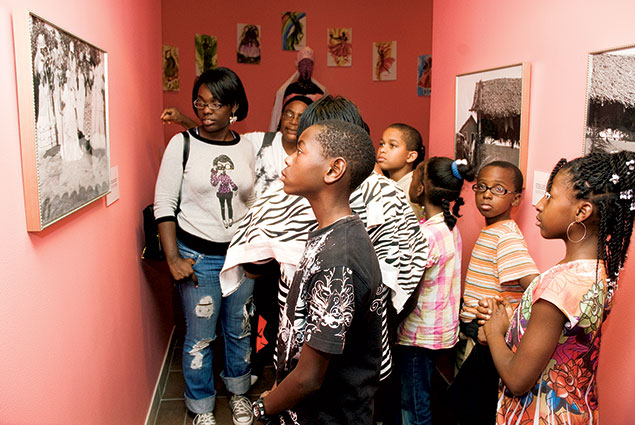 Follow a slave's path to freedom . . .
along the Underground Railroad Experience Trail in Sandy Spring. The two-mile, self-guided trail—you can pick up a map—shows the dangers faced by runaway slaves, who hid in brambles and hollowed-out trees. Guided hikes are available April through October. Free. 301-650-4373.
Be inspired by African-American achievement . . .
at the Sandy Spring Slave Museum. While one exhibit includes Ku Klux Klan outfits and racist ads from the Jim Crow era, most of the museum celebrates the achievements of African-Americans. The museum was cofounded by Winston Anderson, a biology professor at Howard University, and his beautiful wood carvings are on display. Also featured: a replica of a slave log cabin; a cross-section of a slave ship; and the Mandela Art Pavilion, with African textiles, baskets, and colorful stained glass. $5. 301-774-4066.
Salute the US Colored Troops . . .
at the African American Civil War Memorial & Museum in DC. Highlights include the "Spirit of Freedom" sculpture, the Wall of Honor, and the main exhibit, "Glorious March to Liberty: Civil War to Civil Rights," which details the formation of the Colored Troops and their role in the abolishment of slavery. Free. 202-667-2667.
Avoid the crowds . . .
at the Anacostia Community Museum, a treasure in DC's Fort Stanton. Founded in 1967 by the Smithsonian, the museum rotates cultural exhibits in its main gallery. Through September 21, see "Ubuhle Women: Beadwork and the Art of Independence," a show of remarkable beadwork by women in South Africa. Free. 202-633-1000.
Sit in a one-room school . . .
at Laurel Grove Colored School in Alexandria, built by former slaves and freedmen to ensure their children got an education. Life at the school, used from 1881 to 1932, wasn't easy—at times rocks came crashing through windows. The school hosts occasional open houses; on February 22, living alumni share their memories. Free. 703-322-0833.
Discover a women's-rights pioneer . . .
at the Mary McLeod Bethune Council House. Bethune founded the National Council of Negro Women in 1935, and—friends with Eleanor and Franklin Roosevelt—she lobbied to allow black women in the military. Her DC home is now a museum run by the National Park Service. The modest rowhouse includes her living quarters and offices; tours begin with a ten-minute audiotape of a speech Bethune made in 1955. Free; ring the bell to ask for a tour. 202-673-2402.
See slave pens . . .
at Freedom House in Alexandria, which delves into the area's slave-trade past—a staggering number of slaves passed through there. An exhibit in the dark basement includes Civil War-era photos of slave pens. Less than a mile away, the Alexandria Black History Museum's main exhibit focuses on slavery and early African-American life in Old Town. Freedom House, 703-836-2858; nvul.org/freedomhouse; free (donation requested). Alexandria Black History Museum, 703-746-4356; $2.
Hidden in Plain Sight
You may have passed right by some of these monuments and statues—but they're worth a second look.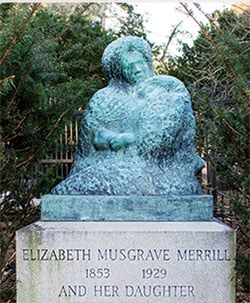 Mother and Child Memorial
Middleburg's Sharon Cemetery holds a rarity: Thomas Davis Merrill commissioned Rodin to sculpt a mother cradling her child for the grave of his wife, Elizabeth Musgrave Merrill, who died in 1929, and Sally Hicks Croswell, the daughter who predeceased her.
Abraham Lincoln
If the Lincoln Memorial puts Abe on a pedestal, the statue outside President Lincoln's Cottage—at the Soldiers' Home in Northwest DC—offers a more accessible man, life size and standing next to his horse. The work by sculptor Jiwoong Cheh was installed in 2009.
Alexander the Great
The HMS Macedonian Monument at the US Naval Academy in Annapolis features a replica of a bust of Alexander the Great taken from the Macedonian after the US Navy captured the British ship in 1812.
Frances Scott Key
Blink and you'll miss this monument to the national anthem's composer, a small green space between M Street and Key Bridge in Georgetown, on the site of Key's former house. A stone block commemorates the park as the Star-Spangled Banner Monument.
Franklin D. Roosevelt
In 1941, Roosevelt told his friend Supreme Court justice Felix Frankfurter that any monument in his honor should be a stone block no bigger than his desk, outside the National Archives—hence this simple slab. (Tell that to the 7½-acre FDR Memorial.)
Japanese-American Memorial to Patriotism
In a small park near the US Capitol, this 14-foot bronze depicts two cranes caught in barbed wire. The monument honors Japanese-Americans placed in internment camps during World War II. A wall is inscribed with the names of the camps.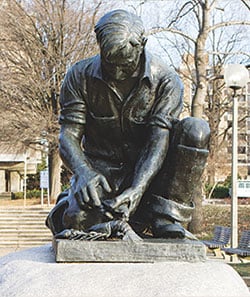 Maine Lobsterman Memorial
Since 1983, this offbeat statue—a replica of one done for the 1939 World's Fair—has sat near the Maine Avenue Fish Market in Southwest DC, and there it'll stay thanks to Maine Senator Susan Collins's efforts after area development threatened it.
Joan of Arc
With all the statues of people riding horses around Washington, only one features a woman. Paul Dubois's bronze, dedicated in 1922 as a monument both to Saint Joan and the friendship between France and the United States, is in DC's Meridian Hill Park.
Kahlil Gibran
Across from the British Embassy, Kahlil Gibran Memorial Garden honors the Lebanese artist and writer, author of the 1923 book The Prophet. A bronze bust of Gibran is surrounded by bronze birds and leaves, while his words are inscribed throughout the park.
Mahatma Gandhi
DC's official memorial to Gandhi, "father of the Nation," was given congressional approval in 1998 and dedicated by Indian prime minister Shri Atal Bihari Vajpayee in the presence of President Clinton in 2000. It's outside the Indian Embassy, near Dupont Circle.
Nelson Mandela
This unofficial monument was unveiled in September outside the South African Embassy. The nine-foot bronze mimics the triumphant pose the Nobel peace laureate and anti-apartheid leader made when he was released from prison after 27 years.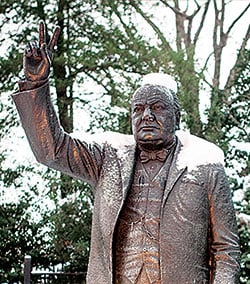 Winston Churchill
This statue has stood outside the British Embassy since 1966, with one foot on US soil (Massachusetts Avenue) and another on embassy grounds. The bronze shows Churchill flashing his "V" sign for victory while his other hand clutches a cigar.
Women's Titanic Memorial
Erected in 1930 to remember the men who died when the Titanic sank in 1912, this was relocated to Southwest DC in 1966 to make room for the Kennedy Center. The pose will be familiar to anyone who's seen James Cameron's 1997 movie, Titanic.