Not the Same Old Bar
Looking for something different to do after work? Here are fun bets, from museum mixers and lectures to karaoke and paint fights.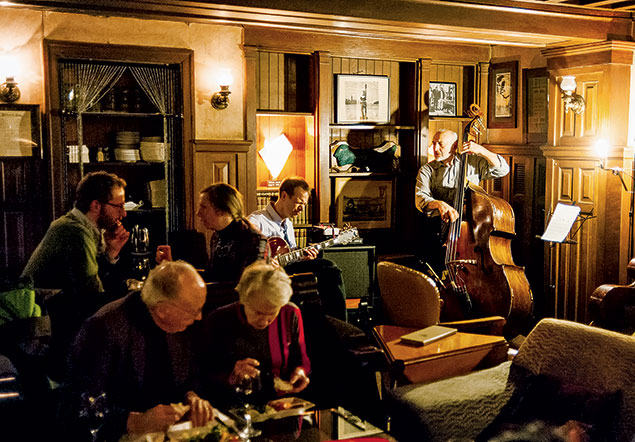 Jazz up a romantic evening . . .
at the Tabard Inn in Dupont Circle, where on Sunday and Monday nights the living-room-like lounge, with antique furniture and a fireplace, hosts jazz duos starting at 7:30. Seating is limited—arrive early—but we can't think of a cozier way to enjoy musicians such as bassist Victor Dvoskin, pictured above (who has played at larger venues such as Wolf Trap), and singer Sharón Clark (who has performed at the Kennedy Center). 202-331-8528.
Spend a night at a museum . . .
at a Smithsonian after-hours event for ages 21 and up. At regular evenings such as the Freer's Asia After Dark, the National Museum of African Art's Africa Underground, and the Hirshhorn's After Hours,you can mingle amid art while listening to music and sipping a cocktail. The next event—Smithsonian at 8, on February 13 at the National Postal Museum—celebrates Valentine's Day with drinks, dancing, and a crafts bar where attendees can work on their own handmade cards. $15 in advance, $20 at the door. 202-633-1000.
Grab a beer and build a science project . . .
at the Argonaut's Science Night. Every Tuesday night at this bar on Northeast DC's H Street, teams compete to see who can construct the best middle-school-style science project. You might find yourself assembling a plastic-straw bridge, trying to float a tinfoil boat, or doing an egg drop out of the bar's second-story window. Winners get prizes, but everybody can enjoy the tacos discounted to $2 or $3. 202-250-3660.
Learn something new . . .
at Nerds in NoMa, a lecture series that temporarily turns a Northeast DC office lobby into a laboratory of new ideas. Dreamed up by DC's Office of Planning, the series features talks by experts on subjects such as homebrewing, urban planning, and beekeeping, along with works by local artists. Snacks, beer, and wine from food trucks; chefs; and brewmasters enhance the informal atmosphere. Free except for food and drink. 202-289-0111.
Sing like you're with the band . . .
at HariKaraoke's live-band karaoke nights. The troupe performs Wednesday at Hill Country in DC's Penn Quarter and Thursday at Arlington's Rí Rá. Simply pick a song, then join the band onstage to belt out "Purple Rain," "Don't Stop Believin'," and other guitar-heavy classics that recorded tracks can't do justice to. Famous HariKaraoke fans reportedly include Bob Schieffer and Marion Barry. Free.
See the monuments by moonlight . . .
on an Old Town Trolley nighttime tour. Most every evening, the trolley leaves Union Station at 7:30 for a 2½-hour jaunt past many of Washington's monuments. Guides are bound to mention trivia you didn't know, plus the Martin Luther King Jr. and Korean War memorials are especially moving at night. $39. 888-910-8687.
Have a (paint) brush with danger . . .
at Super Art Fight, a monthly, anything-goes mix of improv comedy and live painting. Bouts—in venues including VisArts in Rockville and the Black Cat's backstage—begin innocently enough, with artists composing a work of their choosing onstage. But then audience suggestions, overzealous wrestling-style commentators, and the "wheel of death" come into play and things devolve into chaos. Ultimately, your decisions and cheering choose the winner. $15.
Surprising Happy Hours
Some of the best aren't just for post-work gatherings. Here are favorites that extend late into the evening or happen even on weekends.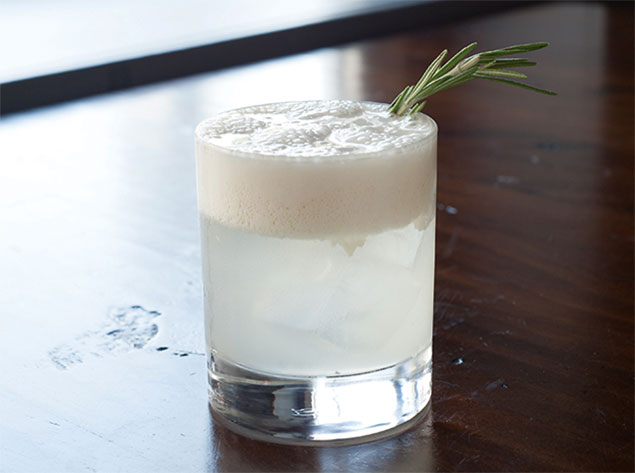 Piola
Hungry? Grab a barstool at the 14th Street or Arlington branch of this Italian pizza chain, and Monday through Friday 4:30 to 7:30 you'll find $4 Peroni beer, $5 glasses of wine, $6 cocktails, and generous rounds of free pizza, olives, bruschetta, and other snacks. 202-986-8729; 703-528-1502.
Black Jack
At prime time, Jeff and Barbara Black's dark Logan Circle bar gets deafeningly loud. Sunday from 3 to 11, find a more mellow scene, with half-price drafts and pizzas, plus $5 wine and—our favorite—two-for-the-price-of-one local oysters. 202-319-1612.
Quench
Deals abound at this eclectic American restaurant in Rockville. On Wednesday game night, bar snacks are discounted to $3 and cocktails and wine are $3 off until 8. Thursday, selected bottles of wine are half off all day. 301-424-8650.
Lyon Hall
Daily from 3 to 7 in the bar and lounge, this narrow Clarendon brasserie offers IPAs and weissbiers for $4, French wines and Moscow Mules for $5, and fabulous, discounted short-rib hot dogs and mussels. 703-741-7636.
Fuego Cocina y Tequileria
On-the-rocks margaritas for $5 and half-price bottles of wine are on the menu all day Sunday at Jeff Tunks's taco-and-tequila joint in Clarendon. 571-970-2180.