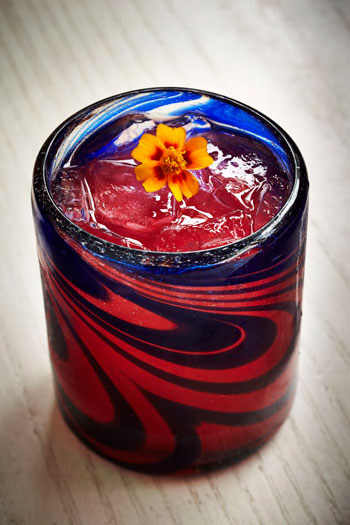 Tequila!: The seventh annual Tequila & Mezcal Festival returns to Oyamel with a party on Monday from 6 to 9. Guests can sip Mexican spirits and wander between stations around the restaurant for street-style eats such as suckling pig tacos, ceviche, goat leg barbacoa, and more ($60 per person). You'll find a variety of events running through March 23, including complimentary tequila and mezcal tastings at the Butterfly Bar from 4 to 6 and post-tasting dinners at 8:30 ($90 per person) with cocktail pairings. Looking for a less structured experience? Head in for food and cocktail specials offered alongside the regular menu.
Spritz special: The Red Hen launches extended hours this week, opening on Monday evenings for the first time. This week you'll find discounted $5 Aperol spritzes for the inaugural special, alongside new spring dishes such as ricotta cavatelli and roasted Alaskan halibut with peas and tonnato sauce.
Sips for Taste of the Nation: One of the year's biggest culinary events, Taste of the Nation DC, goes down on Monday, March 31, at the National Building Museum(tickers are already on sale, starting at $120). Want a preview? The Passenger hosts a pre-event happy hour on Monday from 5 to 8 with information about the food, chefs, and restaurants and a special themed cocktail ($8).
Wine week: Smith & Wollensky locations celebrate their 54th annual Wine Week starting on Monday. Head over for a boozy lunch: The purchase of any entrée gets you a sampling of ten wines for $20 (see the weekly list online).
Scotch and oysters: Grillfish hosts a weeklong Scotch-and-oyster tasting starting on Monday, with four bivalve dishes paired with a single-malt. The menu starts at $22.50, with additional oysters and Scotches available à la carte.
Inside the industry: Restaurant industry trade organization Industree starts a new lineup of events on Tuesday with Launchology, an afternoon speaker series at the Howard Theatre that centers on starting and operating restaurants. The first topic, covered from 10 to noon: the concept and the business, with participants including Right Proper Brewing Company's Thor and Leah Cheston and Gabby Rojichin of Streetsense. Tickets are $35.
Happy birthday, Nora: Restaurant Nora celebrates its 35th birthday in March, and offers a special three-course throwback menu each Wednesday for $35 per person.
Beery events: New Belgium Brewing releases a new beer, Snapshot Wheat, as well as a lineup of photo-centric events across the country. In addition to the promo picture contest you can attend gatherings such as Wednesday's "meet the geek" talk with a New Belgium microbiologist at the Evening Star Cafe, and a throwback party at Jack Rose with street photography on Wednesday, March 26.
New drinks: Lassi lovers, this one is for you. DC Dosa (located inside the Foggy Bottom Whole Foods) pours free samples from its new line of yogurt-based lassi drinks on Wednesday, starting at 11.
Frickle dog: This new Shake Shack dog sounds like a winner. Starting on Friday the New York import teams up with local purveyor Gordy's Pickle Jar for a special "super fry freckle dog" layered with ale-marinated shallots, cheese sauce, and fried Gordy's Thai basil jalapeño pickles. The special runs through Sunday, March 23.
Book signing: Chef Cathal Armstrong of Restaurant Eve just released his first cookbook, My Irish Table. The toque signs copies at the Barnes & Noble in Alexandria's Potomac Yards Shopping Center on Saturday at 2.
Eat more oysters: Shellfish fans can head to Brasserie Beck on Saturday for Oysterfest from noon to 4. The $25 ticket buys you unlimited oysters (which you can slurp on the patio, weather pending) and $4 beers. Call for reservations (walk-ins also welcome).
Vino dinner: Southern Italian wines are the focus of a dinner at Alba Osteria on Sunday. A five-course menu with dishes like cod ravioli and slow-roasted pork ribs over polenta is paired with varietals from importer Alberto Panella. The meal starts at 6, and is $75 per person.