1. In Bloom: "Kaleidoscope" floral barrel tote, at Henri Bendel (Tysons Galleria), $398.
2. Go for the Bold: Enamel and gold-plated "Mod Floral" earrings, at Kate Spade, $78.
3. Sneak Attack: Givenchy "Rose Camouflage" sneakers, at Hu's Shoes (3005 M St., NW; 202-342-0202), $570.
4. Petal to the Metal: "Daisy" bracelet, at Talbots, $50.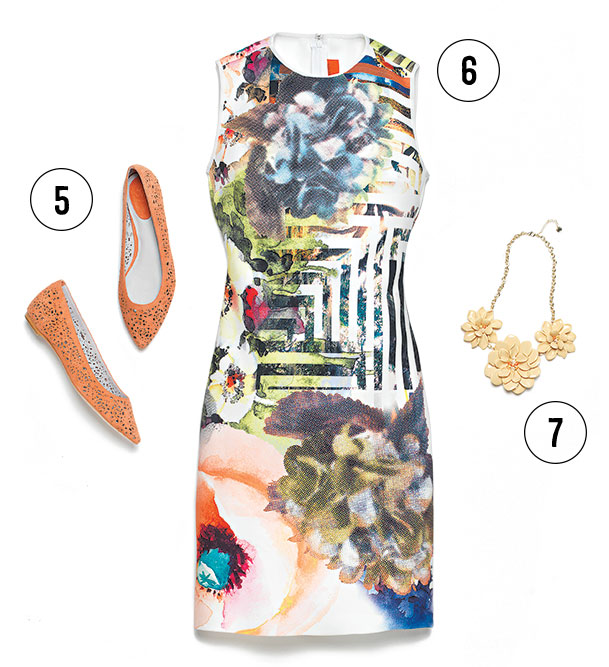 5. Tangerine Dream: "Tami" ballet flat in coral, at Johnston & Murphy, $198.
6. Manic Botanic: Neoprene "Floral Maze" dress by Clover Canyon; similar styles at Bloomingdale's (Chevy Chase), $268.
7. Budding Beauty: "Flower" necklace, at Talbots, $80.
"The beauty world is reflecting the floral trend, with pastels as a subtle pick-me-up for eyes, while a bronzer like Laura Mercier's Foundation Primer in Radiance Bronze ($33) adds warmth to cheeks. Light shades of pink and violet are big this spring for lip color. A cat-eye sweep of black liner over ethereal shades of eye shadow adds instant edge."
—Marla Malcolm Beck, CEO and cofounder of Bluemercury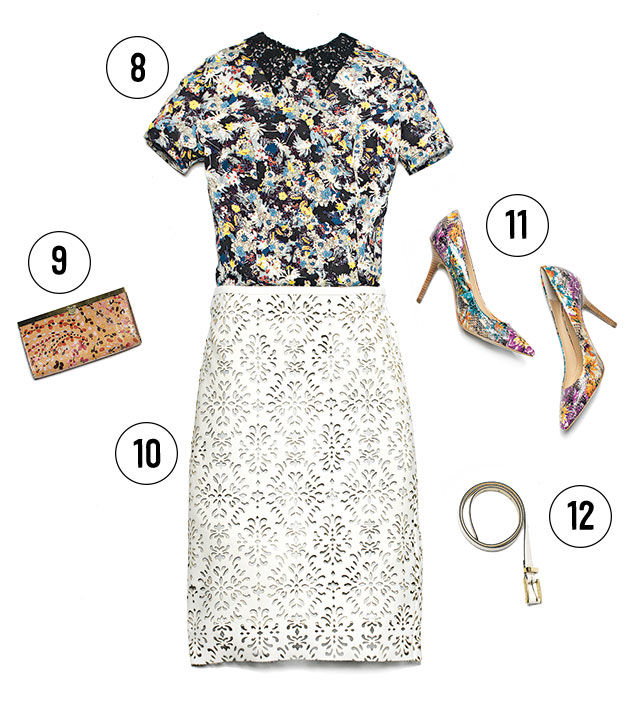 8. Fit to Print: "Karina" shirt with lace collar by Erdem, at Hu's Wear (2906 M St., NW; 202-342-2020), $535.
9. Branching Out: "Cauchy" clutch in Spring Bud by Patricia Nash Designs, at patricianashdesigns.com, $98.
10. Make the Cut: 424 Fifth "Gardenia" laser-cut skirt, at Lord & Taylor, $110.
11. Growing Wild: "Plasmas" faux-snakeskin high heel by Guess, at guess.com, $99.
12. White Now: White leather belt, at Ann Taylor, $46.
"When incorporating florals, start small—a floral accessory, scarf, bag, or shoe is a safe way to begin. Graduate to a floral blouse or tee under a favorite blazer, or try a statement dress with a solid cardigan. These prints should be playful additions to your wardrobe."
—Marlene Hu Aldaba, owner of Hu's Wear and Hu's Shoes
This article appears in the March 2014 issue of Washingtonian.