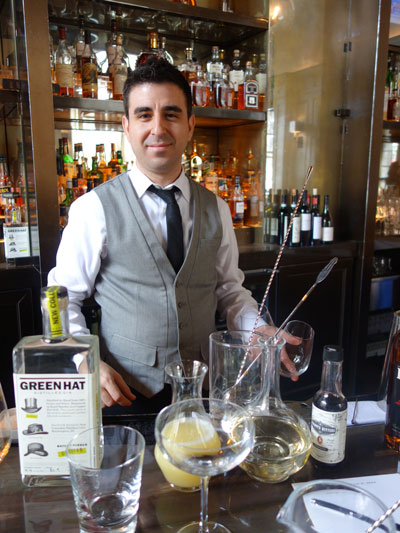 It's become routine to visit bars where the bartender makes a flourish out of meticulously crafting a cocktail, component by component. But what about walking into a bar and doing it yourself? The St. Regis Hotel has introduced a monthly Saturday-afternoon cocktail class at which patrons mix their own drinks, learn the ABCs of the recipes, and, of course, drink them, too.
The first class, a few weeks ago, focused on classics such as the Old Fashioned, Manhattan, and French 75, and one for the current season: a Japanese-whiskey-based Cherry Blossom. The class has room for ten participants to sit at the bar (plus room for overflow), where beverage director Orcun Turkay lays out all the necessary ingredients and tools: jiggers, strainers, shakers, and an array of glasses suited to each drink, which he explains how and when to use.
Turkay offers tips and tricks that help both novices—always use the freshest egg whites in drinks for a creamy foam, for instance—and more seasoned home bartenders, such as which drinks to stir and which to shake and why, James Bond notwithstanding. For some, drinking four cocktails in the middle of the afternoon may seem a bit much, but the pace is slow, and it's possible to make the drinks as potent or as weak as you wish. (Tip: It's a good idea to plan to walk or cab home.) The class spanned two hours and included the occasional bite-size portion of pork belly flatbread, lobster bruschetta, and Croque Monsieur.
The next class— Saturday, April 19—will focus on the Bloody Mary, which, according to St. Regis legend, was created in 1934 at the King Cole Bar, tucked inside the hotel chain's New York flagship. Besides recipes you'll learn the history behind the beverage. A fun fact in advance: Because bartenders were timid about using the word "bloody," the brunch time favorite was initially called a "Red Snapper."
Classes begin at 2 PM ($70 per person), and include a copy of the St. Regis Bloody Mary book. Call 202-638-2626 for reservations.