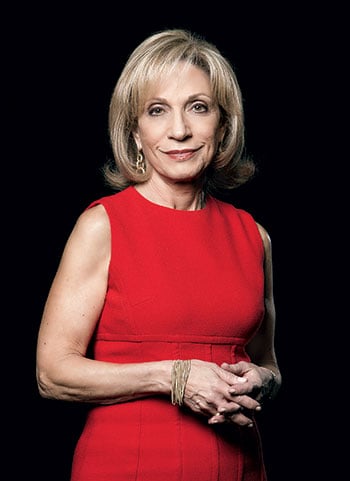 The first job: When I was 12, I was the elementary-school reporter for the Standard Star in New Rochelle, New York. Once a week, I went downtown to file my column. I loved the sound of the typewriters and the look and feel of the newsroom.
The turning point: I was an English major and a violinist at the University of Pennsylvania, and the radio station needed someone. I covered politics for the Ivy League radio network, which led to an internship at NBC's local affiliate. I was swept up in civil rights, the Vietnam War. It was a great time to be a budding journalist.
A man's world: After I'd been admitted to a training program at Westinghouse Broadcasting, they said, "We can't have a woman in the newsroom." So I asked for a job as a "copy boy" on the night shift, the lowest opening you could get, and they made an exception. This preceded the women's movement—there was no sisterhood to turn to. It just made me angrier and more determined.
Staying human: My first major story—the massacre in Jonestown, Guyana—introduced me to true evil. Only after I got out of the taxi from the airport, walked onto my front porch, and started crying did the enormity finally hit me. You can't forget that these are families—mothers and fathers and children. It's important not to be deadened to the suffering involved.
This article appears in the June 2014 issue of Washingtonian.