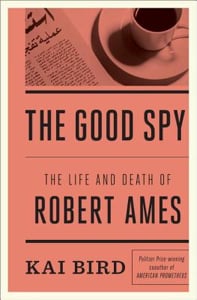 Spies haven't had the best press or easiest times in recent years. Edward Snowden clued us in to what tabs the NSA keeps on every US citizen and fled the country, Valerie Plame was outed as an intelligence operative by a journalist, and David Petraeus, was relieved as Director of the CIA after his affair with biographer Paula Broadwell came to light. Can we trust the most covert services with our national secrets if they can't even keep their own?
Journalist and author Kai Bird (American Prometheus, The Chairman) must have had some of the same questions, because in his new book The Good Spy: The Life and Death of Robert Ames, he looks deep within the Central Intelligence Agency through the lens of one man's life in its service, emphasizing the challenges that Robert Ames faced as an employee, as a covert operative, and as a husband and father. Bird finds that while the CIA has the same sort of promotion jockeying, backstabbing, and tedium as almost every other government agency, it also holds important backchannels to diplomacy.
CIA operative Robert Ames worked on many of those backchannels, and of those in the Middle East, may have worked them all. Tall, handsome, and given to wearing cowboy boots with business suits, Ames cut a memorable presence in his various communities–including Saudi Arabia in the mid-1960s, where a very young Kai Bird lived next door to the Ames family. Bird and his brother spent time with Ames, who at the time had daughters and no sons; when he learned that Ames, then Near East Chief of the CIA, had been killed in the April 18, 1983 Beirut American Embassy bombing, he remembered this kind adult presence and wondered about his career.
As Bird researched Ames, he discovered a figure far more important than any job title could have indicated. In the course of his work, Ames became the first person to make a direct and meaningful connection with the PLO, which at the time was still very much a terrorist organization. Ali Hassan Salameh, Yasir Arafat's heir apparent, was Ames's contact–and many speculate that had Ames survived the 1983 bombing, his relationship with Salameh might have changed our relationship with the Middle East for the better.
But this painstakingly researched and superbly written book moves beyond biography as it details the inner workings of the CIA on a level seldom seen. Readers looking for a hero may find one in Robert Ames; readers looking for a new understanding of what intelligence operatives can accomplish will definitely find that in The Good Spy.