Remember last year when a real-estate agent was caught on camera going through a Ballston client's dresser? The Stager, the fifth novel from Susan Coll—events-and-programs director at DC's Politics and Prose bookstore—tells a tale of suburban real-estate high jinks that's darker and trippier.
In Coll's novel, a family visits its dirty laundry on a house stager as they prepare for an overseas move. Lars, a washed-up Swedish tennis star, and his wife, Bella, the "vice president for transparency" for the slightly ominous-sounding Luxum International, are vacating their mock Tudor in Bethesda and hire Eve to primp the place for sale. It's the people, it turns out, who need the help. Bella is running amok, and Lars, whose doctor has prescribed him a cocktail of antidepressants, is losing hold of his personality. ("I am no longer sure if my facial expressions convey," he says.)
Wry metaphors of suburban rot abound: The house has a bad smell no one can quite eradicate. The new utopian subdivision over the back fence is strangely uninhabited save for an angelic, cupcake-making squatter. Soon reality itself turns suspect, as Lars begins to have long conversations with his daughter's apparently talking (and smoking) pet rabbit, Dominique.
At this point, Coll tips her hand that we're reading not a plain parody of suburban dysfunction but the work of a very good comic novelist subverting conventional structure and perspective. Deep in the refill instructions that come with Lars's Praxisis pills lies the following disclaimer: "In extreme cases, the first-person narration may be told as a story within a story, with the narrator appearing as a character in the story." This is a good signal, if the chats with a wild hare haven't clued you in already, to chuck your attachment to rationality and cheerfully follow Coll down the rabbit hole.
This article appears in the July 2014 issue of Washingtonian.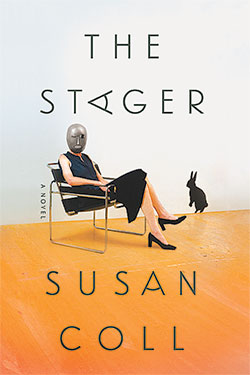 Publisher:
Sarah Crichton Books
Price:
$19.50