Jewelry With Character
Lavender walls and artistic displays make Amethyst feel more like a gallery than a jewelry store. The sleekly contemporary pieces—handmade chains, obscure precious and semiprecious stones, gold and oxidized silver—are a stylist's dream. Besides big names such as Lika Behar and Lauren Harper, the shop carries designs by owner Amy Hugo and Alberto Parada of DC.
Regulars know: Hugo can often customize or rework pieces to create an original design. 4808 Bethesda Ave.; 301-907-6871.
Paris in Bethesda
With pots of lush flowers and shrubs, the secluded patio at Bistro Provence is one of the most intimate and romantic in the area. Inside is pure Paris, with cheek-by-jowl tables and chef Yannick Cam's ode to classic and modern French cooking. Dishes such as asparagus risotto and bouillabaisse with rouille (a condiment made from olive oil, garlic, and saffron) are more classic, while duck with foie gras sausage offers a bit of flash.
Regulars know: Cam now offers several menus—the Bistro and three tasting menus. 4933 Fairmont Ave.; 301-656-7373.
Put on Your Best Face
The makeup artists at Bluemercury nail the all-natural makeup look, meaning they can make you appear to be a refreshed version of yourself. If you prefer, they can go more glam, too. You'll find beauty, bath, and hair-care products from brands such as Laura Mercier, Trish McEvoy, Oribe, and Molton Brown.
Regulars know: The Bethesda Lane location offers spa facials and waxing. 7105 Bethesda La., 301-986-0070; 10231 Old Georgetown Rd., 301-897-0006.
New Approach to Menswear
You can't actually take anything from Bonobos home with you. What you can do is try on styles, check out fabrics, and play with accessories with the help of a salesperson—called a guide—whom you meet with by appointment. Then you can order your favorite fabrics and styles online, on your own, or with the guide's help. You can outfit an entire wardrobe, with everything from pocket squares and shoes to suits and swimwear.
Regulars know: The Italian wools are worth a look—they come from a fabricator that also supplies high-end suit designers. 4836 Bethesda Ave.; 301-986-7949.
Boho Chic
A new addition to the Bethesda shopping scene, Calypso St. Barth offers breezy casual and resort wear, shoes, and accessories. The chain started in St. Barts, which explains why you might almost feel you've stepped into a serene island getaway.
Regulars know: Besides its own label, the shop carries brands such as Adriano Goldschmied, Velvet, and Paige. 4810 Bethesda Ave., Suite 24; 301-652-1219.
Most Decadent Burger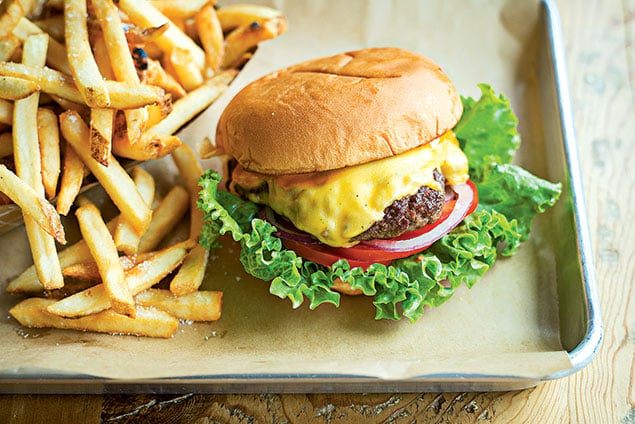 Washington has no shortage of delicious burgers, but City Burger is a strong competitor. Among its offerings: an organic meat patty topped with Swiss cheese, crisp pastrami, and coleslaw. Sure, it's over the top, but isn't that what a good burger is all about?
Regulars know: The fried green beans with Parmesan and a milkshake made with house-churned custard turn it into a meal. 7015 Wisconsin Ave.; 301-652-0010.
Keeping It Local
Besides organic fruits, vegetables, herbs, meats, and poultry, the Central Farm Market has locally made artisanal items including cheeses, kosher lamb bacon, pickled vegetables, baby food, yogurt, and charcuterie. You can also nosh as you shop by hitting stands selling Chinese dumplings, crepes, pastries, and breads.
Regulars know: There are non-food items such as soaps and handmade yarn and knitted woolens, too. 7600 Arlington Rd.; info@centralfarmmarkets.com.
Superb Sandwich
Ibrahim "Ibo" Selmy, owner of Cornucopia, slices his prosciutto di Parma with a manual slicer. This might seem like a small thing, but the prosciutto, while tissue-thin, is less uniform and more authentic than meat cut with an electric blade. This is the sort of detail that makes Selmy's sandwiches soar. Other pleasures include pastas, cheeses, salumi, filled-to-order cannoli, and a staggering array of Italian cookies.
Regulars know: You get the full Old World experience, complete with opera on the sound system. 8102 Norfolk Ave.; 301-652-1625.
Everything for the Nursery
Zero-VOC paints, removable wallpaper, cribs, cradles, and rockers—Daisy Baby & Kids has everything you need to do up a little one's room in style. There are also linens from New Arrivals, rugs by Momeni, stuffed animals from Cloud B, and other accoutrements for the modern baby. Though classic and contemporary pieces dominate, you'll also find ultra-hip designs such as Ubabub's pod crib and Bloom's Fresco Chrome high chair.
Regulars know: Owner Dana Evans is full of ideas to help with nursery design. 4912-A Del Ray Ave.; 301-654-7477.
We All Scream for Gelato
Who could have known that some of the best gelato in the area is actually an Argentine riff on Italy's icy treat? Dense and creamy, the gelato at Dolcezza—in such tempting flavors as salted caramel, Valrhona chocolate amargo, and peppermint stracciatella—is wonderfully satisfying. Ditto the shop's sorbetto (we love the grapefruit Campari). For those without a sweet tooth, the Stumptown espresso is divine, too.
Regulars know: The benches along cobblestone, pedestrian-only Bethesda Lane make a great spot to savor a scoop. 7111 Bethesda La.; 301-215-9226.
Beyond the Burger
Food Wine & Co.'s wildly good prime Angus burger and truffle aïoli has attracted a lot of attention, but there are other menu items to explore. Fried artichokes, pickled deviled eggs, roasted cauliflower tonnato, and charred octopus are a few. And there's even another burger that may be the sleeper hit: a lamb patty with a punch of tomato-harissa jam.
Regulars know: Wine flights create a tasting-room feel at the restaurant—you get three two-ounce glasses for $13. 7272 Wisconsin Ave.; 301-652-8008.
Little Italy in the Suburbs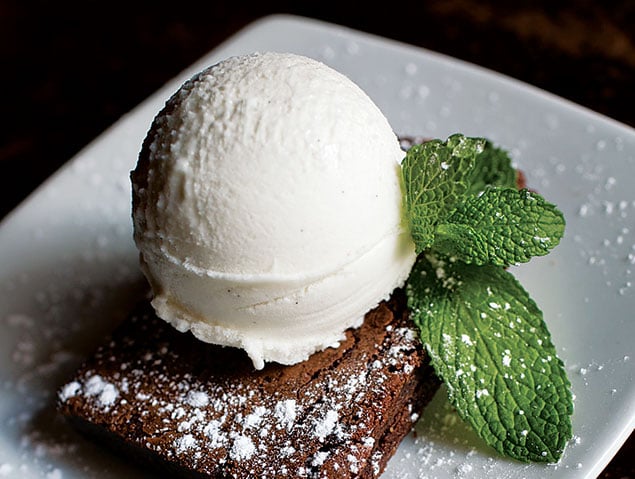 Roberto and Riccardo Pietrobono's new Mexican restaurant, Gringos & Mariachis, is getting a lot of attention, but their original gem, Olazzo, with its Little Italy feel, is still a must for classic red-sauce Italian fare. Don't miss the fried calamari, meatball sliders, arancini, and eggplant Parmesan.
Regulars know: A recent dining-room expansion has doubled this snug restaurant's seating. 7921 Norfolk Ave.; 301-654-9496.
Clothes for Work and Play
Ginger is an antidote to shopping overload, with its well-edited collection of daytime-to-cocktail-hour dresses, date-night tops, knits, and denim. Joie, Calypso, and White & Warren are among the designers stocked in this airy shop. Owner Gretchen Hitchner, a former Capitol Hill press secretary, styles the clothes with thoughtful accessories and a trove of mostly costume jewelry.
Regulars know: The jewelry and accessories can be especially good bargains. 7114 Bethesda La.; 301-664-9242.
Pizza Plus Breakfast
Stellar pizza has almost become a cliché in these parts. Even so, Pitzze Table—formerly Haven Pizzeria Napoletana—stands out with its beautifully blistered pies. The modern spot has two coal ovens and a retro wine bar. We like the coal-fired-vegetable and Connecticut-style clam pies. Another plus: You can get wine by the glass, half liter, or bottle.
Regulars know: A recent renovation means more bar room and a new breakfast menu with fresh juices and a "toast bar" of rustic breads. 7137 Wisconsin Ave.; 301-664-9412.
Happy Hour, Spanish Style
José Andrés's popular Spanish restaurant Jaleo does its own version of happy hour—Jaleo Hour. Weekdays from 4:30 to 7 and Saturdays from 10 pm to midnight, you'll find sangría and a selection of wines by the glass for $5, specialty cocktails for $8, and tapas for $5. The tasty bites include Manchego with quince paste, chicken croquetas, and patatas bravas.
Regulars know: Jaleo's full menu is a must for Ibérico fans—14 dishes feature the Spanish acorn-fed pork. 7271 Woodmont Ave.; 301-913-0003.
Embarrassment of Baubles
Even though Lou Lou moved to a bigger space last year, this costume-jewelry and accessories shop still channels a bazaar-like vibe. Bracelets, necklaces, watches, hair clips, and purses fill every inch of space. Prices are reasonable, making this a great place to pick up trendy items you may be over by next season.
Regulars know: Though there's plenty for grownups, Lou Lou is nirvana for teens and tweens. 7126 Bethesda La.; 301-652-0048.
Lobster to Love
Our favorite way to eat at Luke's Lobster is to order one of the combos so we don't have to choose among lobster, crab, and shrimp rolls. We love them all on their toasted split buns, with a kiss of mayo and lemon butter. The house slaw, creamy chowder, and a beer are nice accompaniments, and the picnic tables out front transport you to a summer in Maine.
Regulars know: Luke's has curbside service, which means you can grab your to-go order without even leaving your car. 7129 Bethesda La.; 301-718-1005.
More Than Shoes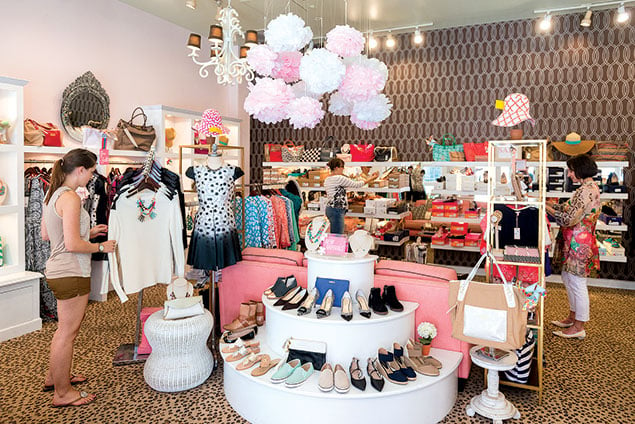 Shoes and accessories were how it all began at Sassanova. Still a source for women's and children's footwear labels—including Loeffler Randall, Jack Rogers, Andre Assous, French Sole, and Dolce Vita—the shop now sells women's clothing by such names as Alice & Trixie and Yoana Baraschi.
Regulars know: You'll find Roberta Freymann's distinctive bathing-suit cover-ups for women and girls even in the winter. 7134 Bethesda La.; 301-654-7403.
When You Need Options
You can graze or gorge at Persimmon depending on your mood. Share creative nibbles like wasabi-crusted oysters, smoked-trout spring rolls, and empanadas; or go for bigger plates such as black-and-white-sesame-crusted tuna and crabcakes with mashed potatoes. Either way, save room for the chocolate-cream-pie "martini"—dense chocolate pudding, fresh whipped cream, and crunchy graham cracker layered in a martini glass.
Regulars know: During happy hour at the lively bar, draft beers and savory bites are $3 to $4 each. 7003 Wisconsin Ave.; 301-654-9860.
Shop Someone Else's Closet
Sell your own unwanted clothes, then buy others' castoffs at Reddz Trading, a resale shop known for its mix of high-end fashion (Céline, Alexander McQueen, Gucci, Chanel) and more wallet-friendly designers (James Perse, Diane von Furstenberg, J Brand, AllSaints). Reddz pays a flat fee of 30 percent of the value of items it buys from you; if you spend your take there, the shop will give you 45 percent.
Regulars know: Georgetown's Charm has a pop-up shop at Reddz selling jewelry from designers such as Alexis Bittar and Marcia Moran. 7801 Woodmont Ave.; 301-656-7333.
For Fun Gifts
Looking for something witty to bring a friend or coworker? Red Orchard is where you'll find amusing items such as a laptop sleeve with an imprint of a typewriter on it. Owners John Helm and Caroline Liberty stock everything from baby gifts—animal clocks, handmade stuffed toys, silly spoons—to in-demand John Derian découpage dishes.
Regulars know: Many items are locally made and one of a kind. 10253 Old Georgetown Rd.; 301-571-7333.
Laid-Back Living
South Moon Under is all about a relaxed lifestyle. You won't find a lot of work wear; the men's and women's apparel is meant for having fun. Besides clothes from labels such as Joe's Jeans and Susana Monaco, this mini-department store stocks shoes, home goods, accessories, and jewelry.
Regulars know: South Moon Under has a robust swimwear section—not a surprise, because the homegrown chain's first store was a surf shop in Ocean City. 10247 Old Georgetown Rd.; 301-564-0995.
Macarons in Every Shade
There are 14 rotating flavors of macarons to choose from at Tout de Sweet, from the familiar (pistachio, salted caramel) to the more obscure (cassis, rose water). But that's not all this French patisserie offers. Daily pastry specials might include mango mousse cake or raspberry cream puffs, and there are always a couple of varieties of muffins and cookies. Gorgeous cakes and tortes can be ordered in advance.
Regulars know: If you don't want to leave it to chance, you can preorder a batch of your favorite macaron flavor. 7831 Woodmont Ave.;301-951-0474.
Feather Your Bed and Nest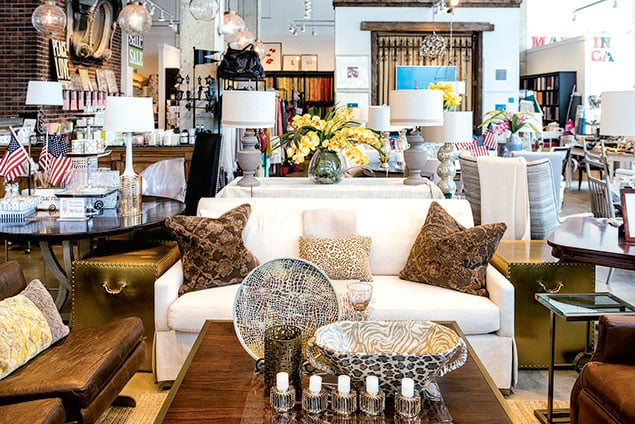 If you're into luxurious thread counts, Urban Country is a must. Dreamy beds done up with floral Designers Guild linens or vivid travel-inspired Pine Cone Hill bedding might get you thinking naptime, but it doesn't stop there at this stylish home-furnishings store. Lighting, furniture, pillows, and other accessories are all part of the mix.
Regulars know: This is also a great place to score gifts for a favorite hostess or a friend's birthday. 7117 Arlington Rd.; 301-654-0500.
Toys With Conscience
So you drive a Prius and buy organic at Whole Foods—at Tugooh Toys you can stick to the green life with environmentally friendly playthings for your children. Brands include Alex, Green Toys, and Small World Toys, and there's an emphasis on items made of wood and natural fibers. The staff is especially knowledgeable about what's age-appropriate and how to actually use the products they sell.
Regulars know: Organic-cotton cozies for infants nine months and under make a great baby gift. 4823 Bethesda Ave.; 301-654-2412.
Cocktails That Hold Their Own
It's a given that the food at Wildwood Kitchen is rave-worthy, with names such as Robert Wiedmaier and Brian McBride (Blue Duck Tavern) involved. Lamb meatballs with harissa, clam pappardelle, and crispy Portuguese sardines are soulful and satisfying. But the cocktails are the real standouts. Both classic (Corpse Reviver #2) and trendy (Gingertini) libations hit the sweet spot every time.
Regulars know: The $25 two-course dinner special served from 4 to 6 is the perfect pre-movie meal. 10223 Old Georgetown Rd.; 301-571-1700.
To Please the Masses
Need to make Grandma, out-of-town friends, and your kids happy? Woodmont Grill has the answers. Reservations are taken. There's free parking (limited, but still a big deal in downtown Bethesda). And the food is both delicious and accessible in an era of offal and small plates. The spinach-and-artichoke dip, prime rib, and crabcakes prove that simplicity can really shine.
Regulars know: Woodmont has a house-made veggie burger even a carnivore can crave. 7715 Woodmont Ave.; 301-656-9755.
Local Resources
Trusted tailors, food shops, salons, parks, and more.
Click to expand a category.
Beauty and Fitness
Blue Zen Nails & Spa4926 Elm St.; 301-907-6868.
Down Dog Yoga 4733 Elm St.; 301-654-9644.
Drybar 4840 Bethesda Ave.; 240-483-4277.
Equinox 4905 Elm St.; 301-652-1078.
Roosters Men's Grooming Center 7135 Arlington Rd.; 301-951-4247.
Zengo Cycle 4866 Cordell Ave.; 301-312-6658.
Entertainment and Activities
Bethesda Blues & Jazz Supper Club7719 Wisconsin Ave.; 240-330-4500.
Imagination Stage4908 Auburn Ave.; 301-280-1660.
L'Academie de Cuisine5021 Wilson La.; 301-986-9490.
Make Meaning (arts-and-crafts activities)4809 Bethesda Ave.; 301-828-1086.
Round House Theatre4545 East-West Hwy.; 240-644-1100.
Studio Neptune5001 Wilson La.; 301-718-0809.
Shops and Services
Bethesda Custom Tailors7946 Norfolk Ave.; 301-656-2077.
Bethesda Shoe & Luggage Repair7900 Old Georgetown Rd.; 301-654-1860.
Bone Jour (dog grooming, boarding, and obedience)4927-A St. Elmo Ave.; 301-656-2663.
Bruce Variety8011 Woodmont Ave.; 301-656-7543.
Creative Parties4822 St. Elmo Ave.; 301-654-9292.
Freshbikes7626 Old Georgetown Rd.; 703-248-9600.
Kenwood Custom Tailors5110 Ridgefield Rd.; 301-657-2627.
Lenore Winters Studio (decorative painting)4911 Cordell Ave.; 301-654-6004.
River Road Auto Haus5054 River Rd.; 301-652-3787.
Strosniders Hardware6930 Arlington Rd.; 301-654-5688.
Tierra Event Design4961 Bethesda Ave.; 301-951-0199.
Westwood Cleaners & Shoe Repair5110 Ridgefield Rd.; 301-657-1813.
Woodmont Cleaners7649 Old Georgetown Rd.; 301-664-6474.
Food Stores
Breads Unlimited6914 Arlington Rd.; 301-656-2340.
Cork & Fork7110 Bethesda La.; 301-841-7204.
Giant5400 Westbard Ave.; 301-652-1484.
Montgomery Farm Women's Market7155 Wisconsin Ave.; 301-652-2291.
Safeway5000 Bradley Blvd.; 301-215-4148.
Secolari (artisanal oils and vinegars)7249 Woodmont Ave.; 301-652-7006.
Trader Joe's6831 Wisconsin Ave.; 301-907-0982.
Vace Italian Deli4705 Miller Ave.; 301-654-6367.
New and Soon-to-Open Apartments and Condos
Parks
Caroline Freeland Urban Park7200 Arlington Rd.
Norwood Local Park4700 Norwood Dr.