Washington bartenders put a creative twist on cocktail garnishes that go way beyond lemon peels, including house-made sausages, flaming oranges, and liquid arugula.
1. The Gnome with arugula oil at Gypsy Soul
8296 Glass Alley, Fairfax
We've seen plenty of salad-like garnishes in our drinking day, but few in liquid form. Bryan Tetorakis took inspiration from citrus peels, which are prized by bartenders for the color and perfume-y oils they lend to cocktails. Instead, he blends peppery arugula and grapeseed oil, strains and freezes it, and then squeezes droplets onto a herbaceous mix of vodka, Cocchi Americano, and Aperol.
2. Cold War "dumpling shooter" at Chaplin's Restaurant and Bar

Oysters have cornered the bomb market for way too long (except one, see below). Bar-bros Ari and Micah Wilder make a citrusy shot with gin, Pimm's liqueur, ginger, and lemon, to which they add a house-made shrimp dumpling. We suggest chasing one with the other, unless you have a large mouth.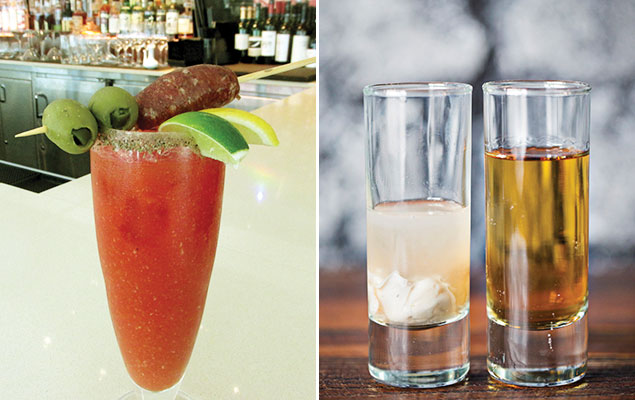 3. District Mary at the Source
575 Pennsylvania Ave., NW
What's more Washington than a half-smoke? A brunch-time Bloody crowned with said house-made sausage, plus an Old Bay rim. Dim sum can't get any better.
4. Oyster Back at Eat the Rich

1839 Seventh St., NW
This oyster shooter is sure to put barnacles on your chest. First, take the shot of Old Overholt Rye, then chase it with the mixture of pickle juice and a freshly shucked Rappahannock oyster. Part bivalve-bomb, part pickleback, and all awesome.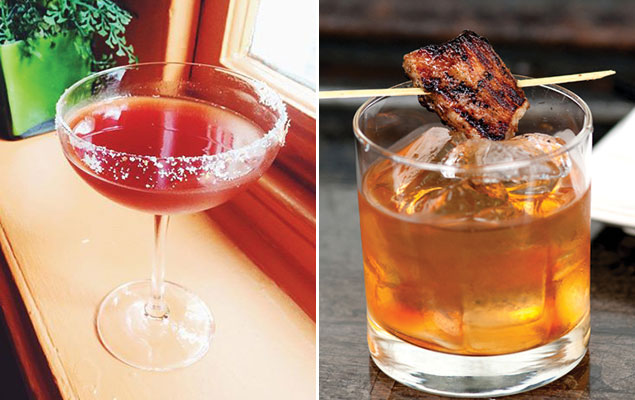 5. I Am Virginia with dried ham at Restaurant Eve
110 South Pitt St., Alexandria
Todd Thrasher creates an ode to the Old Dominion with Wasmund's single-malt whisky, Madeira, and local figs. The finishing touch: Virginia ham, which he dries, grinds, and combines with salt for the rim.
6. Toki Monster at Toki Underground
1234 H St., NE
This pork belly beauty is one of Toki's signatures. It's tempting to eat the kushiyaki skewer immediately, but that's doing the drink an injustice. Let the grilled meat marinate in the bourbon and pepper-honey liqueur, which adds smokiness to the cocktail and a boozy finish to the carnivorous garnish.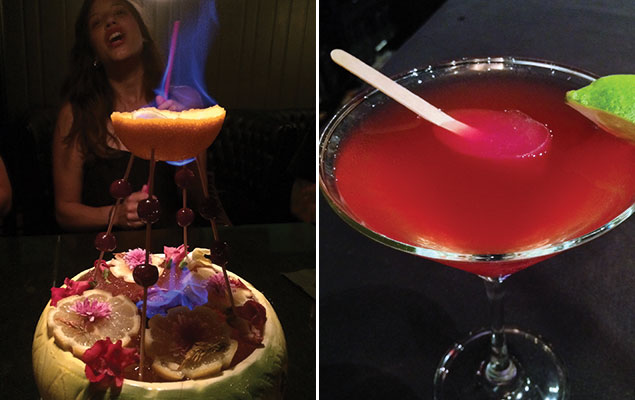 7. Volcano Bowl at the Passenger
1021 Seventh St., NW
Order this showstopper during Tiki Tuesday. The four-person drink comes loaded with light and dark rums, fresh juices, house-made syrups, a scattering of flowers, and a tower of flaming oranges. Burning citrus: not just a good band name, but delicious.
8. Pom Cosmo at Stone's Cove Kitbar
2403 Centreville Rd., Herndon/10997 Owings Mills Blvd., Owings Mills
Everyone loves popsicles. Most everyone (secretly) loves cosmos. Put a house-made pomegranate pop in a pom-vodka cosmo and everyone's happy.
Find Anna Spiegel on Twitter at @annaspiegs.