Click to expand a category.
Music
Dum Dum Girls Black Cat, November 1 The femme rockers hit the stage as part of Burger Records' Burger Caravan of Stars tour. Pitchfork called their latest, Too True, "well-crafted, well-written, and immaculate-sounding." $20.
Sinead O'Connor Birchmere, November 1 The Irish singer doesn't shy away from controversy, as reflected in her new album, I'm Not Bossy, I'm the Boss, which American Songwriter described as having a "feisty, middle aged, sensual I-want-your-hands-on-me swagger." $69.50.
Preservation Hall Jazz Band and Allen Toussaint George Mason University's Center for the Arts, November 2 The R&B pianist joins the jazz group to celebrate the musical style of the Big Easy. $29 to $48.
Kodaline 9:30 Club, November 5 The Dublin rockers make pensive pop that seems tailor-made for prime-time TV dramas thanks to Steve Garrigan's soaring vocals and Mark Prendergast's shimmering guitar. $25.
FKA Twigs 9:30 Club, November 6 This twentysomething British artist has made waves with her gloomy, hip-hop-infused pop. Of her second EP, from last year, Pitchfork said, " EP2 is the sound of someone who has lived a lifetime in their own head." $20 (currently sold out).
London Grammar 9:30 Club, November 7 Singer Hannah Reid's otherworldly voice anchors this British trio's melancholy electronica. This is the first stop on a North American tour, with futuristic R&B artist Until the Ribbon Breaks opening. $25 (currently sold out).
Anberlin Fillmore Silver Spring, November 7 The Florida band embarked on its (supposedly) final tour in January after releasing Low-born. Such predictions are iffy, but fans may not have another chance to see the group for some time. $25.
Buddy Guy Birchmere, November 10 The 78-year-old blues heavyweight shows off the guitar skills that in-spired artists like Eric Clapton and Robert Plant. $79.50.
Aaron Carter Jammin Java, November 10 The former tween pop star has been in the news more for his erratic behavior than his music, but his show offers a chance to relive his hits from the early '00s—and hear some unfamiliar songs, if rumors of a new album are true. $22 to $30.
Rachael Yamagata Birchmere, November 11 The singer/songwriter and Virginia native returns with her confessional, piano-driven tunes. $25.
Anne-Sophie Mutter Kennedy Center, November 23 Washington Performing Arts presents the German violinist and her 14-member ensemble, the Mutter Virtuosi, performing Sebastian Currier's Ringtone Variations, which they premiered in 2013 in Taipei's National Concert Hall. $35 to $100.
Relient K Fillmore Silver Spring, November 30 The artists behind such goofy songs as "Sadie Hawkins Dance" and "In Love With the 80's (Pink Tux to the Prom)" departed from their pop-punk sound with the Top 40-friendly tunes on Collapsible Lung, released last year. $22.
Arturo Sandoval Blues Alley, December 4-7 See the Cuban-born trumpeter, awarded a Presidential Medal of Freedom last year, in an intimate evening of music. $45.
Dar Williams Birchmere, December 5-6 The artist celebrates the 20th anniversary of The Honesty Room by performing the album—containing some of her best-known work, including "When I Was a Boy"—in its entirety and telling stories behind the songs. $35.
Chicago Jazz Orchestra Kennedy Center, December 6 Big-band classics featuring songs popularized by Nat King Cole, Ella Fitzgerald, and others. Allan Harris and Dee Alexander provide the vocals. $32.
Baltimore Symphony Orchestra: Duke Ellington's Nutcracker Strathmore, December 6 Ken Lam conducts the BSO in an afternoon performance of the jazz legend's take on Tchaikovsky's holiday standby. $36.
Natalie Merchant Lincoln Theatre, December 10 The singer/songwriter who made a name as part of the original 10,000 Maniacs performs songs from her sixth solo studio album as well as older hits. $55.
Hot Tuna Sixth & I, December 10 The singer/songwriter who made a name as part of the original 10,000 Maniacs performs songs from her sixth solo studio album as well as older hits. $55.
Vienna Boys Choir George Mason University's Center for the Arts, December 20-21 This group, which has roots in the royal choirs reaching back to 1498, has performed at GMU since 2008, making it something of a local tradition. $30 to $50.
The Road to Canterbury: Music of Medieval England Folger Consort, January 9-10 The 13th- and 14th-century works in this concert include a song mentioned in The Canterbury Tales as well as selections in Latin and Middle English. $20 to $50.
An Evening With Jason Alexander Strathmore, January 22 Guitarist Alfonso Moreno and pianist Irina Chistiakova join the orchestra, led by Enrique Bátiz, for a concert of works by Spanish composers to celebrate Mexico's cultural roots in Spain. $30 to $50.
State Symphony Orchestra of Mexico George Mason University's Center for the Arts, January 31 The 13th- and 14th-century works in this concert include a song mentioned in The Canterbury Tales as well as selections in Latin and Middle English. $20 to $50.
Wynton Marsalis's Blues Symphony Strathmore, February 4 Though selected movements of Marsalis's jazz work premiered in 2009, Strathmore hosts the first performance of the entire piece as part of the tenth-anniversary celebration of the collaboration between the venue and Washington Performing Arts. $35 to $75.
Outside the Bachx Kennedy Center, February 20-March 1 New York's Full Circle Productions combines hip-hop dancing with spoken word and concert piano for this show designed to pique youngsters' interest in classical music. $20.
Theater
"Joseph and the Amazing Technicolor Dreamcoat," center, is at the Kennedy Center. Clockwise from lower left: comics Paula Poundstone, at the Birchmere, and Mike Birbiglia, at the Warner; Jessica Richens of "So You Think You Can Dance," at Lisner; Jasmine Guy in "Raisin' Cane," at GMU; "Chicago," at the National; comedian Gary Gulman, at Sixth & I.
La Bohème Kennedy Center, November 1-15 Washington National Opera presents Puccini's tale of young Parisians struggling with their dreams and love. $25 to $300.
Bad Jews Studio Theatre, November 5-December 21 Joshua Harmon's comedy revolves around three cousins battling over their faith and family traditions after their grandfather's death. $44 to $78.
Green Porno, Live On Stage Lisner Auditorium, November 8 Actress Isabella Rossellini's one-woman show contains no actual pornographic material. It's an adaptation of her Sundance Channel short-film series, which offers a comic—and accurate—account of the mating habits of animals. $30 to $50.
Ghost Brothers of Darkland County Warner Theatre, November 15 Novelist Stephen King, rocker John Mellencamp, and music producer T Bone Burnett created this macabre musical about feuding brothers and history repeating itself. Mellencamp scored the roots-rock accompaniment. $39.50 to $79.50.
A Christmas Carol Ford's Theatre, November 20-January 1 Ford's offers its reliable annual production, with Washington theater regular Edward Gero as Dickens's miser. $24 to $97.
Beauty and the Beast Synetic Theater, December 3-January 4 The company known for its mostly wordless, physical interpretations presents a new production of this story, based on the original (much darker) French fairy tale. $40 to $65.
Famous Puppet Death Scenes Woolly Mammoth Theatre Company, December 9-January 4 Exactly what it sounds like: a comedic performance (for adults) of 22 puppet death scenes by Calgary's Old Trout Puppet Workshop. $35 to $68.
Diner Signature Theatre, December 9-January 25 Delayed in development several years, this musical based on the 1982 movie has its world premiere in Arlington. Barry Levinson, the film's auteur, teamed up with musician Sheryl Crow and choreographer/director Kathleen Marshall for the adaptation. $29 to $70.
Joseph and the Amazing Technicolor Dreamcoat Kennedy Center, December 16-January 4 Tim Rice and Andrew Lloyd Webber's biblical romp has big names attached: Tony winner Andy Blankenbuehler (In the Heights; Broadway's recent revival of Annie) directs and choreographs; husband-and-wife American Idol alums Ace Young and Diana DeGarmo star. $25 to $155.
Pippin National Theatre, December 16-January 4 The Tony-winning revival of this musical about a prince searching for his purpose is directed by Diane Paulus, who was also behind The Gershwins' Porgy and Bess, recently on Broadway, and the Cirque du Soleil show Amaluna, which had its first local run this summer. $73 to $153.
A John Waters Christmas Birchmere, December 22 In his one-man show, the eccentric director (Hairspray, Cecil B. Demented) gives holiday traditions his slightly unwholesome spin. $49.50.
The T Party Forum Theatre, January 2-17 Writer/director Natsu Onoda Power (Astro Boy and the God of Comics) remounts a 2013 production that explores gender transformation in Washington through real-life accounts, staged with Power's quirky flair. $30 to $35.
Life Sucks (or the Present Ridiculous) Theater J, January 14-February 15 Helen Hayes Award winner Aaron Posner—who directed Woolly Mammoth's Stupid F—ing Bird, a riff on The Seagull—offers his take on another Chekhov play with this world-premiere comedy loosely based on Uncle Vanya. $25 to $65.
Baskerville: A Sherlock Holmes Mystery Arena Stage, January 16-February 22 The detective and his sidekick dive into the case of the Hound of the Baskervilles in this speedy comedy by Tony nominee Ken Ludwig. $45 to $90.
Bessie's Blues MetroStage, January 21-March 15 Told from the perspective of singer Bessie Smith, this 20th-anniversary production—the original staging at Studio Theatre won six Helen Hayes Awards—explores African-Americans' contributions to music in the 20th century. $55 to $60.
Raisin' Cane George Mason University's Center for the Arts, January 24 Jasmine Guy, from TV's Dead Like Me and A Different World, stars in this celebration of the Harlem Renaissance inspired by Jean Toomer's 1923 novel, Cane. Guy's vocals combine with text, imagery, and music by the Avery Sharpe Trio. $29 to $48.
The Metromaniacs Shakespeare Theatre Company, February 3-March 8 Playwright David Ives (Venus in Fur) is behind this world-premiere adaptation of French writer Alexis Piron's 1738 comedy of mistaken identity. $20 to $110.
Mary Stuart Folger Theatre, February 4-March 8 This is a new translation of Friedrich Schiller's drama about Mary Queen of Scots in the days before her execution. $40 to $75.
Zero Hour: Tokyo Rose's Last Tape Kennedy Center, February 6-7 Artist Miwa Yanagi conceived, wrote, and directed this play about English-speaking Japanese women assigned to broadcast Japanese propaganda to Allied forces in World War II. $40.
King Hedley II Arena Stage, February 6-March 8 The eighth in playwright August Wilson's series exploring the black American experience centers on a man readjusting to his tough Pittsburgh neighborhood after prison. $40 to $100.
Chicago National Theatre, February 10-15 Although it's one of the longest-running musicals ever on Broadway, our celebrity-obsessed culture keeps the Kander and Ebb show feeling fresh. This touring production will both please musical-theater purists and give fans of the 2002 Renée Zellweger/Catherine Zeta-Jones film the chance to marvel at the song-and-dance feats that can be accomplished even without movie magic. $48 to $98.
Kid Victory Signature Theatre, February 17-March 22 One of three world-premiere musicals in Signature's 2014-15 season, this explores the repercussions of a 17-year-old boy's return home after being missing for a year. Composer John Kander—former partner of the late lyricist Fred Ebb, of Cabaret fame—collaborated with playwright Greg Pierce. $29 to $70.
The Originalist Arena Stage, March 6-April 26 Edward Gero plays the often polarizing Supreme Court justice Antonin Scalia in John Strand's world premiere. $45 to $90.
Soon Signature Theatre, March 10-April 26 Natascia Diaz stars in Nick Blaemire's premiere about a woman who, in the face of an impending global natural disaster, shuts herself in her apartment to the despair of her boyfriend and mother. Oh, it's also a musical. $40 to $100.
Dance
Martha Graham Dance Company George Mason University's Center for the Arts, November 7 The evening includes "Appalachian Spring Suite," featuring narration based on letters between Graham and composer Aaron Copland, as well as "Echo," a new piece choreographed by Andonis Foniadakis. $28 to $46.
So You Think You Can Dance Live Tour Lisner Auditorium, November 9 Ten finalists on this show's 11th season take their moves on the road—though without the antics of host Cat Deeley. $55 to $75.
Batsheva Dance Company Kennedy Center, November 18-19 The Israeli troupe—which boasted Martha Graham as its first artistic adviser—embarks on an international tour for its 50th anniversary, performing Sadeh21, a new work by artistic director Ohad Naharin. $20 to $62.
Bella Gaia/Beautiful Earth Strathmore, November 28 Developed by composer/director Kenji Williams in conjunction with NASA, this multimedia performance celebrates humanity and the beauty of Earth as seen from space. $25 to $42.
The Suzanne Farrell Ballet Kennedy Center, November 28-30 The company performs three Balanchine works, including his one-act Swan Lake, as well as a piece by Jerome Robbins. $20 to $85.
The Nutcracker Warner Theatre, December 4-28 The Washington Ballet presents its annual DC-centric twist on the holiday staple, including the Nutcracker Prince portrayed as George Washington. Also November 29 and 30 at THEARC in Southeast DC. $32 to $107.
Mariinsky Ballet American Dance Institute, January 27-February 1 The St. Petersburg troupe returns with several early-20th-century dances, including the 1913 work "Le Sacre du Printemps," with music by Igor Stravinsky. $30 to $155.
Susan Marshall Kennedy Center, January 23-24 Known for her intimate, abstract compositions, the choreographer presents 14 Tantrums, which aims to translate diagrams charting the cycle of temper tantrums into music and movement. $30.
Alvin Ailey American Dance Theater Kennedy Center, February 3-8 The crowd-pleasing New York company brings new works to town along with Ailey's seminal 1960 piece "Revelations." $30 to $125.
Lula Washington Dance Theatre Dance Place, February 14-15 LA's highest-profile African-American choreographer (she designed the movements for the Na'vi people in James Cameron's film Avatar) brings a performance of Random Thoughts, inspired by jazz trumpeter Terence Blanchard. $25 to $30.
Sleepy Hollow Kennedy Center, February 18-22 Following the success of Alice (in Wonderland) and Hemingway: The Sun Also Rises, Septime Webre translates Washington Irving's story into dance in this world premiere. $25 to $125.
Museum Exhibits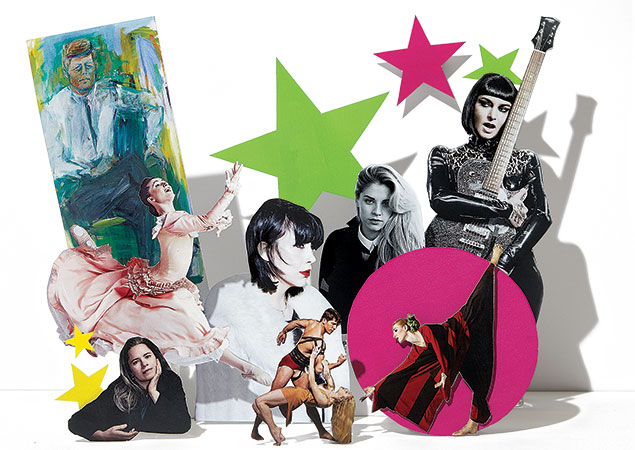 In front: singer Natalie Merchant, at the Lincoln, and the Martha Graham Dance Company, at George Mason. Behind them: a painting of JFK, one of Elaine de Kooning's pieces at the Portrait Gallery; singer Dee Dee Penny of Dum Dum Girls, at the Black Cat; singer Hannah Reid of London Grammar, at 9:30; and musician Sinead O'Connor, at the Birchmere.
"El Greco in the National Gallery of Art and Washington-Area Collections: A 400th Anniversary Celebration" National Gallery of Art, November 2-February 16 Four centuries after the death of the Spanish Renaissance artist, the West Building has a retrospective of his works, including paintings from the museum's archives as well as loans from collectors.
"The Architectural Image, 1920-1950" National Building Museum, November 8-May 3 A private collector lent the museum these 60 works, which look at the rapid change in American architecture brought about by the spread of Bauhaus principles. $8.
"The Traveler's Eye: Scenes of Asia" Sackler Gallery, November 22-May 31 Photographs, maps, and objects spanning 500 years illustrate how travelers recalled their journeys in Asia and how their preservation of those memories shapes perceptions of the region today.
"The Last American Dinosaurs" National Museum of Natural History, November 25-2018 As the museum readies its new fossil hall to open in 2019, dinosaur fiends can satisfy their curiosity with this look at the giant lizards in North America.
"Picturing Mary: Woman, Mother, Idea" National Museum of Women in the Arts, December 5-April 12 A look at the depictions of the Virgin Mary through history and their social and artistic contexts. $10.
"AmBIGuity" National Building Museum, January 24-Summer 2015 Following the installation of the BIG Maze, the museum presents a showcase of works by the Bjarke Ingels Group, the Danish design firm that created it. $8.
"Man Ray—Human Equations" Phillips Collection, February 7-May 10 This exhibit of paintings delves into the creative process used by the surrealist artist—better known today for his photography—in creating his Shakespearean Equations series. $12.
"Splendor and Surprise: Elegant Containers, Antique to Modern" Hillwood Museum, February 15-June 7 The museum invites visitors to consider the purpose of vessels of all kinds, as practical objects used for storage and as pieces of art. $15.
"Mingering Mike's Supersonic Greatest Hits" Smithsonian American Art Museum, February 27-August 2 The self-taught local artist's works include album covers, liner notes, and other pieces that highlight his dreams of a career as a recording artist, as well as Washington's stature as a center of soul and R&B in the '60s and '70s.
"Elaine de Kooning" National Portrait Gallery, March 15-January 10 This showcase of the abstract expressionist's paintings includes her series on John F. Kennedy, Allen Ginsberg, Ornette Coleman, and other notables, plus a number of self-portraits.
Festivals and Fun
Alton Brown Live Warner Theatre, November 9 The stage show from this Food Network host—sometimes called the "Bill Nye of food"—is part educational demonstration and part mad-scientist rant, with a few tongue-in-cheek musical numbers. $33 to $53.
Russian Winter Festival Hillwood Estate, Museum & Gardens, December 13-14 Learn about holiday traditions from a different part of the world with this family-friendly celebration featuring Russian folk music, a chance to make a traditional headdress, and other activities. $18.
Atlas Intersections Festival Atlas Performing Arts Center, February 20-March 7 The event returns with 120-plus performances in art, music, dance, and more, including several world premieres and a concert by Face the Music, composed of young musicians from New York's prestigious Special Music School. $20.
Singin' in the Rain with Live Accompaniment Strathmore, March 26 Gene Kelly fans can see him dance onscreen alongside a performance of the score by the BSO SuperPops. $50 to $110.
Comedy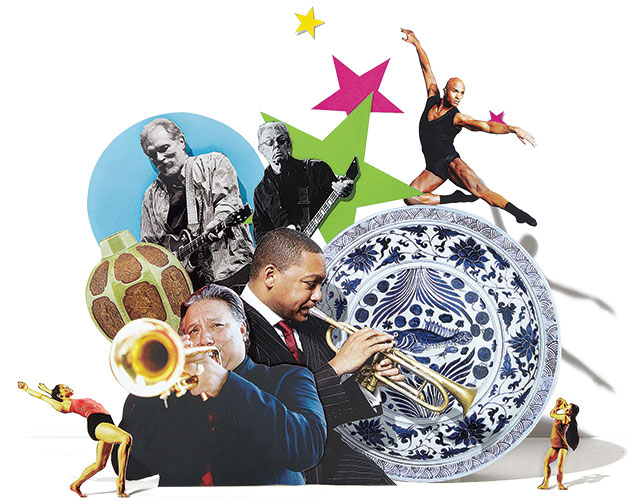 Two big-name trumpeters: Arturo Sandoval (left), at Blues Alley, and Wynton Marsalis, at Strathmore. Behind them: Chinese ceramics, at the Freer; blues rockers Hot Tuna, at Sixth & I; and Alvin Ailey American Dance Theater, at the Kennedy Center. Small photos: Batsheva Dance Company, at the KenCen.
Mike Birbiglia Warner Theatre, November 7 The mild-mannered comedian, whose one-man show Sleepwalk With Me became a well-received movie in 2012, performs his dead-pan standup. $27.50 to $37.50.
Gary Gulman Sixth & I, November 15 In 2014 alone, this two-time Last Comic Standing finalist has appeared on Inside Amy Schumer, Late Night With Seth Meyers, and The Pete Holmes Show (now canceled). $20 to $23.
Paula Poundstone Birchmere, November 21-22 The regular on NPR's Wait Wait . . . Don't Tell Me! performs her introspective, improvisational comedy. $45.
The Improvised Shakespeare Company Artisphere, December 5-6 The Chicago troupe—which includes Thomas Middleditch of Emmy-nominated Silicon Valley—ad-libs an entire Shakespeare-style work onstage based on a single audience suggestion. $22.
This article appears in the October 2014 issue of Washingtonian.