Cara Gavagan and Nate Schwarz grew up around the corner from each other in Clifton Park, New York. They were in the same kindergarten class, and their families were close; they even attended the same church. But despite all the life overlap, the two never dated. After finishing college at Clarkson University, Nate ended up working as an engineer in Richmond, Virginia, while Cara went to Catholic University in DC. One weekend Nate offered Cara a ride home to New York—the most time they had ever spent together alone—and something clicked.
Still, it wasn't until more than a year later, at Nate's brother's wedding, that they decided to officially get together. A year after that, Nate was transferred from Richmond to DC and shortly thereafter, they were engaged. Having already known each other for more than 20 years, the pair were thrilled to tie the knot in front of the family and friends who watched them grow up together.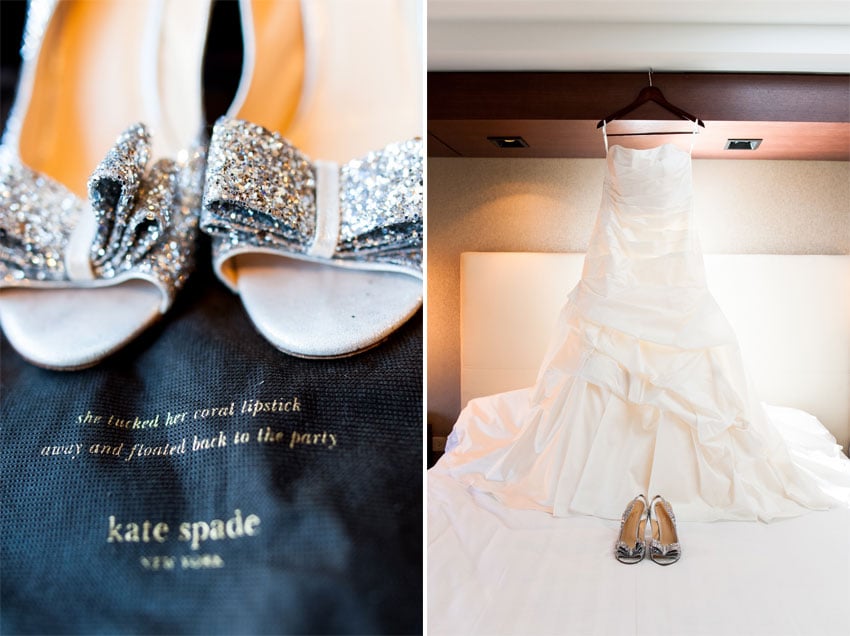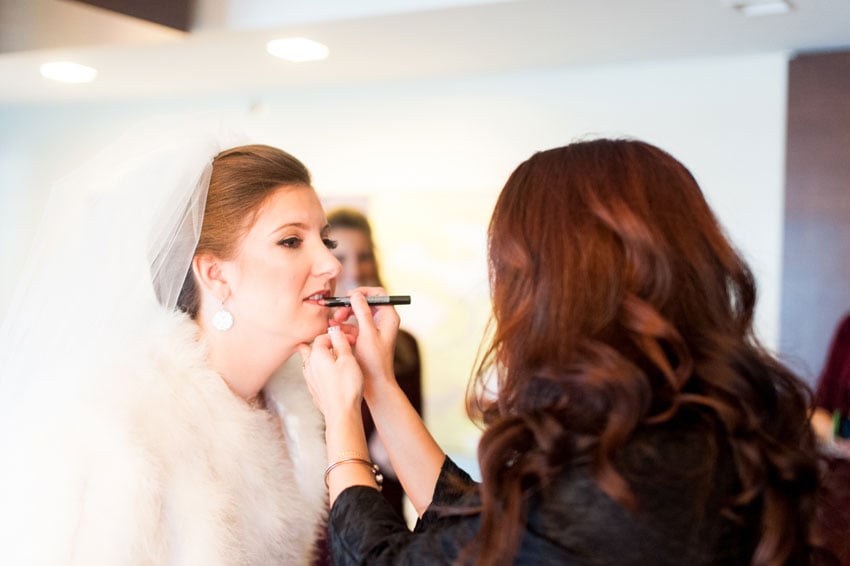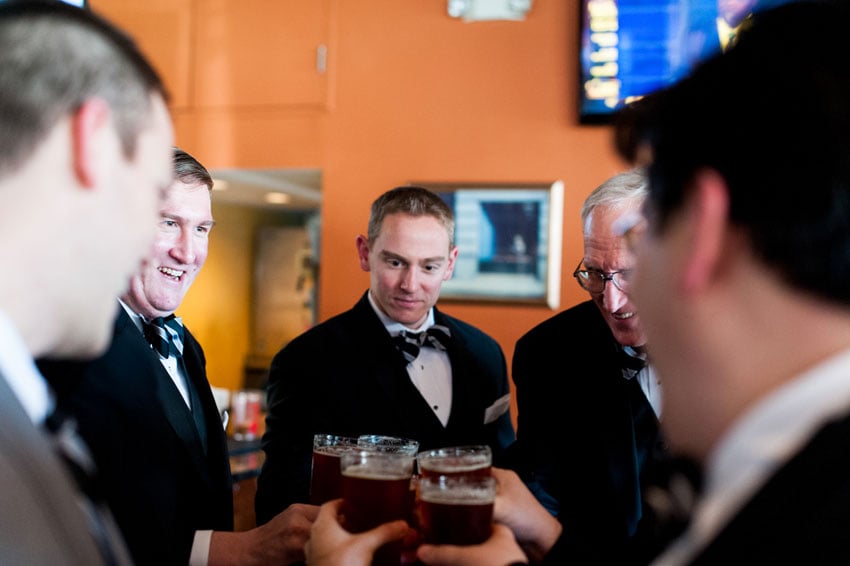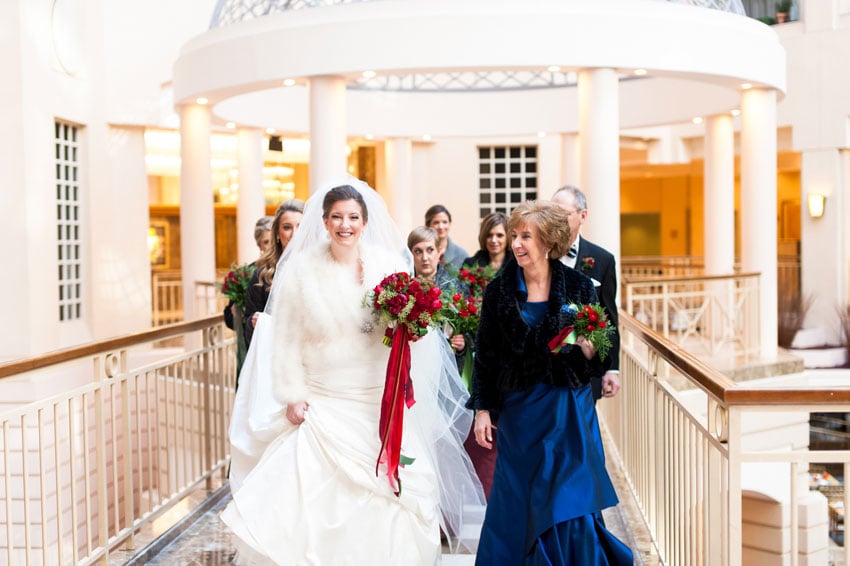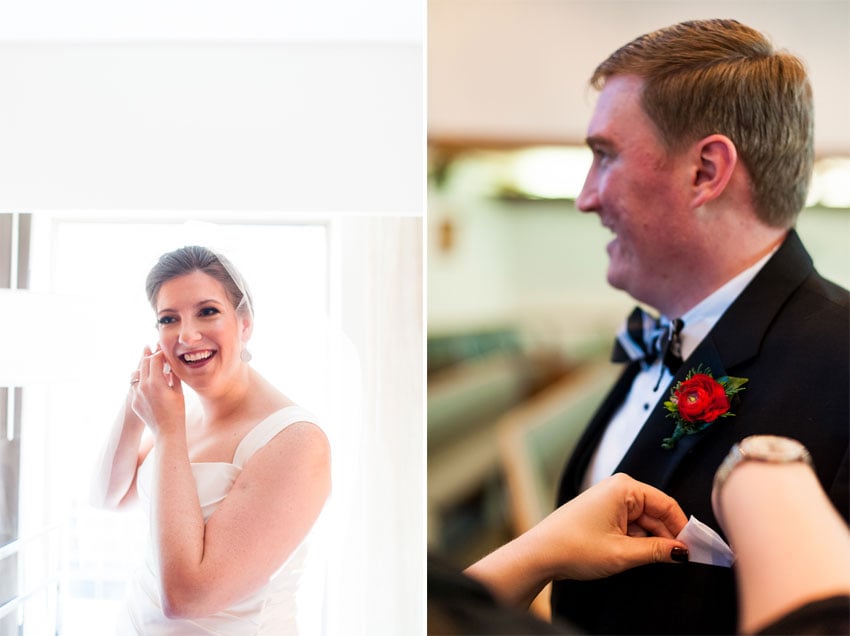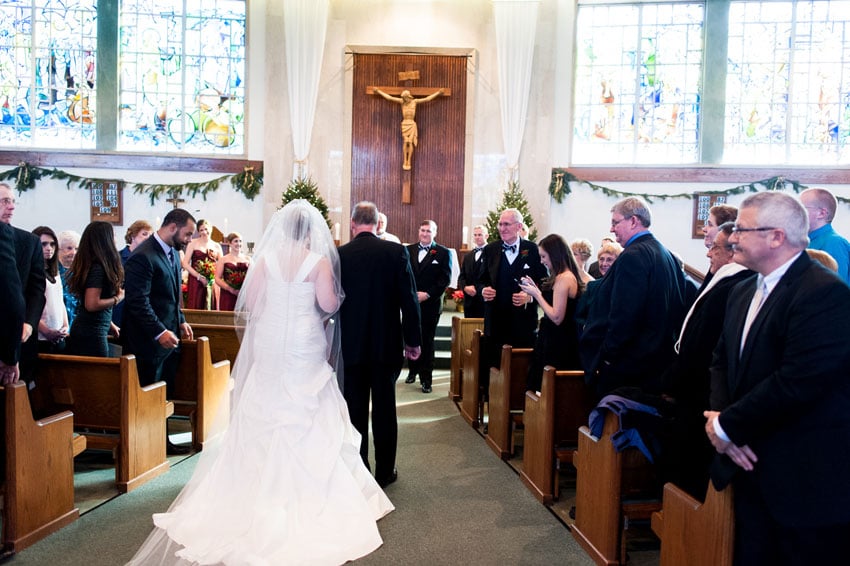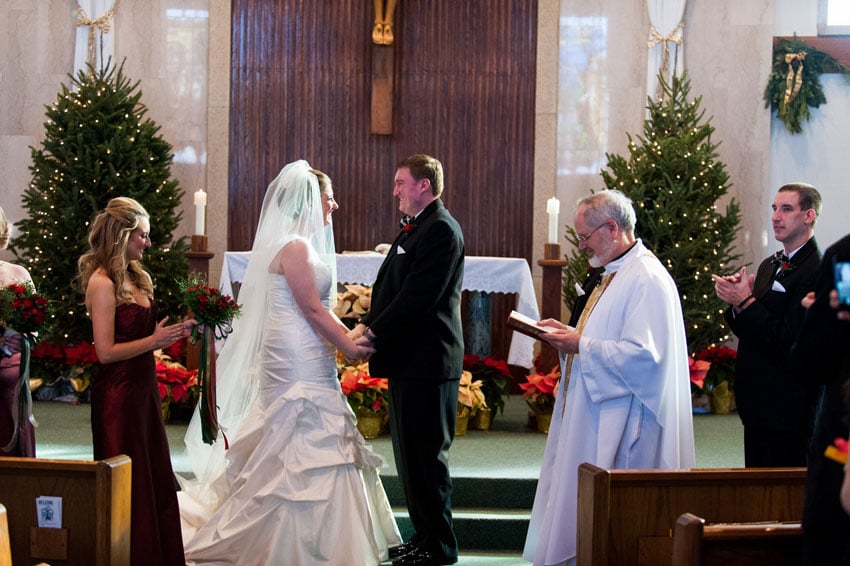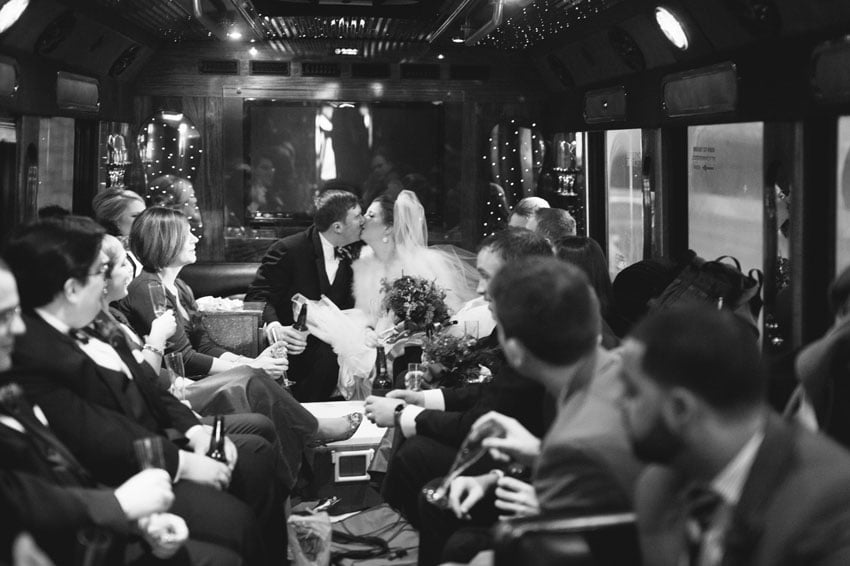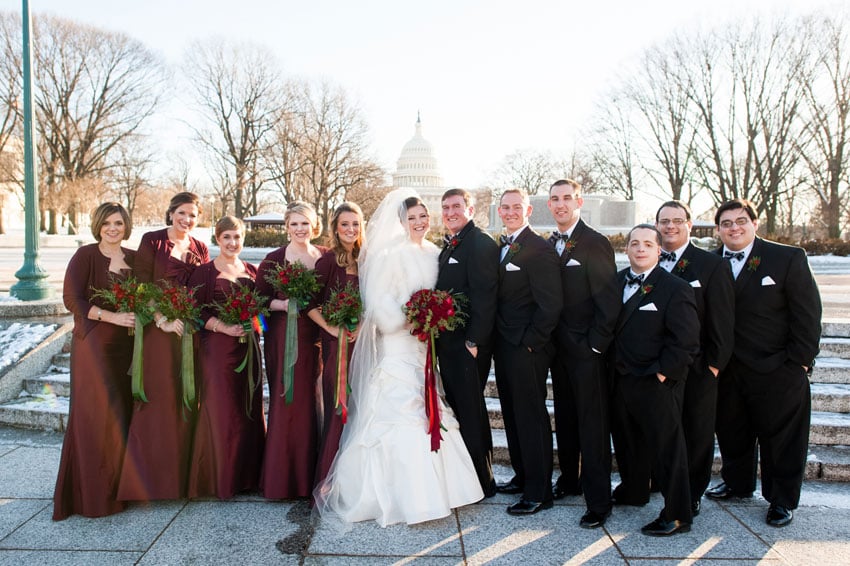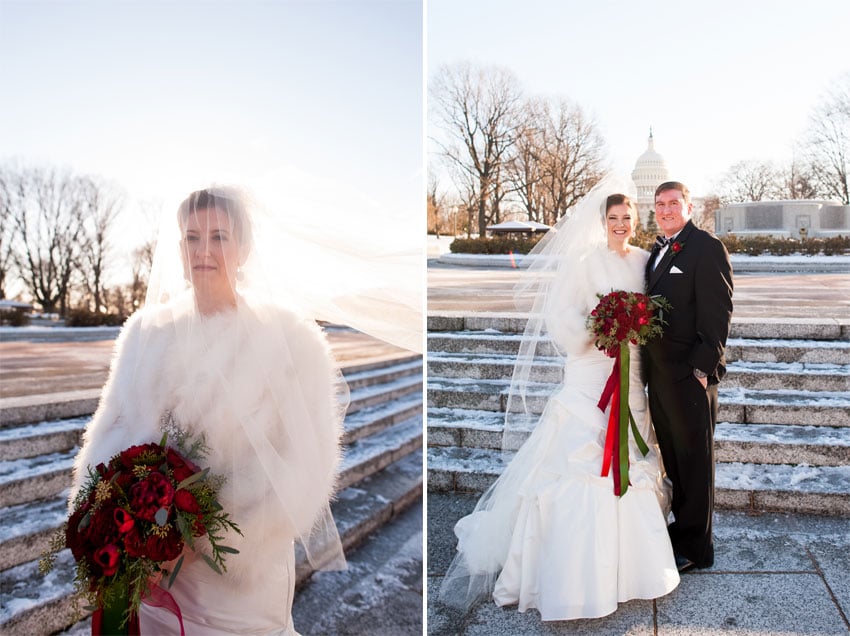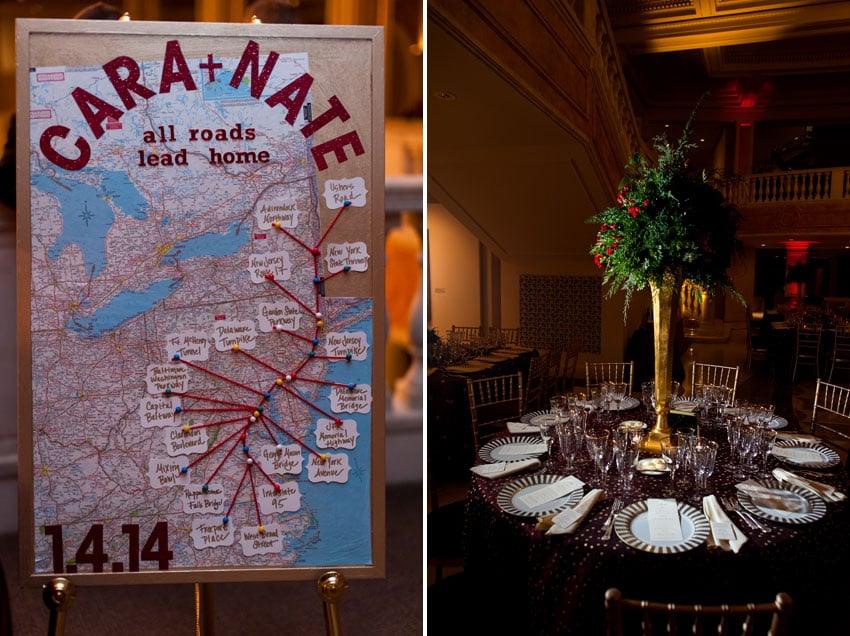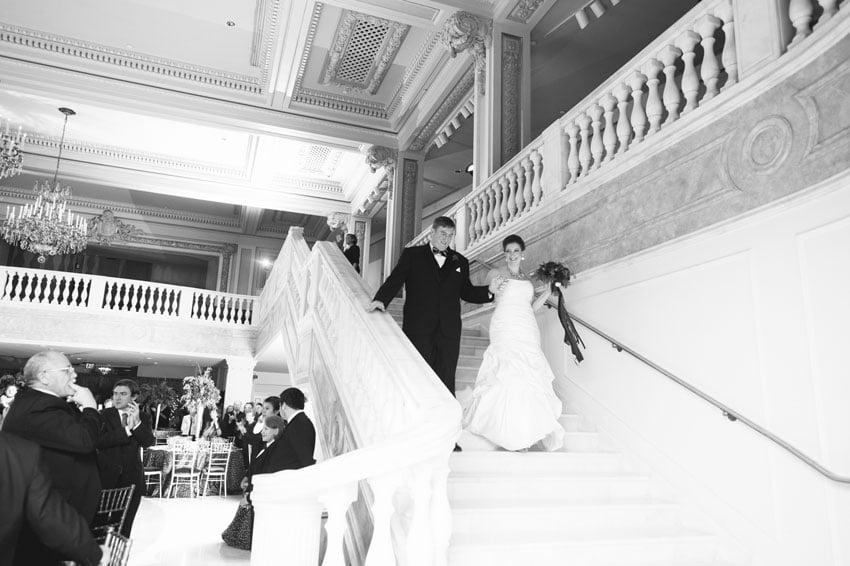 Details
Wedding Church: St. Charles Borromeo Catholic Church
Wedding Reception: National Museum of Women in the Arts
Wedding Date: January 4, 2014
Photographer: Jessica Shepard
Bride and Groom's Hometown: Clifton Park, New York
Bride's First Impression: "I don't remember a time when we didn't know each other!"
Groom's First Impression: "I remember sitting next to her on the bus when we were kids."
First Date: Historic Tredegar Iron Works
Bride's Gown: Modern Trousseau, Hitched
Groom's Tux: Calvin Klein, Men's Wearhouse
Hair and Makeup: Behind the Veil
Florist: Holly Chapple Flowers
Event Coordinator: Tabitha Roberts, Roberts & Co.
Wedding Flowers: Red roses, red peonies, evergreen
Invitations: Dandelion Patch
Caterer: Paris Caterers
Photo Booth: Booth-o-Rama Photobooths

Music/Entertainment: DJ D-Mac & Assoc.
Bride's Favorite Detail: "Our tables were named after the roads from Clifton Park through DC to Richmond, and our escort cards were matchbox cars."
Groom's Favorite Detail: "Going to our favorite neighborhood restaurant, Boulevard Woodgrill, on the way to the church, and enjoying a beer with my dad and groomsmen."
Biggest Surprise: "The best man speech given by Nate's brother—he did a perfect imitation of a younger me [Cara] saying, 'Hello, boys,' as I walked by their Nintendo games."
First Dance Song: "Can't Take My Eyes Off You" by Frankie Valli and the Four Seasons
Four Words That Describe the Wedding: Traditional, elegant, sparkly, fun
Wedding Favors: "We made donations in honor of two close friends who had passed away. It was nice to remember them on our big day."
Honeymoon Spot: Emerald Bay, Bahamas
Where They Currently Live: Arlington, VA
For more gorgeous real weddings, follow Washingtonian Bride & Groom on Twitter at @washbridegroom.