The local craft-brew scene has been growing for years. But beer makers have recently gotten some help from lawmakers: This year, both DC and Maryland passed laws allowing permitted breweries to sell pints on the premises; Virginia passed similar legislation in 2012. Here are six new breweries to satisfy your cravings for hometown hops.
404-C Browning Ct., Purcellville; 703-722-3144
This tiny brewery gives a new meaning to dark beer, with bottle art featuring cannibals and brews named after metal songs. Still, the concise, mostly barrel-aged line is one of the more creative in the area—take the Perfect Drug, a farmhouse ale infused with wormwood, basil, and sage and served with a green sugar cube so you can pour it absinthe-style. A tasting room is open Thursday through Sunday for samples, ten-ounce pours, growlers (large, reusable jugs that can be filled with beer), and bottle purchases.
1200-1216 Bladensburg Rd., NE; 762-233-7070
Dr. Dremo's Taphouse, which shuttered in 2008 after a six-year run in Arlington, was revived last year as a vast beer garden in Northeast DC's Trinidad. The no-frills vibe remains—picnic tables, corn hole, and delivery menus for sustenance—but owner and head brewer Bill Stewart has begun producing beers as well. Look for drafts like the Dremo, an imperial IPA, and the Marion Berry Lambic (get it?), brewed with blackberries. Tabs nod to the place's '90s origins, with $3.75 pints and $9.91 pitchers; growler prices vary.
1115 East-West Hwy., Silver Spring; 301-557-9818
Love beer and barbecue? Try this Metro-accessible spot, which serves pulled-pork sandwiches, smoked and spiced chicken, spicy three-bean chili, and more from BBQ Bus food truck owners Che and Tadd Ruddell-Tabisola. In warm weather, a 150-seat patio is the place to sip brewer Jeff Ramirez's five styles, such as Southside Rye IPA and Born Bohemian Pilsner. Head for the eight-seat indoor bar for tastings and more pints, including pours from other local producers such as the Brewer's Art in Baltimore and Starr Hill near Charlottesville. Growlers and kegs are available.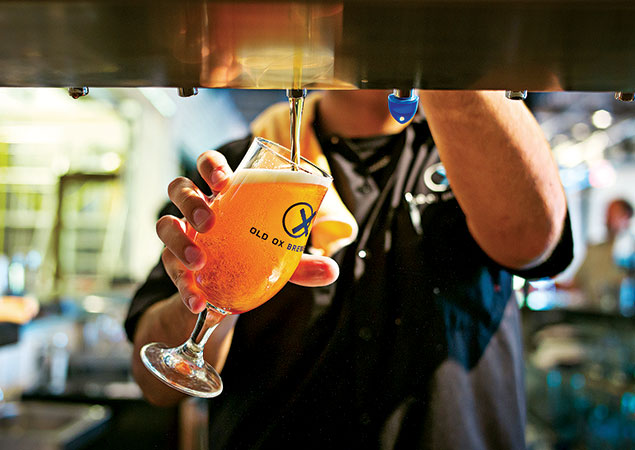 44652 Guilford Dr., Ashburn; 703-729-8375
Hop on a bike and head to this family-owned brewery, which sits on the W&OD Trail and keeps tire pumps, racks, and water ready for cyclists. Grab a seat in the tasting room to sample the award-winning rye porter or seasonal beers such as the Oxorcist, a pumpkin brown ale brewed with graham crackers that conjure a pie crust. Those looking to actually eat can order from neighboring Jennifer's Pastries, which will bring pizzas, sandwiches, and snacks like soft pretzels over to the brewery.
5788 Second St., NE; 202-827-8768
The District's fourth production brewery claims an unusual mascot: the hellbender, an endangered giant salamander. Head brewer Ben Evans trained as a biologist, and he and cofounder Patrick Mullane run their business with an eco-friendly mission. In addition to fundraising for a new salamander habitat at the National Zoo, their Belgian mash-filter brewing system—only the country's fifth in a craft brewery—turns out beers like Kölsches and American red ales using up to 20 percent less grain and 40 percent less water. Packaging isn't expected to begin until 2016. In the meantime, get a sample or fill a growler in the tasting room.
7134 Lineweaver Rd., Vint Hill; 540-347-4777
Despite its name, there's nothing antiquated about this Fauquier County brewery, which runs on an energy-efficient geothermal system and feeds its spent grains to local livestock to reduce waste. Brewmaster Charles Kling, an alum of Abita and Diamond Bear breweries, has created an eclectic lineup that includes English and American pale ales, IPAs, porters, and root beer. Look for bottles at retail stores around Northern Virginia, or visit for tours and taproom tastings.
This article appears in the October 2014 issue of Washingtonian.