It's been about 24 hours since Foo Fighters compelled a mad dash to the Black Cat by people hoping to get tickets to their "surprise" show at the 14th Street, Northwest, club on Friday night. With the club's capacity of just 700, it took minutes for the set, pegged to the band's HBO series Sonic Highways, to sell out.
But there's always the secondary ticket market, and lucky for us voyeuristic types, the after-market for super-exclusive concert dates unleashes a special class of offers. Below, a few of the more audacious lengths to which Washingtonians are willing to go to get into Friday's show.
Will pay a 1,522 percent markup: Tickets, most of which were sold in pairs, went for $23 (including surcharges) at the Black Cat's box office on Tuesday. But one gentleman is willing to pay $350 for just one of them, if you're willing to ditch your date. "I'm a 29 year old guy, originally from Europe. Not looking for a date, just to go and enjoy an awesome rock show," he writes.
Will pay in cash and Skrillex tickets: "I'll trade you [S]krillex Friday night tix + cash to make this happen, or just straight up cash," writes this Craigslist seeker, which seems as much a comment on the deejay abilities of Sonny Moore as a plea for Foo Fighters tickets.
Will pay in cash and staving off the apocalpyse: Black Cat management was very stern in telling people who lined up after 4 PM that their chances of scoring tickets were close to nil. This sucker was clearly one of the late-comers who stood in the rain for nothing. But the stakes behind his $500 offer are drastic: "If my wife and I miss this show, it will be the end of the world."
Will pay in gadgets and pot: We'll let the full text of this ad do the talking:
I'm looking for 2 Foo Fighters Tickets. Will pay some serious cash and trade other valuables. I've got my old iPhone 5S and some ganj.
Cash and trade. Kind of a 2 for 1 for 2 tix.
Boom.
Will pay in, um: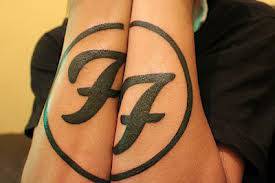 This superfan is offering $600 for a pair, but somebody should remind him it's the height of tackiness to wear a band's tattoo to the show.
And now, the horrible truth: As tempting as these offers of cash, drugs, and fending off Armageddon might be, if you have tickets to Friday's show, you should ignore these offers. The Black Cat's show announcement made very clear that it was recording the names of people who bought tickets as well as the names of their intented plus-ones. "Tickets are 100 percent non-transferable and non-refundable," the club stated yesterday. In other words, if you've got $600 but no tickets, bring your Foo Fighters-tatted forearms to the backstage bar for Ten Forward Happy Hour and buy everyone a round while they watch an old episode of Star Trek: The Next Generation.