Sexy devil? Sure. Sexy cat? Been there, done that (with some regrets, only one involving Goldschläger). But when it comes to more risqué Halloween outfits, food-themed getups tend to push the limits of low-cut, high-heeled ridiculousness. Here are seven of my favorites this season, suited for every personality—except modest. Note: some, particularly one involving strategically placed gumballs, are NSFW.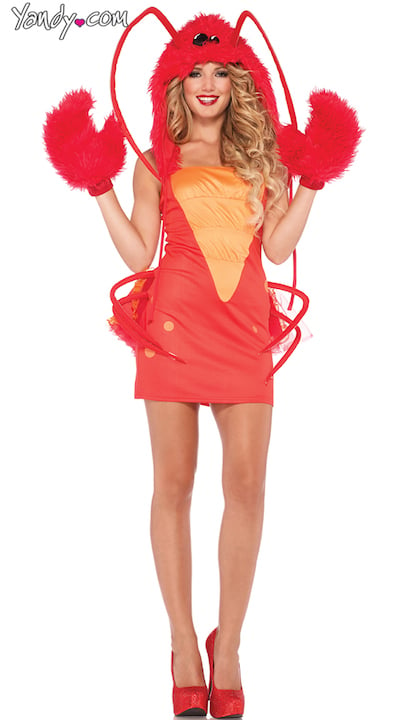 For fans of Lady Gaga's meat dress: Sexy bacon
Nothing says classy like a one-shoulder sheath from Walmart. Or a pork dress. Either way. For a stoner's girlfriend: Sexy pizza
"Dude, like what if you had a hot chick, and a pizza, but the hot chick was the pizza?"
For home bakers: Sexy cherry pie
A solid clothing rule: dress your age, not your shoe size. Though the outfit description is pretty gag-worthy ("succulent," "moaning") thankfully there's no mention of hand-pies.
For New Englanders: Sexy lobster
This is one costume I'd actually wear, but only if my boyfriend would go as this fine piece of meat. Sexy surf 'n' turf, coming right up.
For wannabe jerk magnets: Sexy gumball machine
The scariest thing on Halloween: how many times any woman wearing this will hear references to blowing, bursting bubbles, and slots. For vegetarians: Sexy corn
Thankfully not included: a sign reading "Shuck me."
For Big Mac lovers: Sexy McDonald's
What Ronald's female equivalent would look like, if she a) wore a one-piece bodysuit with a zip-up V-neck, and b) never ate McDonald's.