When I think of Canadian fashion, the first thing that comes to mind is a Canadian tuxedo (think: the now-infamous look that Britney Spears and Justin Timberlake wore oh so well at the 2001 American Music Awards). But when I met up with Canadian-born hockey players Braden Holtby and Mike Green of the Washington Capitals at their practicing rink in Ballston, Virginia, the day before their home opener game, I saw a very different style of denim. Neither one consulted with the other before the interview, and both turned up in denim shirts half tucked in, their sleeves rolled up to reveal tattooed forearms.
In separate interviews, each player professed to be "more of a boot guy" than a sneakerhead, and insisted their styles are very much their own with little to no outside influence from, say, their wives. Read on to find out what stores they rely on to find their favorite brands and how they like to spend their limited free time in Washington.
Where do you like to shop in Washington?
Braden Holtby: Scotch & Soda is my main go-to for casual clothes. I like to get my suits at John Varvatos, Billy Reid, and SuitSupply.
Mike Green: I do a lot of my shopping online at Mr Porter and Gilt. Gilt has great deals. I've also gotten really into Billy Reid in Georgetown, but other than that I rely on Neiman Marcus—they have a good variety of clothes.
What about favorite brands?
BH: Hugo Boss fits us hockey players really well. For standard suits, I usually go there. I like black and blue suits. On the more casual side, Best Made has cool woodsy-style clothes that I like, and the Canadian brand Roots has changed a lot. They make great leather clothes and bags now.
MG: I love John Varvatos. My favorite designer ever, though, is Brunello Cucinelli. His fabrics and clothes are incredible.
Are you into any of the shopping services that exist now, like Trunk Club?
BH: My wife and I like to shop, so not really. We enjoy picking out everything ourselves.
On that note, do your wives influence your style at all?
BH: We have similar styles, actually. We have since we met each other. Fashion was one of the things that sort of brought us together, believe it or not.
MG: My style has definitely picked up since getting married but for the most part, it hasn't changed much. My wife's an artist, though, so she sees certain things she thinks look good on me.
So if you were to sum up your personal style in just a few words, what would you say?
BH: My style reflects my personality so I kind of just throw on whatever I'm feeling that day. I really don't have one basic style or specific look; it changes all the time. But if I were to use one word, I'd say retro. Some people joke that I look more like an artist than a hockey player.
MG: You represent yourself through your clothing. Hockey players struggle with fashion the most because we're in a rink wearing suits since we're young kids.
Your beard has also become such a signature part of your look, Braden.
BH: Yeah I've always had a beard. I can't stand being clean shaven. Right now it's the shortest it's been in awhile. I actually grew it out this summer, and it was huge. No one would recgonize me back home, so it worked perfectly.
When you're not on the ice, what restaurants do you frequent?
BH: My family and I live in Old Town, so we love Virtue Feed & Grain because it's close to our house. Founding Farmers is one of our favorites also; we go there for brunch sometimes. We used to live in Shirlington, where we'd go to Busboys and Poets a lot, so we try and stop by there when we can. When our parents are in town, Vermilion in Old Town is a good spot for a nice supper.
MG: I live in McLean, but I thoroughly enjoy the restaurants in DC. When we can, we eat out as much as possible—we like Le Diplomate and the restaurants along 14th Street. When I first came to the US I lived in Annapolis, so that turned me on to seafood, and Joe's Seafood, Prime Steak and Stone Crab is great for that. When we have time for a drink I really like Bourbon Steak at the Four Seasons; it's low-key and quiet. My local watering hole is Thirsty Bernie's, a sports bar by my house.
Is there anything people don't know about you that they may be surprised to learn?
BH: I like bookstores, so I'm always trying to find as many of those as I can.
MG: In the offseason I build and customize motorcycles. I started doing this about three years ago. I learned how to weld, and once I learned that, I would cut apart the bikes, redesign them, and build them again. I do it as a hobby with five of my buddies.
Holtby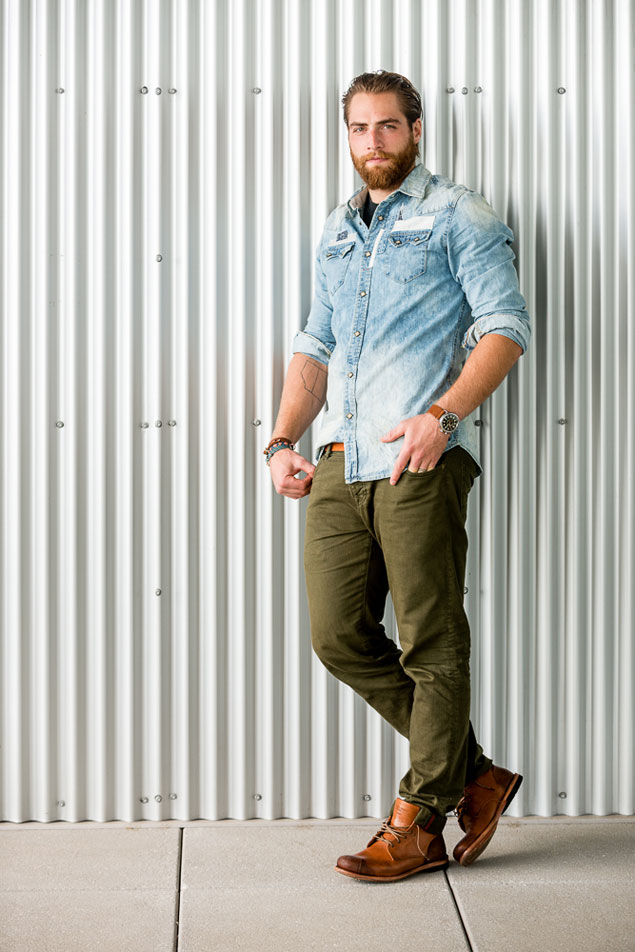 Shirt and pants, Scotch & Soda; shoes, Timberland; belt, Roots.
Details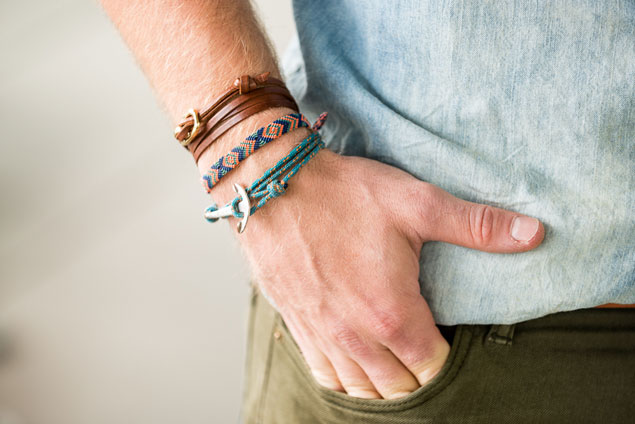 Top and bottom wrap bracelets, MIANSAI by Michael Saiger; center, Scotch & Soda.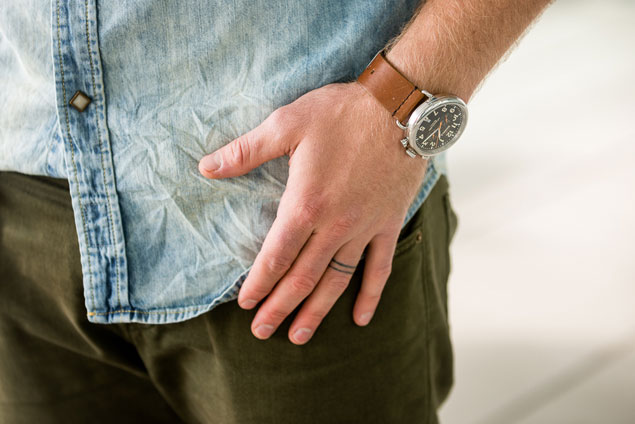 Watch, Shinola.
Green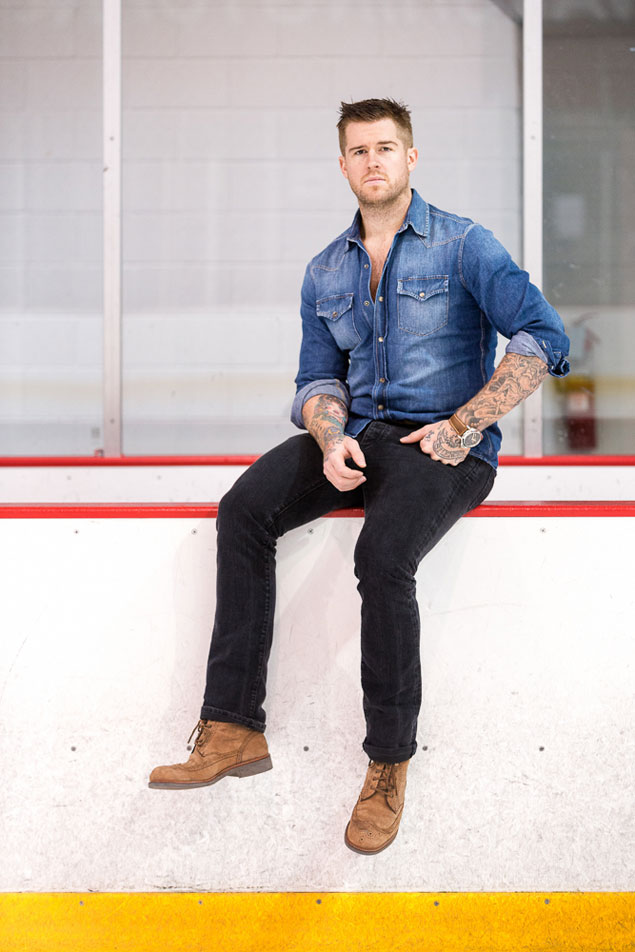 On Green: Shirt, Brunello Cucinelli; jeans and boots, John Varvatos.
Details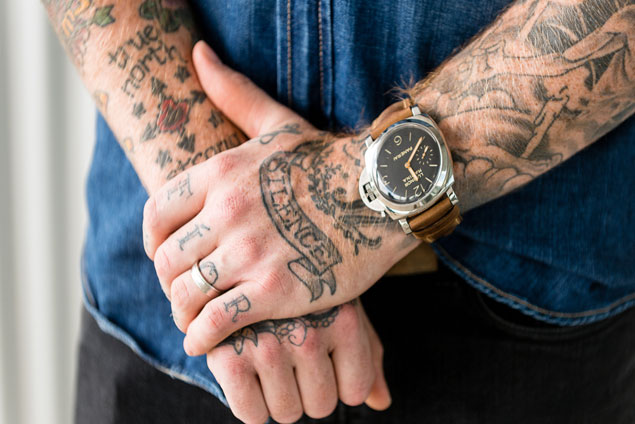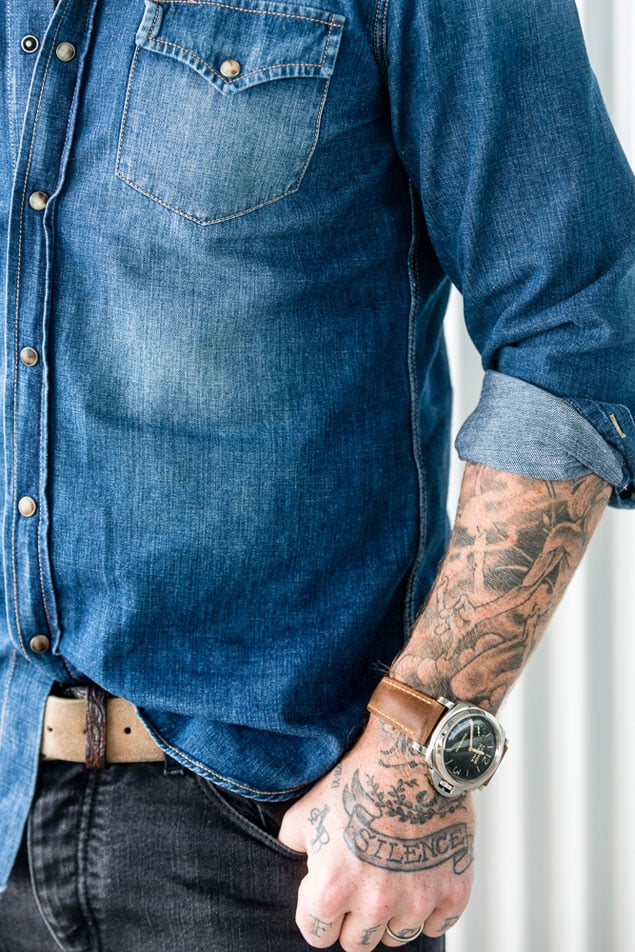 Watch, Panerai.
Formal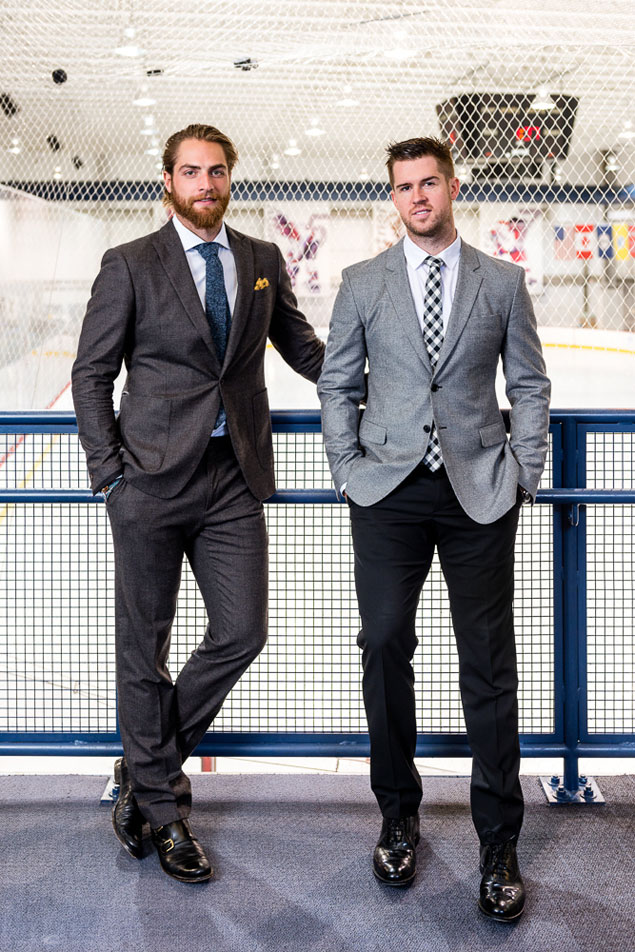 On Holtby: suit, John Varvatos; shirt, Hugo Boss; shoes, tie, and pocket square, Billy Reid.
On Green: suit, Prada; shirt, Brunello Cucinelli; shoes, Church's; tie, Wembley.
Find Valeria Boucas on Twitter at @valeriaboucas.