A neon "awesome" sign is tacked to the wall of the dining room at Rose's Luxury—and Washingtonian readers couldn't agree more. The Capitol Hill insta-hit, which doesn't take reservations and commands three-hour waits most nights, racked up awards for both best restaurant and best new restaurant in our 37th reader survey.
But not everything's coming up Rose's. You also showed affection for under-the-radar spots like Yamas, the wallet-friendly Bethesda Greek place that recently opened a second location near U Street, and 2 Birds 1 Stone, a basement cocktail lounge that serves intricate drinks to the booming sounds of Chrissie Hynde and Cheap Trick.
With a cookie-slinging food truck, a Laotian restaurant within a restaurant, and diner-style burgers, this list proves that awesome comes in many flavors.
New Restaurant
1. Rose's Luxury, Capitol Hill.
Aaron Silverman's shareable plates run both Southern (smoked-brisket sandwiches) and Southeast Asian (pork-sausage-and-lychee salad).
2. Fiola Mare, Georgetown.
Trabocchi's latest dining room marries luxe seafood—spiny lobster, wild turbot—with a sparkling waterfront view.
3. Gypsy Soul, Merrifield.
RJ Cooper turns out slicked-up Southern fare: "red neck" cheesesteaks, chicken-fried quail, and four kinds of mac and cheese.
Favorite Restaurant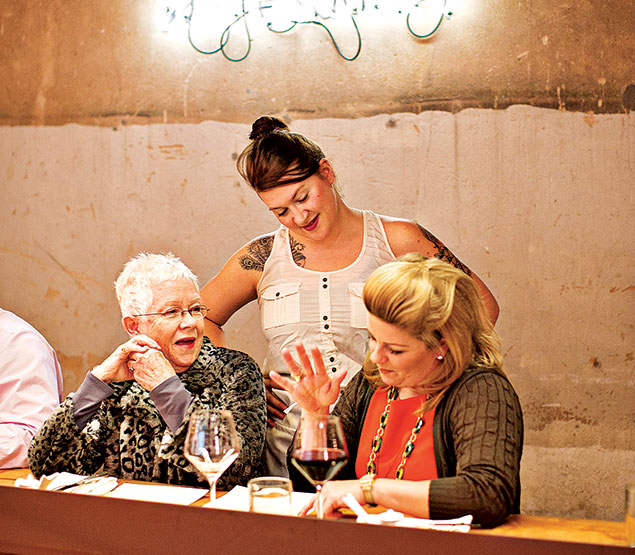 1. Rose's Luxury, Capitol Hill.
The most exciting restaurant debut of last year is as hot as ever.
2. Le Diplomate, Logan Circle.
Still one of the city's buzziest places for seafood plateaux and steak frites.
3. The Inn at Little Washington, Washington, Virginia.
Patrick O'Connell's haute-bucolic cottage serves fanciful treats like a "tin of sin" layered with American caviar and peekytoe crab.
Special Occasion
1. Komi, Dupont Circle.
Johnny Monis's tasting-menu destination is readers' celebration spot of choice for the seventh year in a row.
2. Le Diplomate, Logan Circle.
This rollicking French bistro is filled with cozy nooks for sharing sparkling Vouvray and crème brûlée.
3. The Inn at Little Washington, Washington, Virginia.
Have a big birthday or anniversary coming up? It's hard to find a more pampering place than this opulent getaway.
Value
1. Yamas Mediterranean Grill, Bethesda and U Street corridor.
The snug Bethesda taverna recently brought its gyros and souvlaki to DC.
2. Dino's Grotto, Shaw.
Dean Gold shuttered his Cleveland Park trattoria, Dino, earlier this year, then quickly resurrected it in Shaw with happy-hour specials and a late-night menu.
3. Little Serow, Dupont Circle.
Forty-five bucks gets you seven family-style courses of Johnny Monis's fiery Thai cooking.
Burger
1. Shake Shack, Dupont Circle, Gallery Place, Nationals Park, and Tysons.
We, too, love the skinny, special-sauce-laden patties at New York hit maker Danny Meyer's chain.
2. Good Stuff Eatery, Capitol Hill, Georgetown, and Crystal City.
Whimsical burgers (we go for the Prez Obama, topped with Roquefort, bacon, and onion marmalade) share space with ultra-thick milkshakes.
3. Ray's to the Third, Rosslyn.
The menu from the late, great Ray's Hell-Burger lives on here, and owner Michael Landrum has added grilled cheeses, too.
American
1. Founding Farmers, Foggy Bottom and Potomac.
The sprawling menu rips many pages from the Americana cookbook, including New England-style pot roast, fried chicken and waffles, and shrimp 'n' grits.
2. Ted's Bulletin, Capitol Hill, U Street corridor, Merrifield, and Reston.
All-day breakfast channels the diners of yore, while vintage Three Stooges episodes play on TV.
3. Ripple, Cleveland Park.
This narrow restaurant's menu runs all over the map, but the best finish—warm-from-the-oven chocolate-chip cookies—is as red-white-and-blue as it gets.
Cocktails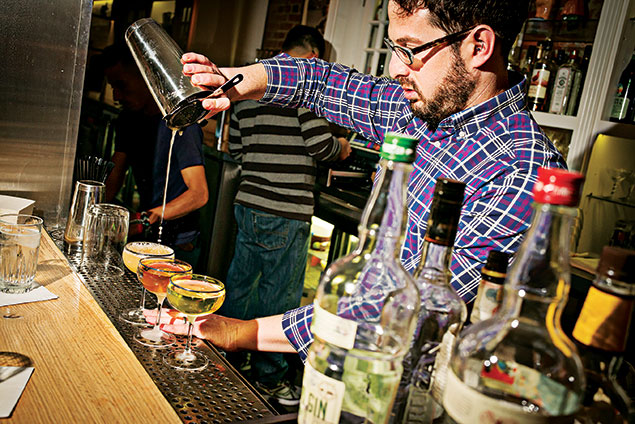 1. 2 Birds 1 Stone, Logan Circle.
Fancifully illustrated menus show off Adam Bernbach's oft-changing lineup of stiff punches and 15-minute cocktails.
2. The Passenger, Shaw.
Throwbacks such as the Blood and Sand mingle with creations like the Banksy, a mix of rye, allspice, and lime.
3. PX, Old Town Alexandria.
Washington's first speakeasy-style bar is overseen by Todd Thrasher, who has a pharmacy's worth of dropper bottles holding house-made bitters.
Steakhouse
1. Ray's the Steaks, Courthouse.
Michael Landrum's low-key, value-driven restaurant is a respite from all the Wagyu-slinging expense-account dens.
2. Bourbon Steak, Georgetown.
DC's most ambitious steakhouse specializes in posh comfort food, including truffled dinner rolls and a $68 lobster pot pie.
3. BLT Steak, downtown DC.
Massive hunks of dry-aged beef and a lavish raw bar are the draws at this cushy, classic law-firm favorite.
Wine Bar
1. Cork, Logan Circle.
Come for the rightfully famous avocado toast, stay for the generous flights of Euro wines.
2. Vinoteca, U Street corridor.
A terrific daily happy hour—with 15 wines for $5 each—plus a Mediterranean-inspired patio and bocce court keep the mood high.
3. Screwtop, Clarendon.
Have an afternoon to kill? This wine-and-cheese stop is open all day Tuesday through Sunday.
Thai
1. Little Serow, Dupont Circle.
Lines stretch down the block for Johnny Monis's chili-laden homage to northern and northeastern Thailand. Prepare to tank down plenty of Riesling to soothe the spice.
2. Thai X-ing, Shaw.
Taw Vigsittaboot is now serving his multi-course prix-fixe menus in a bigger, BYOB space across from the 9:30 Club.
3. Bangkok Golden, Falls Church.
Skip the spring rolls and pad Thai—you can get those anywhere—and turn straight to the Laotian menu. Don't miss the vividly flavorful crispy-rice salad.
For Kids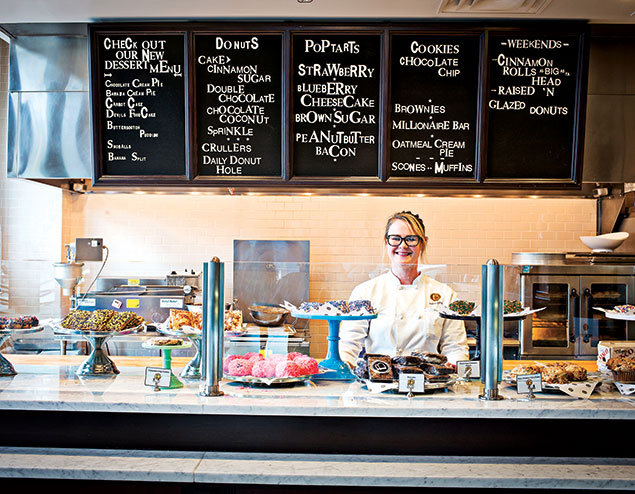 1. Ted's Bulletin, Capitol Hill, U Street corridor, Merrifield, and Reston.
Sugar highs run rampant at these retro bakery/restaurants, which serve up rainbow-sprinkled pop tarts and frosted doughnuts.
2. Matchbox, Capitol Hill, U Street corridor, Penn Quarter, Merrifield, and Rockville.
Kid-friendly sliders and pizza—and the industrial spaces are loud enough to drown out any tantrums.
3. 2 Amys, Cleveland Park.
The Lego crowd streams into this busy pizzeria every night around 5:30.
Pizza
1. 2 Amys, Cleveland Park.
High-quality ingredients—buffalo mozzarella, house-made charcuterie—set Peter Pastan's pies apart from the Neapolitan-style competition.
2. Matchbox, Capitol Hill, U Street corridor, Penn Quarter, Merrifield, and Rockville.
This mini-chain gets creative with many of its wood-fired pies—we like the Fire & Smoke, a zesty mix of roasted peppers, chipotle tomato sauce, and smoked Gouda.
3. Pete's New Haven Style Apizza, Columbia Heights, Friendship Heights, Clarendon, and Silver Spring.
Pizza the New Haven way—not too thin, not too thick, and scattered with toppings like fresh clams and chopped garlic.
Indian
1. Rasika, Penn Quarter and West End.
Chef Vikram Sunderam won the James Beard Best Chef Mid-Atlantic award this year for his complex curries and brightly flavored chaats.
2. Bombay Club, downtown DC.
Starched linens, a tinkling piano, and leafy potted palms imbue restaurateur (and Rasika owner) Ashok Bajaj's first dining room with Old World elegance.
3. Spice 6, Hyattsville.
You can customize wraps, rice bowls, and naan pizzas with an array of curries and chutneys.
Japanese/Sushi
1. Sushi Taro, Dupont Circle.
This is the place to venture beyond the tuna roll and sample unusual finds like salt-grilled yellowtail jaw and soft-shell turtle.
2. Izakaya Seki, U Street corridor.
Chef/owner Hiroshi Seki's masterful small plates are paired with an impressive sake collection*.
3. Daikaya, Penn Quarter.
Hunker down over a big bowl of porky ramen or head upstairs to the izakaya for skewers and fusiony small plates.
Italian
1. Fiola, Penn Quarter.
Big-spender ingredients—Alba truffles, seared foie gras—are celebrated at this sleek dining room, but there are dining deals at the bar.
2. Dino's Grotto, Shaw.
The kitchen puts out DC Brau-braised brisket and a wild-boar chili dog along with more traditional pastas and roasts.
3. Olazzo, Bethesda and Silver Spring.
With its red-sauce spaghetti and vintage family photos cramming the walls, these bring a bit of Little Italy to the Maryland burbs.
Mexican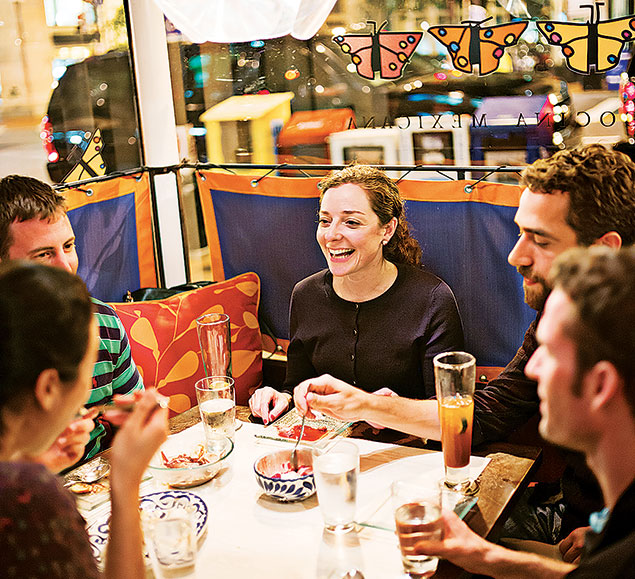 1. Oyamel, Penn Quarter.
José Andrés shrinks chilaquiles, ceviches, and tamales into small plates at his color-splashed dining room.
2. El Centro D.F., Georgetown and U Street corridor.
Richard Sandoval's darkly lit hangouts have some of the area's biggest selections of tequila and mezcal.
3. Fuego Cocina y Tequileria, Clarendon.
Spiffed-up versions of cantina classics—chiles rellenos, queso fundido—from the team behind DC Coast and District Commons.
Bakery
1. Baked & Wired, Georgetown.
Oversize cupcakes, lovely fruit pies, and even bacon-flavored dog biscuits draw lines at this snug shop.
2. Bread Furst, Van Ness.
Mark Furstenburg's airy bread bakery is now hosting dinners featuring former Palena chef Frank Ruta.
3. Firehook Bakery & Coffee House, multiple DC and Virginia locations.
The coffee-slinging bakeries are popular for breakfast runs, while the catering arm turns out office-party-friendly cookie platters and layer cakes.
Food Trucks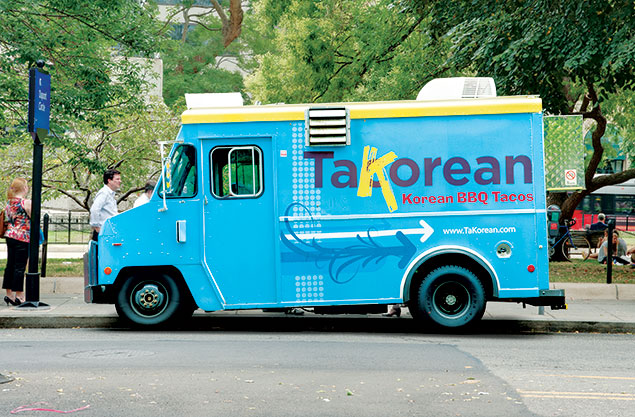 1. TaKorean, @takorean.
This Korean taco truck is still on the road but also has permanent homes in Navy Yard and Union Market.
2. Red Hook Lobster Pound, @lobstertruckdc.
Want your top-split bun stuffed with warm buttered lobster or lemony mayo-bound lobster salad? Always a tough call.
3. Captain Cookie & the Milkman, @captaincookiedc.
The Nutella cookies with milk are our workday pick-me-up of choice, too.
Sandwiches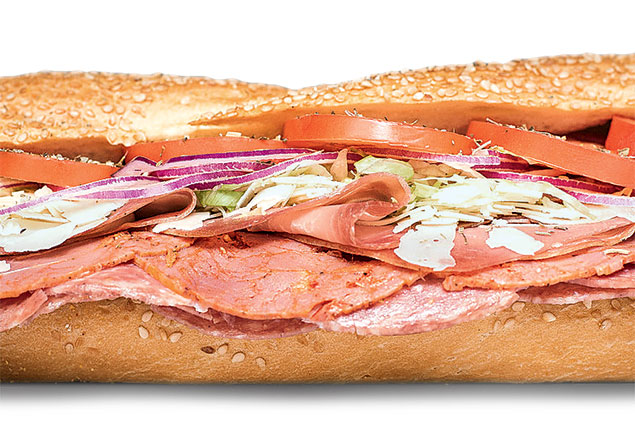 1. Taylor Gourmet, multiple area locations.
These Philly-inspired hoagie shops are now offering cheesesteaks, too.
2. Sundevich, Shaw.
Baguette sandwiches take inspiration from cities like Seoul, Istanbul, and Kingston.
3. G by Mike Isabella, U Street corridor.
Wood-roasted meats (goat, suckling pig, lamb) from Isabella's next-door taverna, Kapnos, are showcased in sandwiches here.
Date Spot
1. Le Diplomate, Logan Circle.
Hey, you might even run into Joe and Jill Biden.
2. Compass Rose, U Street corridor.
A brick-lined hideaway with shareable plates inspired by street food from around the world.
3. Jaleo, Penn Quarter, Crystal City, and Bethesda.
While away the night over platters of jamón Ibérico and Spanish cheese alongside carafes of sangría.
This article appears in the December 2014 issue of Washingtonian.
*This post has been updated from a previous version.