One Direction wasn't even there, yet they still managed to steal the show at Hot 99.5's annual Jingle Ball Monday night. When the crowd, made up of primarily pubescent girls, spotted the boy band amid other music videos and teaser images flashing across the jumbo screens of the Verizon Center, they let out an earth-shattering roar. But when lights went out and the concert started, it was not 1D who took the stage but rather fellow Brit Charli XCX, who bounced onstage in a punkified cheerleader outfit for a rendition of her blockbuster summer single "Boom Clap."
Things only got louder from there, as the concert launched into its usual lineup of tween-friendly Top 40 artists, with the ugly-Christmas-sweater-clad crew from Hot 99.5's Kane Show providing banter and promoting contests between performances. (Headline "host" Nick Jonas, however, took the stage a mere three times to introduce a few acts and sample a bit of his new single "Jealous.")
OneRepublic's set served as a welcome break from all the hot pink and bubble letters flashing on the screen with their foot-stomping, hand-clapping tunes like "Counting Stars," and took the crowd back to a kinder, gentler time called 2007 with "Apologize." Rixton, a British cover band, promoted the forthcoming release of their debut album and opened strong with a cover of R. Kelly's "Ignition." Shawn Mendes, likely unknown to anyone above the age of 16, dazzled his target audience as he asked for their energy in a nervous, cracking voice while performing his single "Life of the Party."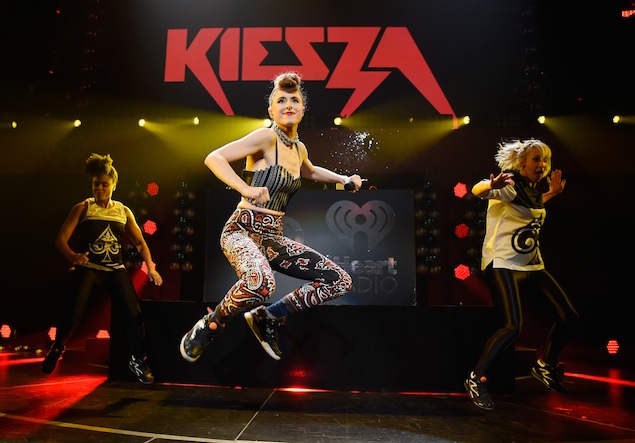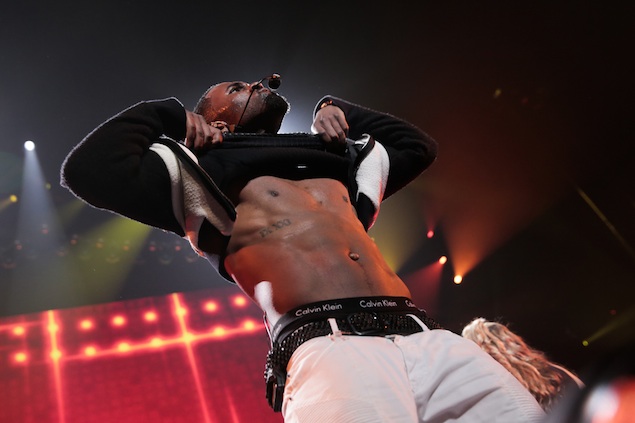 Kiesza, clad in loudly printed leggings, led a spontaneous aerobics class as the crowd went crazy to "Hideaway." After the cardio session, Grammy-nominated Meghan Trainor reminded us why she's been dominating the airwaves the past few months by performing her inescapably catchy hits "All About That Bass" and "Lips Are Movin." Then it was time for Lil Jon to whip the crowd into a frenzy by helpfully reminding everyone where to find the window and the walls. Jingle Ball veteran Jason Derulo, who last year gave the crowd a mere peek at his infamous abs, said "Merry Christmas," and stripped off his shirt for his final song, "Trumpets."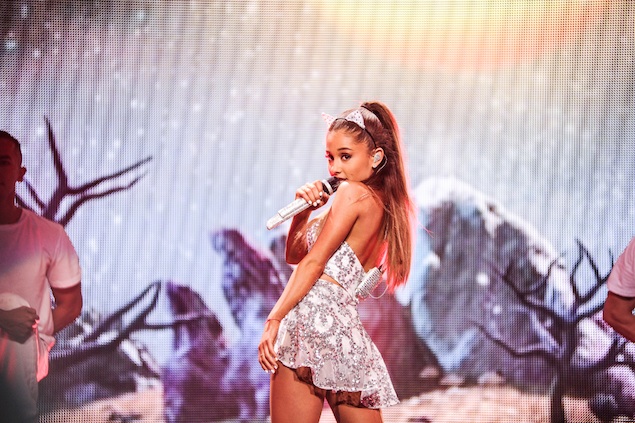 "Lovatics," in their old Demi tour shirts, squealed as their idol took the stage to belt out "Give Your Heart a Break" and "Really Don't Care," and threw in Frozen's "Let It Go" for good measure. Next came another dance break courtesy of Calvin Harris on the turntables, complete with a seizure-inducing light show. Jessie J, who initially thought she was in New York rather than DC (perhaps a reasonable mistake since she just did that Jingle Ball four days ago), recovered from her blunder with an energetic performance of "Burning Up," and later returned with the princess of the night, Ariana Grande for their earwormy collaboration "Bang Bang." Grande, in winter white—yes, with the ponytail—provided the most Christmasy material of the night with her new single "Santa Tell Me" before launching into non-yuletide-oriented songs like "Break Free" and "Problem." Those who were still thirsty for Charli got another taste as she took the stage once more with Rita Ora and Iggy Azalea for a group performance.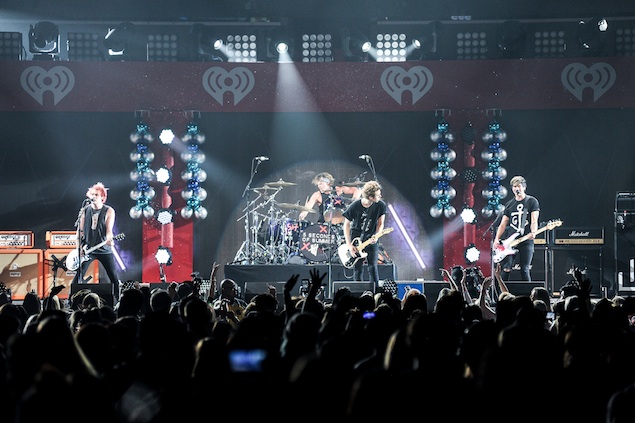 Somehow, despite screaming for three consecutive hours, the audience reached new levels when it was finally time for 5 Seconds of Summer to perform. The boys, in skinny black jeans, marched out onstage with guitars in hand and hair slicked up in crazy styles and offered hits like "Amnesia" and "She Looks Perfect" to a nonstop chorus of shrieks.
Judging from the tweets that scrolled along the bottom of the jumbo screens flanking the stage, the night was a roaring success. As one particular fan tweeted, "I am breathing the same air as 5SOS. #blessed." Happy holidays indeed.
I am breathing the same air as 5SOS #blessed @tayadams27 #HOT995JingleBall

— Alexis Champion (@lexthechampion) December 16, 2014
Jingle Ball is crazy!! Every single artist has been on point best show evaaaa #HOT995JingleBall

— Alyssa Shouse (@ItsAlyssaShouse) December 16, 2014
hearing Ariana's vocals live is blessing omg #HOT955JingleBall

— yaya ✿ (@yayabalbed) December 16, 2014
jingle ball is so freaking amazing im peeing myself #HOT955JingleBall

— Grace (@gracieee7321) December 16, 2014
Legit just started twerking when Iggy came out no lie #HOT995JingleBall

— Elizabeth Kemp (@ElizzyKemp) December 16, 2014
LETS GET BUSSSSSYYYYY!!!! #HOT995JingleBall MERRY CHRISTMAS YA FILTHY ANIMALS! @skerns21074

— Jordyn Bogle (@BeJordyn) December 15, 2014
Iggy Azalea's performance made my life @IGGYAZALEA #HOT995JingleBall

— Jessica Savas (@SavasJessica) December 16, 2014