Super Bowl Sunday: a great day in sports, and an even a better day to indulge in beer and foods fit for a linebacker. Washington restaurants and bars are going all-out, offering free eats, hearty barbecue platters, taco deals, and tons of drink specials, as well as catering and party-platters for the home crowds.
Food-and-Drink-Filled Watch Parties
Bottomless beer at City Tap House
901 Ninth St., NW
Unlimited craft drafts for $35 is pretty great deal, and this beer bar's 40 lines will be flowing with Allagash, Weinhenstephaner, DC Brau, Three Stars, and much more (though guests have to pick one kind of brew for the special). The kitchen prepares Super Bowl-friendly eats like a cheesesteak with duck-fat fries, pretzels with smoked Gouda dipping sauce, and Buffalo-chicken pizza ($6 to $10).
Beer-BQ Bowl at Jack Rose
2007 18th St., NW
The competition isn't just for sports fans at JR, where the kitchen pits two varieties of barbecue—Carolina chicken and Kansas City pulled pork—against each other. Plates ($10) include the meats and sides, and can be rounded out with snacks like fried chicken skins, bourbon-glazed wings, and $5 beers, $6 punches, and $7 whiskeys. The party begins at 5.
Barbecue and shots at Hill Country
410 Seventh St., NW
In addition to the catering options (below), football fans and booze hounds can watch the game over $4 shots of the three Js (Jameson, Jack, and Jim Beam—not together, thankfully) and $3 bottles of PBR, Miller, and Coors. The regular barbecue menu is available.
Five for $5 happy hour at Fuego Cocina
2800 Clarendon Blvd., Arlington
Wide-screen televisions and $5 specials are the name of the Super Bowl game at this Mexican spot, which serves discount margaritas, taco platters, guac, and burgers all day and night.
Free grilled cheese, wild-boar chili, and happy hour at Dino's Grotto
1914 Ninth St., NW
Skip the sports bar and head to this Shaw Italian for a watch party accompanied by free apps like wings with Gorgonzola dip, meatballs, wild-boar chili, and fried grilled cheese sandwiches. Happy hour runs all night, with $8 cocktails, $4 beers, and dishes such as pots of steamed mussels and a dry-aged burger (both $10).
Open bar and pizza at Arcuri
2400 Wisconsin Ave., NW
Get the Advil ready for Monday morning after this special: bottomless draft beer, rail drinks, and house wine starting at 6 until the game is called ($50 per person). Don't forget to pad the stomach with the kitchen's wood-fired pizzas. The restaurant also offers several takeout packages for 5 to 15 people, which must be ordered 72 hours in advance.
Buffet and a free pitcher at RedRocks
2501 Columbia Pike, Arlington
Pizza, wings, and hot dogs are all up for grabs on a buffet spread, plus tables get their first pitcher of beer for free. Reservations are $20, all-inclusive, for the offer, while other menu items and drinks cost extra. E-mail infoAR@redrocksdc.com to secure a spot. The restaurant also offers several takeout packages for pizzas, subs, and wings.
All-night happy hour at Vinoteca
1940 11th St., NW
The specials start at 5 at this wine bar, which serves specials throughout the evening like 15 varieties of wine for $5 (by the glass), $5 Peroni, and a mozzarella sandwich with roasted squash and kale ($7).
100 kinds of $1 sandwiches at 100 Montaditos
Multiple locations
One of the cheapest options for Super Bowl dining can be found at this Spanish chain, which throws a "dollermania" promotion at its three Washington locations in Arlington, Bethesda, and Navy Yard. Large groups are welcome for the menu of $1 sandwiches–offered in 100 different varieties–$2 sangria and beer, and $3 premium beers and salads. The restaurants boast multiple 60-inch televisions for the game.
Oysters and grinders at Ris
2275 L St., NW
If a sports dive is your nightmare, drop into this upscale West End restaurant for a watch party at the bar featuring food from chef Ris Lacoste. The menu of $6.49 snacks includes fresh-shucked oysters, Italian grinders, homemade pizzas, sweet potato guacamole, and more. Cocktail specials include a Cape Codder and margarita for $10.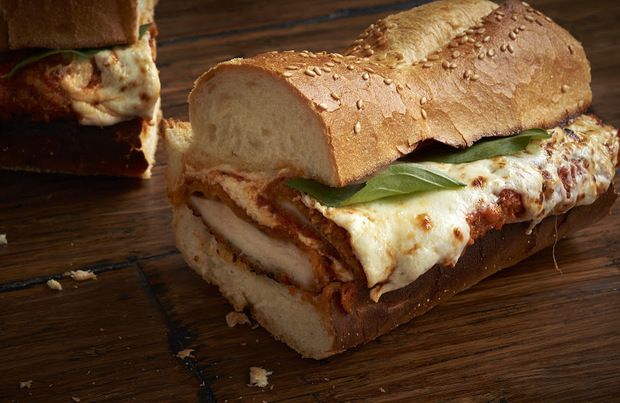 Catering/Takeout Specials
Barbecue picnic from DCity Smokehouse
8 Florida Ave., NW
Feeds: 5 for $70
A great option for a pack of carnivores, this includes two pounds of pork ribs and tips, 15 pit-smoked wings or a whole chicken, a pound of any sliced meat (brisket, pork belly), and five small sides.
Three-foot sandwiches from G by Mike Isabella
2201 14th St., NW
Feeds: 15 to 18 ($85 to $105)
Impress a sandwich-loving crowd with a variety of three-footers from the catering menu, which range from Italian cold cuts to chicken Parmesan and spiced baby goat with harissa. Orders must be placed 72 hours in advance.
Build-your-own tacos and sandwiches from Hill Country
410 Seventh St., NW
Feeds: 4 for $85; 10 for $190
Pit-smoked beef makes a tasty filling for either tacos or sandwiches, and you can mix and match for a bigger crowd. The taco package comes with corn tortillas and fixings like pickled jalapeños and salsa verde, while sandwich platters are accompanied by buns, chipotle mayo, slaw, and barbecue sauce. There's also a classic barbecue feast option (serves 5 for $99), with a pound of brisket, a whole chicken, ribs, sausages, and sides.
Delivery pulled pork and fixings from Kangaroo Boxing Club
3410 11th St., NW
Feeds: 10-plus, starting at $90
DC residents can get their party fare delivered on Sunday (the restaurant started as a food truck). Packages can be ordered online and include five pounds of pulled pork, brioche buns, bacon mac and cheese, and sauce.
A buffet spread from the Market at River Falls
10124 River Rd., Potomac
Feeds: A couple or crowd; items priced individually
A large Super Bowl menu includes smoked turkey or classic beef chili, miniature crabcakes, spiced shrimp, wings, and even sushi platters for lighter eaters.
Slider kits and ribs from Bethesda Barbecue Company
4917 Elm St., Bethesda
Feeds: 10 for $125
Bethesda's newest barbecue joint dishes up a feast for a crowd that includes a slider kit with buns and a pound each of pork and brisket, pimiento cheese puffs, ribs, wings, and more. Orders must be placed by Wednesday for Sunday pickup.
Wild Boar Chili from Bidwell
1309 Fifth St., NE
Feeds: Varies; sold by the quart.
Union Market is a great place to load up for a Super Bowl party, including special packages of wild boar and black bean chili to-go from Bidwell. Quarts go for $15, and the restaurant recommends ordering ahead by emailing kathy@bidwelldc.com. The kitchen also makes a mean "drunken" bean dip. Here's the recipe.