James Hunter Dog Park isn't your run-of-the-mill fenced-in dirt yard. It cost nearly $2 million to build and was met by a raft of complaints about its unique features when it opened in August 2013.
Of the $1.8-million price tag, about $1.7 million went to construction costs, including for amenities—such as a "photovoltaic" system that converts solar energy to electricity—that rankled online gripers. Sample listserv post: "James Hunter Dog Park Fail." The rest went to design and project administration. (To be fair, much of the total came from construction costs that would have been required no matter what was built on the site, and Arlingtonians are unhappy about government spending on lots of things, like streetcars.)
Here's a breakdown of the most notable components, how much each cost according to Arlington's Department of Parks and Recreation, and commentary from dog owners at the park one recent Saturday.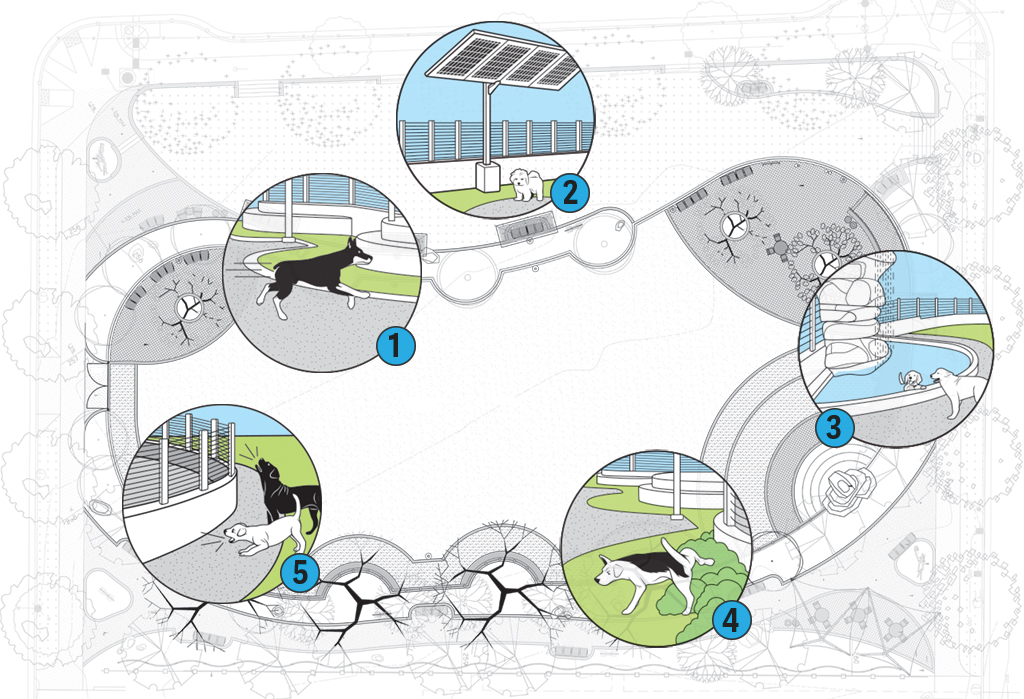 1. Crushed-granite surface: $60 per cubic yard (about $5,000)
Designers chose this type of gravel because it's easier to clean than grass and doesn't break down like mulch. But dog owners complain that the fine powder gets lodged in paws and teeth. Shayla Woodson's dog, Melani Rose, "has mixed reviews. She doesn't really like the surface mixture." The bichon–Shih Tzu mix prefers the park's other two surface options, one turf and one rubberized.
2. Solar panels and lighting: $118,790
The irrigation system, fountain, and lighting are all solar-powered.
3. Fountain: $120,000
The most striking feature—a waterfall and small pool—is meant for dogs to cool off in. But owners worry that the chlorination makes it unsafe for dogs. A sign cautions against drinking it, but dogs tend not to read.
"The fountain was probably a great idea at some point," says Sarah Snyder. But after splashing around, her family's six-year-old golden retriever, Monty, gets matted with a perfect-storm combo of chlorinated water and dust from the crushed granite. "There's no shade, so that's what gets him in the pool."
4. Native-plant garden: $33,000 (including landscaping)
The park's "green" elements were specifically cited by the Virginia Recreation and Park Society when it awarded James Hunter Park the honor of Best New Facility this past December. In addition to a sustainable water-collection-and-purification system, the park features this small display of native plants such as American beautyberry, Virginia sweetspire, ebony spleenwort, and other flora.
"It's the epitome of Arlington County," says patron Makalia Griffith . "These dogs are living the good life—the one-percenters."
5. Sound wall: $67,000
The high-tech panels block the barks and howls emanating from the park, which stays open until 9 pm. Nobody seemed to have complaints about this feature, which most likely keeps quiet-loving Clarendon condo owners at bay.
This article appears in the February 2015 issue of Washingtonian.