This is an excerpt from our package of articles about what Washington will look like over the next few decades. For the full package, see our April 2015 issue—on newsstands now, or purchase the digital edition optimized for your tablet here—and come back to the website for more stories over the next few weeks.
1. White Flint
Plan: Montgomery County for Millennials (and their kin)
Why should the big city get all the young people? That's an argument behind the plan to rebuild a stretch of Rockville Pike as a 24-hour play-ground for car-free millennials. Developments such as Pike & Rose are already emerging around the Metro. Others, from firms like JBG and Saul Centers, will replace strip malls. To create a boulevard with lanes for cars, bikes, and bus rapid transit, plus sidewalks, it'll cost $66 million—a plan not without short-term risks. "If you asked me the one thing I'm afraid of, it's that we're going to build all this and no one will come," says Lindsay Hoffman, former director of Friends of White Flint, which keeps tabs on the project.
What to Expect:
Rapid buses get their own lanes
9,800 new residential units
1 mile of new boulevard with space for bikes and pedestrians
2. Union Station
Plan: A Place for Acela Dwellers to Call Home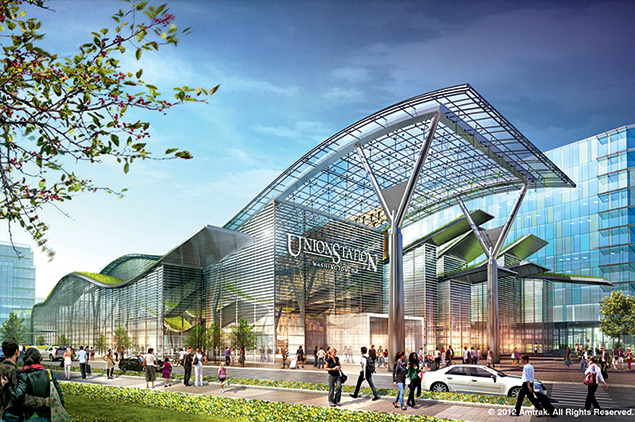 Circled by NoMa's high-rises, the bustle of H Street, and Capitol Hill's historic buildings, the 14 acres of rail yards behind Union Station are being eyed as a built-from-scratch neighborhood by Amtrak and the development firm Akridge. The partners plan to put 3 million square feet of residential and commercial space over the rail yards. But to complete the 12-building complex, called Burnham Place, in conjunction with 21st-century upgrades to the train station, they're going to have to wrangle a number of parties—federal and local transportation departments, Metro, and gatekeepers for historic preservation, for starters.
They'll also have to cobble together a huge sum of money: more than $8 billion, a good chunk of it from taxpayer dollars, a tough order in an age of austerity. "Our train station is kind of at the eastern edge of where the high-density zoning is," says David Tuchmann, a vice president at Akridge, "and it was put there to get people in and out for inaugurations instead of being a place that becomes the central heartbeat of the city."
What to Expect:
1,300 apartments and condos
1.5 million square feet of commercial space
100,000 square feet of retail
150,000 projected daily riders on Amtrak, MARC, and VRE, up from 50,000 today.
3. Property: Southwest Waterfront
Plan: The New Georgetown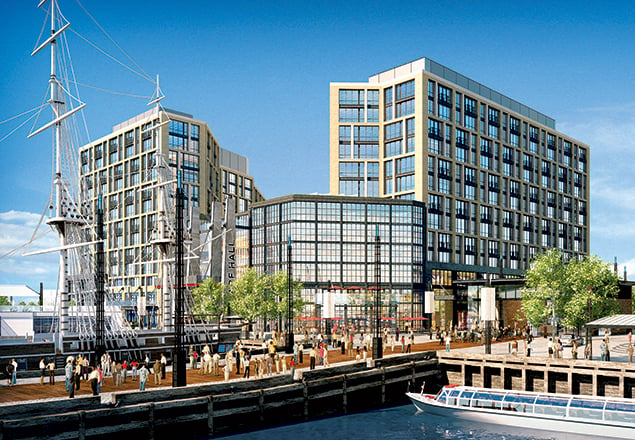 Southwest DC, with its blocky, post-World War II buildings, barely registers for many Washingtonians. The District's smallest quadrant is cut off from the others by I-395. Enter the Wharf—a potential magnet for one-percenters that could make the area rival Georgetown's waterfront. Developers PN Hoffman and Madison Marquette promise high-end housing and retail plus a music venue run by 9:30 Club impresario Seth Hurwitz. Residents who like Southwest's hideaway feel just hope the city starts moving faster on infrastructure improvements—so that all the flashy new amenities and housing don't get bottlenecked.
What to Expect:
3 hotels
200,000 square feet of retail
2017: Expected year that first phase will be completed
4. Property: 11th Street Bridge Park
Plan: A High Line to Silicon Valley East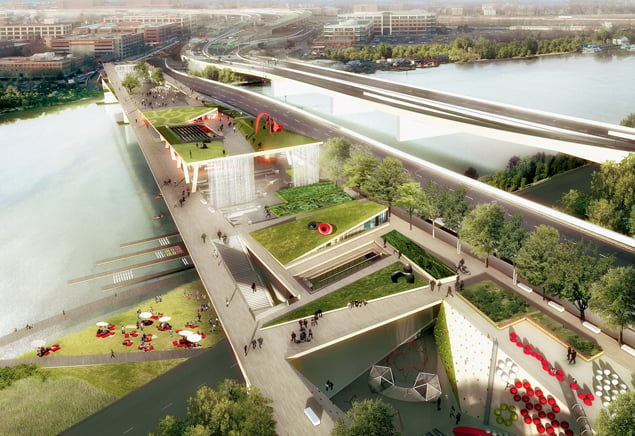 A pedestrianized 11th Street Bridge Park, modeled after New York City's High Line, would be a combination greenway and civic space. It could also provide a connector to the long-neglected area around the St. Elizabeths hospital campus in Southeast. Various proposals over the last decade pledged to transform it, but none panned out. Now the District has plans for a technology hub anchored by Microsoft. That's still a ways off—contract awards have been delayed, and the call for a master developer attracted only minor local players. The park is closer to becoming a reality: Its target opening is 2018.
What to Expect:
"Interactive" art exhibits
A cafe
Multilevel terraces and balconies
This article appears in our April 2015 issue of Washingtonian.