"Vegetables, unleashed" is the fitting tagline for chef José Andrés's new restaurant, Beefsteak (as in tomato, not steak of beef). The fast-casual, garden-oriented eatery began its soft-opening run last Friday, and has been doing swift business out of its home in George Washington University's Science and Engineering Hall; Andrés tweeted "I want to cry…@beefsteak 150 people in the first hour!"
The enthusiasm, both on the part of the owner and customers, is telling. More than a way to appeal to lunchtime masses, Beefsteak is a passion project for the chef—even for Andrés, who seems pretty passionate about everything. He's described the vegetable-centric, wallet-friendly concept as one that could improve the diets and lives of Americans, and one day feed millions (this just in: a second Beefsteak is planned for Dupont Circle, among other locations).
"This is not a salad bar," says Andrés in a YouTube video that describes Beefsteak's raison d'être. "This is not vegetarian or vegan. This is not a health food restaurant. This is great food, fresh, good for you, made right in front of you while you watch, and affordable to many."
Here's what to look for when you go. Stay tuned for more information about the official opening soon.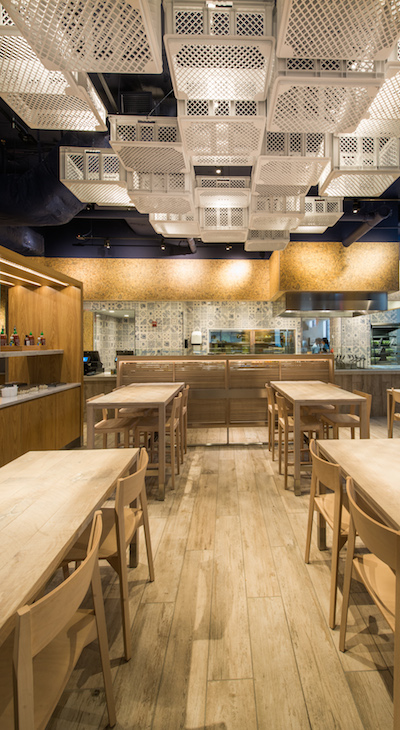 Creative bowls
As of now the menu (sample) includes four pre-designed combinations, all $7.99. At the first station, heartier vegetables are chosen and lightly boiled to-order in a water bath right on the assembly line, such as in the Naked bowl that mixes yellow squash, potatoes, asparagus, mushrooms, Brussels sprouts, and broccoli. The warm garden melange is then moved onwards, getting a ladle of sauce (roasted garlic yoghurt), raw veggies (tomatoes, radishes), and finishing touches (crushed almonds, drizzles of lemon and olive oil). Other creations include the stir fry-esque Kimchi-Wa with white rice, or our first-impression favorite, the Eden, a green vegetable lover's paradise with quinoa and citrusy cilantro sauce.
DIY Combinations
Customers are encouraged to make their own creations, with many more choices on the customizable menu (sample) than at an average salad bar. Start by picking the seasonal cooked-to-order vegetables, followed by an optional grain, sauce and/or dressing, and a plethora of toppings that range from raw vegetables like cucumber and romaine, nuts and cheeses, and crunchy additions like sesame seeds, toasted seaweed, and crispy onions. Certain combos can be more substantial—say steamed vegetables with bulgur, spicy tomato sauce, and mozzarella—or forgo grains and sauces for a lighter mix of vegetables, seeds, sprouts, and lemon-honey dressing.
Optional animal protein (but no beefsteaks)
As of now all bowls, pre-designed and DIY, are $7.99. Upgrades come in the form of four choices for "something meaty," which cost an extra $2 to $4. While the vegetarian crowd can bulk up with half an avocado or runny sous-vide egg, carnivores can opt for sliced roast chicken or salt-cured salmon, both made in-house. The fish we tried was flecked with dill and delicately flavored, and made a tasty addition to the Eden bowl with its complimenting asparagus, cucumber salad, snow peas, scallions, quinoa, cilantro, and yoghurt.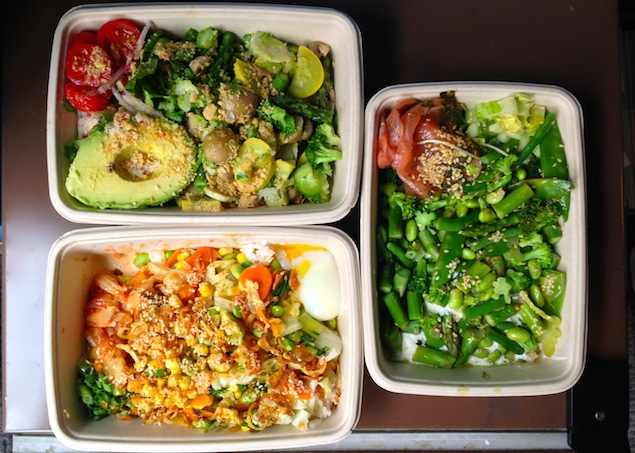 Beer! Wine!
Just because we're talking counter-order vegetables doesn't mean Beefsteak is indulgence-free. In addition to house-made beet-apple juice and lavender lemonade, guests can opt for local beer from DC Brau and Flying Dog with their meal. A fridge case also holds wine from Infinite Monkey Theorem, and Oregon's Union Wine Co. pinot gris and pinot noir. And of course, José Andrés-brand potato chips for snacking.
Veggies at play
The decor is playful in Andrés-ian fashion. White vegetable crates cover part of the ceiling, while cartoonish images of their contents run along walls, like a self-peeling potato in the window. The small-ish eatery is designed for takeout as much as dine-in, so seating can be fairly limited during busy times. Better make like an anthropomorphized pepper and be willing to walk with your meal.
Beefsteak. 800 22nd St., NW. Open daily,10:30 to 10 (soft-opening hours and menu options may vary).