In his review of Thip Khao, restaurant critic Todd Kliman called Seng Luangrath's Laotian sour soup "a little poem of tartness." The terrific broth gets its tangy punch from tamarind juice.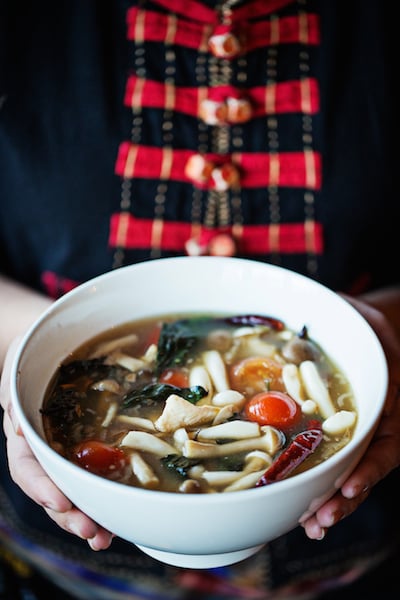 Serves 2
4 dried Thai chilies
1 teaspoon chopped garlic
3 cups chicken stock
1 stalk lemongrass, sliced into 3-inch pieces and smashed
1 cup sliced white or dark meat chicken
Pinch salt
1 teaspoon sugar
2 tablespoons fish sauce
2 tablespoons tamarind juice
4 cherry tomatoes, halved

1 cup shimeji mushrooms

½ cup diced onion
½ cup lemon basil (Thai basil may be substituted)
Oil, for frying
Heat a pot of oil to 350 degrees. Flash fry the chilies for about 30 seconds and set aside. Flash fry the garlic and set aside.
Place the chicken stock in a medium pot set over high heat, and add the lemongrass, chicken, salt, sugar and fish sauce. Bring to a boil, then reduce the heat to medium. Add the tamarind juice, tomatoes, mushrooms, onions, and chilies and bring to a boil again. Remove the pot from the heat and add the basil and fried garlic then turn off the heat. Serve immediately.