Ask a contemporary, edgy chef what Americans should eat more of, and fairly often, the answer will be offal—the term for brains, intestines, and other animal organs that fall outside the traditional definitions of meat.
But getting fickle eaters to bite into animal guts can be a tough sell, so at least one toque is attempting to expand palates with a time-tested sales technique: invoking the heyday of DC hardcore punk. Jamie Bissonette, the head chef at Boston small-plates restaurant Coppa, recently started selling T-shirts with a graphic that Washington music fans might find familiar.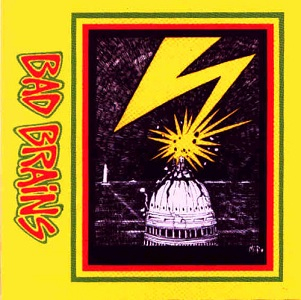 Bissonette's "Eat Brains" shirt very obviously riffs on the cover art of Bad Brains's self-titled 1982 debut, swapping out a lightning strike on the Capitol Dome for one on a wooden barn. The shirts sell for $30 from Flavour Gallery, a Los Angeles company that sells food-themed apparel. Besides the "Eat Brains" shirts, Bissonette also designed a shirt inspired by the ska band English Beat.
Outsiders attempting to make a buck off one of DC's cherished hardcore bands is nothing new—see the uproar from July 2013 over Urban Outfitters' promotion of a $28 Minor Threat T-shirt—but Bissonette's attempt at least seems rooted in genuineness. He's not a DC expat, but in a 2012 interview, the generously inked chef described being a "straight edge hardcore punk rock" kid growing up in Hartford, Connecticut.
Neither Bisonnette or Bad Brains responded to requests for an interview to see if the "Eat Brains" shirt needed to be licensed by the band.