Jamie Foxx has a problem. His lips are chapped. He summons a member of his entourage, who rushes over with a brush and swipes a layer of gloss on his lips. Now Foxx is thirsty. He takes a sip of the drink that was just handed to him. "What's this? This is amazing!" he says. It's a barrel-aged Negroni.
Foxx is in Washington promoting his upcoming album, which is fittingly titled Hollywood. The setting for this meetup? The basement at the W Hotel, just steps from the White House. The time frame? I had about seven minutes alone with him before he was to be ushered out.
We dive right in. Though Foxx hasn't released a new record in five years, his musical ties still run deep. Hollywood features a roster of white-hot production talent: DJ Mustard, Boi-1da, and Vinylz, among others. So how does Foxx keep up with acting, singing, and the potentially catastrophic consequences of dehydrated lips?
He points to his production partner, DC native Breyon Prescott. "He does all of it," Foxx says. "At a certain point, you sort of lose what you think it is that's hot. You always need someone fresh, someone young, someone that's moving, someone who doesn't stretch you too far out of what you do."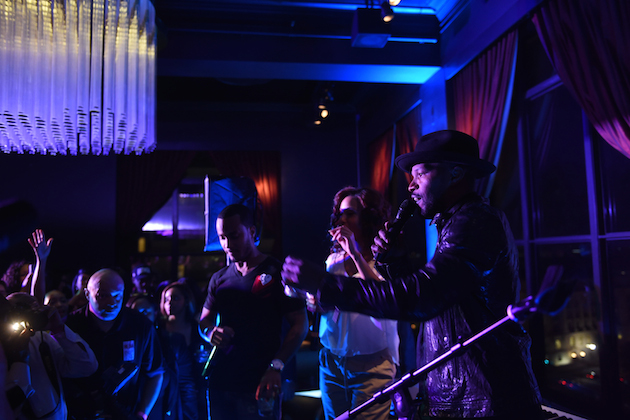 Photo courtesy Daniel Swartz.
He remembers seeing Drake, Kanye West, and Chris Brown when they were getting their start and telling people those guys were going places. Younger artists have followed in Foxx's footsteps, blurring rap music and R&B-driven instincts. "When you look at how hip-hop has changed, you talk to some rappers that are back in the old school and they're trying to give you all of this knowledge, and kids are like, 'Why are you talking so much? We just want to bounce.' I think hip-hop is R&B now… It's not just hard core rap all the time."
He switches gears to The Weeknd, the staggeringly gifted Toronto singer who has given definition to a gothic version of Foxx's genre. "I love, love, love The Weeknd. I love the fact that he keeps the melodies going, and it does great for guys like us, since we started with melodies, and he's able to put it on those dirty beats."
My seven minutes are up. Foxx makes his way upstairs to a voguish roof party hosted by Hennessy. He plays the role of MC, bantering with the crowd, plugging his new album, and bragging about his industry chops. ("That's my man! That's my man!" he had told me earlier of Drake.) He moves on to Kanye West, reminiscing about the time when he woke up at 3 AM to go record "Gold Digger." Always a crowd-pleaser, he dives into his now-iconic Ray Charles imitation—shutting his eyes, tilting his head, and grinning mischievously. A woman standing in front of me is recording the scene on a Chanel-branded selfie stick.
Foxx asks the DJ to play a new single he made with Chris Brown, whom he's quick to defend despite the bad rep. Foxx says Brown has showed up unannounced at his house to play music for his sister, who has Down syndrome.
By 9:30 PM, Foxx is getting antsy; he doesn't want to keep pushing his new album. He admits he's putting too much pressure on the crowd to like it. "Let's just let it marinate," he says.
Other artists' hits start playing: Chedda Da Connect's "Flicka Da Wrist," Fetty Wap's "Trap Queen," and Future's "Commas." Foxx calls up a few women to dance with him on stage to a Rae Sremmurd song.
By the end of the night, it's unclear how driven Foxx, the multi-faceted artist, is by his status in music. One thing's for certain: He still has his Negroni in hand. "We came to party!" he shouts.