Want to amble amid 80-foot yachts and million-dollar condos? Don't fly to Boca Raton—drive to Baltimore. Really. Much of our northern neighbor's waterfront has transitioned from industrial wasteland to leisure-time play area. Perhaps the best way to see this seagull-encircled renaissance is along the Baltimore Waterfront Promenade, a brick-and-board pathway meandering some seven miles among boat slips, al fresco eateries, historic sights, and parkland. If you get tired, you can hop aboard a water taxi and ride back.
Though it spans from Canton on the north shore to Fort McHenry on the south, the best and most bustling section is the 3½ miles or so between Canton and Federal Hill. (Beyond that are a few away-from-the-water stretches along city streets.)
Canton Waterfront Park (3001 Boston St.), the leafy northern terminus, has a parking lot; or look for street parking along Boston Street. You might want to pause for a moment of reflection at the Korean War Memorial before hitting the bricks. Marinas soon dominate the view, with pinging aluminum masts and watercraft ranging from modest to hedge-fund-manager toy. Sprawling dockside bar/restaurants bustle in nice weather. Bo Brooks (2780 Lighthouse Point; 410-558-0202) has crabs, a mock lighthouse, and a thatched-roof tiki bar; the Boathouse Canton (2809 Boston St.; 410-773-9795) is a fave with the young flirty set.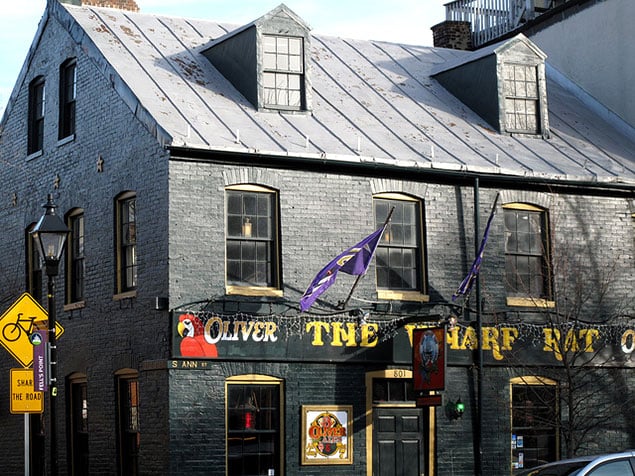 When you begin to see cobblestone streets abutting the promenade, you've reached Fells Point, the historic neighborhood dating from 1763 that oozes charm while also being chockablock with bars. The promenade parallels the main drag, Thames Street, for a stretch. (Up this way, Thames is usually pronounced as it's spelled, not as it is in London.) Saunter a block north to the Wharf Rat (801 S. Ann St.; 410-276-8304) for lump crabcakes and local cask ales on traditional hand pumps in an old-salt atmosphere.
As you stroll the waterfront, consider that 1960s planners wanted to send an elevated highway careening across the harbor, obliterating much of what was there. Fortunately, visionary minds prevailed. Frederick Douglass-Isaac Myers Maritime Park (1417 Thames St.; 410-685-0295 ext. 487) offers an African-American history lesson detailing the exploits of the orator/abolitionist (Douglass) and pioneering black shipbuilder/trade-unionist (Myers). A museum about black maritime history is in an 1840s warehouse with curious round corners—a byproduct, it's said, of Dutch builders who feared that ghosts could hide in rectangular structures.
Soon begins the transition from one of Baltimore's oldest neighborhoods to its newest, Harbor East, with a thicket of high-rises. The next portion of the Promenade is still under construction, so you have to detour a block or so before rejoining the water. Harbor East's newness gives it an "everycity" feel, but there's a polyglot assortment of eating options, and shops include an Under Armour store (700 S. President St.; 410-528-5304). The sports-gear giant's HQ is visible across the harbor.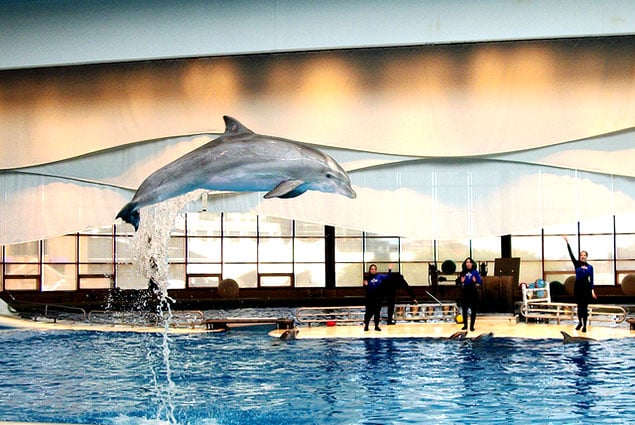 When you round the Four Seasons Hotel, the undulating white roof of Pier Six Pavilion comes into view. Now you're entering the Inner Harbor, where Baltimore's urban rebirth began more than 40 years ago. The National Aquarium (501 E. Pratt St.; 410-576-3800) is a venerable attraction, while one of the newest is kid-friendly Pierce's Park (Pier 5 at Eastern Ave.), a funky playground with sculptures either climbable or musical (think xylophones). You can continue into the heart of touristy Harborplace, scramble atop Federal Hill Park for the view, or press on to Fort McHenry to make sure the flag is still there.
For a map, attractions guide, and parking info visit the Waterfront Partnership of Baltimore. Check out Baltimore Water Taxi for water-taxi stops and scheduling.
Go Back to Our List of Great Walks ››
This article appears in our May 2015 issue of Washingtonian.