Our Washingtonian Recommends lists bring you the best places to eat, drink, and be entertained—all selected by Washingtonian editors.
Dining options at Reagan National Airport (DCA) are plentiful, and go well beyond fast-food. Look for even more restaurants soon, including a Provençal eatery from chef Robert Wiedmaier; a Southern spot by The Chew's Carla Hall; a branch of Cava Grill; the Bracket Room's upscale sports-bar concept, and more. We'll update the guide accordingly.
Pre-Security
Not everyone is comfortable relaxing over a meal until they've braved security lines. Most of these restaurants offer "Takeout for Takeoff" options that can be packed in easy-carry containers.
Legal Sea Foods (near B/C Terminal)
We'd be happy to arrive early for a pre-flight lobster roll and glass of wine at Legal, which is probably the best pre-security dining option. The Boston-based chain is reliably fresh; go for crab cakes in any form, chowder, oysters (raw or fried), and that lobster roll. The wine list and draft beers are solid, and the bar can make a good martini.
Matsutake Sushi (near B/C Terminal)
Airport sushi doesn't sound appealing, but don't be fooled—Matsutake's fresh, cut-to-order sushi, sashimi, and rolls are better than certain options we've tried around town. Go simple with tuna or eel rolls, a bowl of udon noodle soup, or splurge on a sashimi platter served with fresh shiso leaf and Japanese pickles. The latter even makes a pretty package to-go.
Ben's Chili Bowl (near B/C Terminal)
Leaving DC and still haven't tried the iconic chili half-smoke? Ben's is the place. The airport spinoff of the legendary U Street original isn't the all-around best dining option, but it can satisfy a craving for pre-flight chili-cheese fries.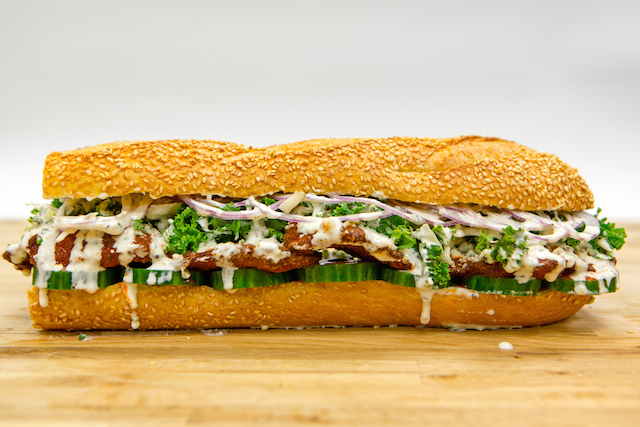 Post-Security
Terminal C
This is the best terminal for eating right now. You've got a range of options: Five Guys for a greasy burger fix; California Tortilla (hello, breakfast burritos); and American Tap Room for a more leisurely, beer-filled meal.*
Our top pick: the recently-opened &pizza. Guests can customize their own pies with a variety of crusts (including gluten-free), sauces, cheeses, and toppings, which go beyond sausage—think falafel crumbles, runny eggs, or dry-aged pepperoni.
Terminal B/C
The options aren't as bountiful in B/C, but you still have a few decent chains (Fuddruckers burgers, Famous Famiglia pizza). We'd make a beeline for local sandwich joint Taylor Gourmet. The Philly-style hoagies can be ordered with eggs, spicy capicola ham, and arugula at breakfast; lunch brings more variety, from Italian cold cuts to crispy chicken cutlets and fresh-roasted turkey.
Terminal B
Morning travelers can hit Starbucks, but other than that, pickings are slim (unless you want McNuggets, or a burger at a cheesy politically-themed grill). Better stop pre-security for takeout.
Terminal A
While other terminals offer local food options, the closest you'll get in A is the District Bar. Once chef Carla Hall opens Page, a sit-down southern eatery, the dining landscape will be much brighter. For now, grab-and-go turkey wraps and fresh fruit from Cibo Wall Market are a solid–if bland–bet.

*This post has been updated from an earlier version.