You Want to Picnic Like an Heiress . . .
Hillwood Estate
Shortly after Marjorie Merriweather Post, the cereal heiress, bought her Northwest DC mansion, she decided that someday the property would be open to the public. And open it is: Hillwood, with 25 acres of spectacular gardens and woodlands, not only welcomes picnickers, but the visitor center will lend you a blanket and a picnic map. You can bring in outside food (though not alcohol); beer, wine, and other beverages and food are for sale at the Hillwood Café.
Insider tidbit: The suggested admission fee also gets you into the mansion—gleaming with Fabergé eggs and thousands of other treasures Post collected—where, starting June 6, the exhibit "Ingenue to Icon" is displaying many of her gowns and other couture.
4155 Linnean Ave., NW; 202-686-5807. Suggested donation: $15; seniors, $12; college students, $10; ages 6 through 18, $5; under age 6, free.
You Want to Drink Some Wine . . .
Chrysalis Vineyards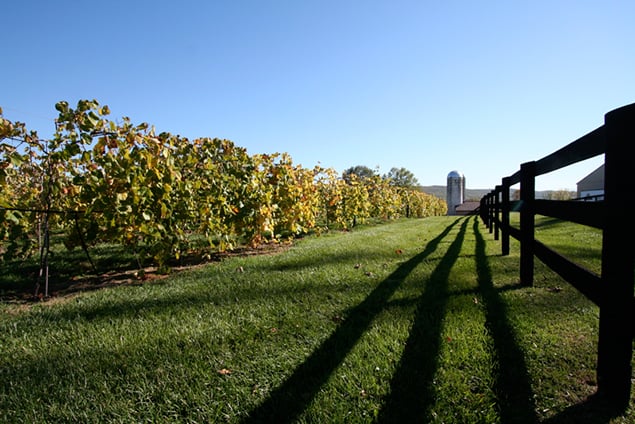 Pointing a camera in any direction at Chrysalis Vineyards frames a view like a wine-country postcard. Lay out your picnic at one of the many tables that dot the rolling landscape, fringed by wooden fences, grazing cattle, and green mountains in the distance. More tables are available on a large patio, and grills are set up for patrons' use on a covered pavilion. Wine by the glass or bottle, fresh baguettes, and assorted cheese and charcuterie are available for purchase. Note that picnic areas are reserved for winery customers, and no outside alcohol is permitted. A family area is set aside for visitors with children.
Insider tidbit: Chrysalis has the world's largest Norton vineyards, with more than 40 acres of that varietal alone. Washingtonian food and wine editor Todd Kliman writes about the winery and the history of Norton—Virginia's native grape—in his book, The Wild Vine: A Forgotten Grape and the Untold Story of American Wine.
23876 Champe Ford Rd., Middleburg; 540-687-8222. Open daily; winetasting, $7 to $10.
You Want To Wear Out the Kids . . .
Wheaton Regional Park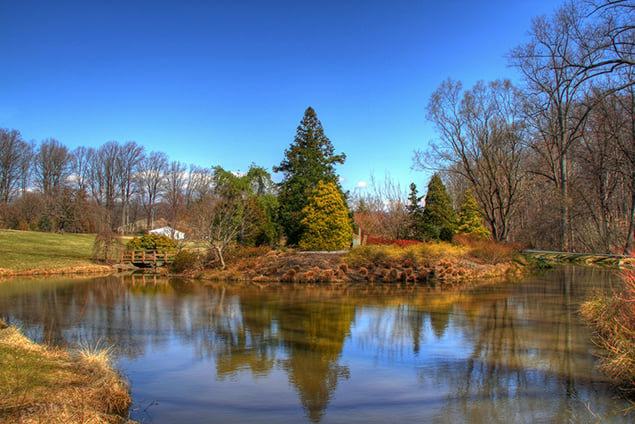 This Montgomery County park has all the essentials for an exhaustingly full day with the family: a miniature train, a historic carousel, and a huge, state-of-the-art playground crowned by a rubbery hill—all in view of clusters of picnic tables with grills you can use. (You can also reserve picnic shelters for large groups.) For an extra-special alfresco meal, walk about a half mile through the wooded area to Pine Lake, where you can unpack your picnic on a bench next to the quiet five-acre lake.
Insider tidbit: Be sure to enter the full address of the park on Google Maps, because simply typing in the name may leave you at a random intersection in Kensington 15 minutes away. And arrive early on weekends.
2000 Shorefield Rd., Wheaton; 301-905-3045.
You Want a Romantic Spot . . .
Meridian Hill Park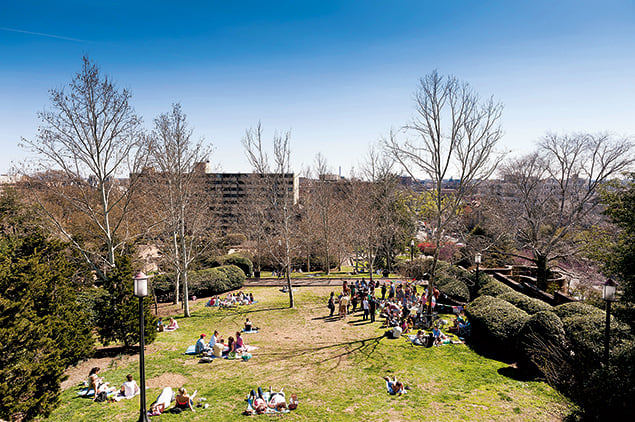 Wedged between the chaos of Adams Morgan and Columbia Heights, Meridian Hill Park could easily be overlooked when driving along 16th Street. But the park offers a variety of nice picnic spots. The upper level of the park is a long rectangular lawn with benches, statues, and trees around the perimeter. Staircases lead down from there along a spectacular, cascading fountain—the largest in North America. Benches at the bottom overlook the fountain and a reflecting pool, an ideal location for a romantic picnic set to the wonderful sound of that waterfall. Don't miss the Joan of Arc statue on the terrace.
Insider tidbit: In a rush? You can buy picnic supplies at Yes! Organic Market, Harris Teeter, or Trader Joe's, all within a few blocks of the park.
Between 15th and 16th sts. and W and Euclid sts., NW. For information, go to nps.gov/mehi.
You Want to Spot Birds . . .
Piscataway Park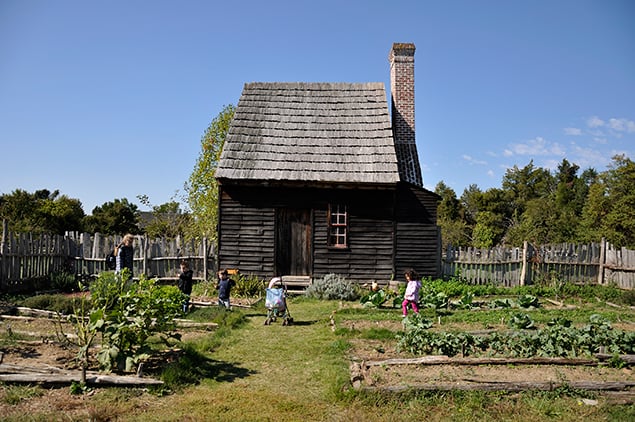 This Maryland park offers more than just a shady picnic area overlooking the Potomac River across from George Washington's Mount Vernon. A short distance from the often empty picnic tables is a fishing pier extending into the river. The park has an easy three-mile loop trail to walk, two small boat launches, and a historic farm with calves and sheep for kids to see—plus it's one of the premier spots in the region for bird-watching. There are also open areas to spread out a blanket and bask in the sunshine.
Insider tidbit: If you plan to be there near dusk, bring bug repellent. The lovely marsh that attracts birds also draws mosquitoes.
For more information, go to nps.gov and search for Piscataway Park.

You Want Something Easy . . .
National Arboretum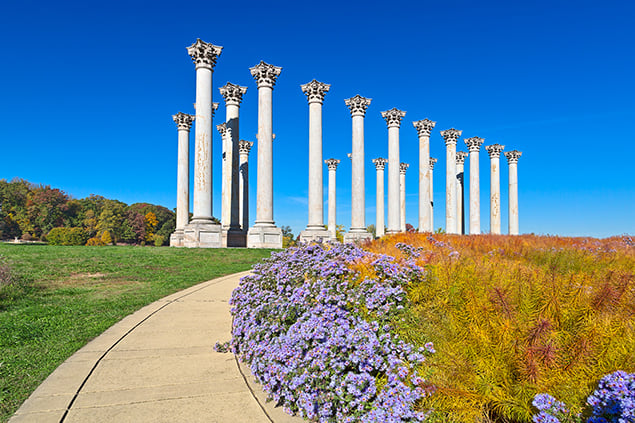 At the lush arboretum, abundant tables adjacent to a parking area make for an easy, impromptu picnic. Located at the National Grove of State Trees, the picnic area, ironically, offers more sunshine than shade. While this grove is the only part of the arboretum where you can picnic, the 412-acre preserve also features gorgeous floral gardens, wooded trails for walking and biking, a collection of bonsai trees, and the National Capitol Columns—22 Corinthian columns that once formed part of the US Capitol.
Insider tidbit: Take the 35-minute public tram tour (adults, $4; ages 4 through 16, $2), offered on weekends, for a quick roundup of all the arboretum's exhibits.
3501 New York Ave., NE; 202-245-2726.
You Want to Bike There . . .
Lady Bird Johnson Park
You can ride your bike to this lovely spot along the Virginia side of the Potomac River. Lady Bird Johnson Park—which offers ornamental trees and expanses of tulips and daffodils in spring—is actually an island on the river, and part of the District. The Mount Vernon Trail cuts through the park. Lay a blanket on the shallow, grassy slopes and enjoy the view of Memorial Bridge and Washington's monuments. You can also reach the park by parking at the Columbia Island Marina.
Insider tidbit: Get there early (and stay late to avoid traffic) for a fantastic view of the Fourth of July fireworks.
For more information, go to nps.gov/gwmp; click on "plan your visit," "places to go," then "Lady Bird Johnson Park."
You Want To See Some Wildlife . . .
Kenilworth Park & Aquatic Gardens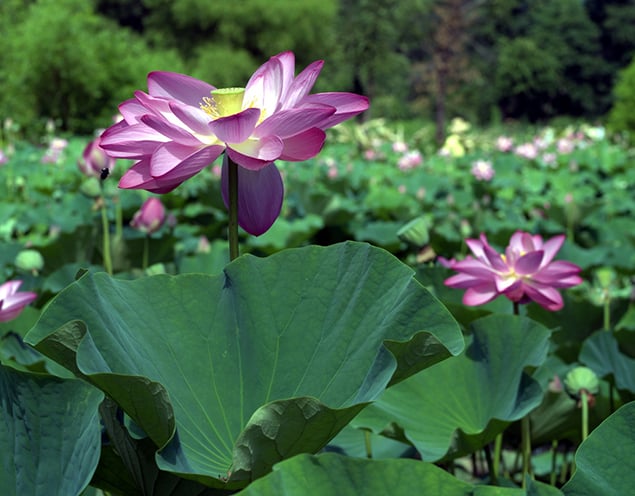 Most visitors come to Kenilworth to experience the gorgeous plants and animals that thrive in these marshes on the Anacostia River. But in addition to watching the birds (ducks and geese and egrets and herons aplenty), photographing the water lilies and lotuses, and strolling the boardwalk that zigzags the ponds, you can bring a picnic to the well-shaded bank of tables in a grassy field just past the visitor center—a peaceful spot at the edge of the ponds. Don't be surprised if some monarch butterflies, turtles, or dragonflies stop by to observe your meal.
Insider tidbit: Be on the lookout for poison ivy amid the lush vegetation.
1550 Anacostia Ave., NE; 202-692-6080.
You're a Sucker for Flowers . . .
Meadowlark Botanical Gardens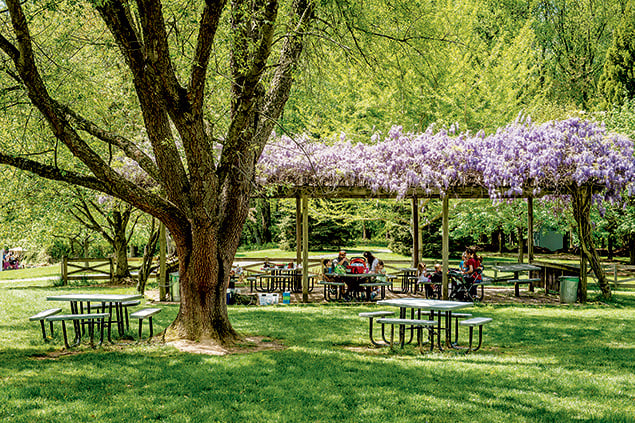 With rolling hills, serene ponds, and shaded pathways, Meadowlark Gardens is more of a nature preserve than a botanical garden. It would be wonderful to sit on a grassy hill and open a picnic basket. Unfortunately, carry-in picnics aren't allowed in the gardens. A designated picnic area with tables, surrounded by trees and next to an expansive lawn, sits just outside the entrance. So you can take a walk and then enjoy your outdoor fare.
Insider tidbit: Drinks and snacks bought at the gift shop may be consumed within the gardens. If all you need is chips or a candy bar, you can have a mini-picnic on one of the benches overlooking the contemplative scenery.
9750 Meadowlark Gardens Ct., Vienna; 703-255-3631. Adults, $5; seniors and children ages 7 through 17, $2.50.


This article appears in our June 2015 issue of Washingtonian.